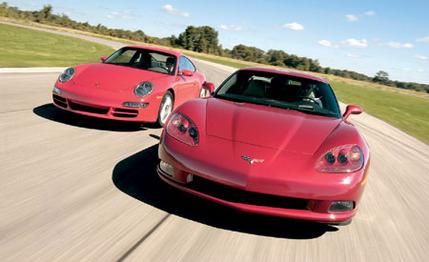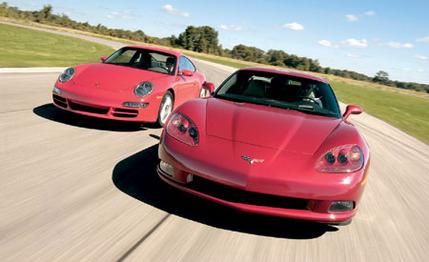 Comparison Tests
We know what you're thinking: This is not a fair fight. In one corner, there's the American value-packed brute, the $44,245 Corvette. And in the other, a high-priced über-coupe, Porsche's latest 911 (code-named 997), which costs a stunning $70,065.
Pitting cars with such wildly unequal prices (the 911 costs 58 percent more than the Corvette) is not our standard practice, but this comparo is different. Both of these are fantastically fast sports cars that are almost quick enough to be ranked as supercars but have prices that make them somewhat accessible. And whether they're used for commuting to work in reasonable comfort or getting your g-jollies at the track, these cars can do both jobs. Plus, they're new or, shall we say, extensively updated for 2005. These two legendary models both have an illustrious racing heritage, and they have at some point graced every enthusiast's wish list. Despite the price difference, they have competed against each other numerous times in these pages (see sidebar).
And to be frank, we needed some real competition to put up against the Vette. Only the $48,995 BMW M3 is even close in performance and price. But the M3's back seat makes it a different kind of car, and even with a sultry 333-hp inline-six, its firepower wouldn't be adequate.
So the task fell to Zuffenhausen's franchise player, the 911. For 2005, a freer-breathing intake system yielded six more ponies from the 3.6-liter aluminum flat-six. The total now stands at 321, with torque the same, at 273 pound-feet. That's 12 fewer horses than the M3 has, but the 911 weighs about 200 fewer pounds.
Thanks to wider fender flares, the 911 has a slightly increased track front and rear. The combination of a front-strut and rear-multilink suspension carries over, but the development process has continued, and the entire system has been tweaked for the usual claims of a smoother ride and tighter handling.
There's a new interior, there are 18-inch wheels and tires, and finally, Porsche has gone back to the more upright headlight housings that we liked so much in previous models. It's a typical array of detail improvements that Porsche says add up to a major step forward. For the 911's sake, we hope so, because the Vette looks awfully strong.
Although the Vette, too, is an evolutionary version, its engine room received a serious bump. The aluminum V-8 is not only larger (5.7 to 6.0 liters) but also has a thumping 400 horses and 400 pound-feet of torque. The previous Vette had 50 fewer horses and 25 fewer pound-feet of torque when coupled to the six-speed manual gearbox.
The Corvette also gets a host of chassis changes, new bodywork, a new interior, and finally, such features as a navigation system and heated seats. For a car so capable, the base price of $44,245 is a genuine bargain. Ours came with the $1495 Z51 suspension package that offers shorter transmission ratios, grippier tires, bigger brakes, and a transmission-oil cooler. It's the track hound of the Corvette lineup. In addition, $8500 worth of nonperformance options brought it to a grand total of $54,240.
The 911 arrived with a navigation system, bixenon headlights, a Bose stereo system, and a few other options, for $76,195.
As a couple of advertised do-everything sports cars, we put them through our usual battery of performance tests, along with 500 miles of highway and back-road driving, and since these cars are meant for the occasional romp at the track and we weren't popping for tires, we spent a day lapping 1.9-mile GingerMan Raceway in South Haven, Michigan.
Don't rush off to the results chart just yet. We made an adjustment to our ballot that needs explaining. It's an attempt to rectify the price discrepancy between these cars.
Our ballot has 21 categories that are worth a varying number of points, from a minimum of five to a maximum of 25. Drivers rate the cars in most categories, and others are calculated from dimensions or test results; then we average the scores and total the points. The car with the highest total wins. In our usual comparison tests, drivers can award a maximum of 10 points in the value category. But as we noted, the Porsche's base price is 58 percent greater than the Chevrolet's—in a typical comparo the difference is closer to 15 percent. So for this test, the value category has a maximum of 20 points.
Considering that a perfect score in every category would be more than 200 points, this is a small change. But it's one that allowed voters to better consider each car's cost.
So, anyway, enough about points, here's how things played out.