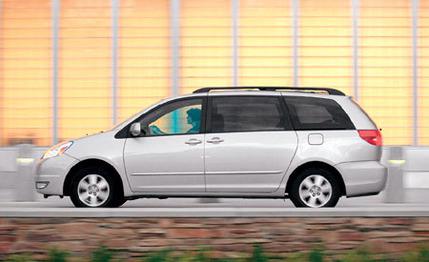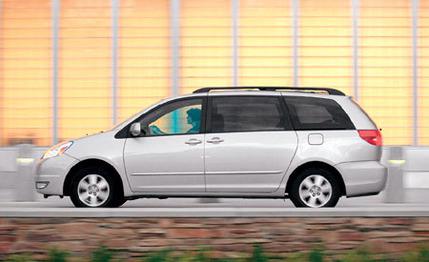 Long-Term Road Test
The past 18 months have been an interesting period for the minivan market. Toyota and Nissan completely redesigned their products, the Sienna and the Quest; Dodge revamped the Grand Caravan; and Ford and Mercury introduced the Freestar and the Monterey. Minivans aren't as popular as they once were, and they've never been fashion babes. SUVs and the so-called crossover vehicles (think Chrysler Pacifica wagon) have been cutting into their sales, but still, we're told there's money to be made in the segment. We're not going to tell you minivans are sexy or a barrel of laughs to drive, but we do prefer them to most SUVs for everyday driving and schlepping.
Our first look at this new Sienna came in early 2003, and we really liked what we saw and how it went down the road. Toyota revamped the Sienna for 2004 from bow to stern, made it bigger in every dimension than its predecessor, and showered it with a myriad of handy features--some new, some inspired by its competitors' offerings. The attraction was sweetened by a new 3.3-liter V-6 and improved ride and handling. We were impressed enough to make it one of our 2004 5Best Trucks. An extended evaluation looked like the best way to see how good a job Toyota had done with the Sienna.
We ordered a top-of-the-line, front-wheel-drive XLE ($29,020) and added the XLE Package 16 ($6545) that included leather seats, vehicle stability control with traction control and brake assist, rear disc brakes, windshield-wiper deicers, a power sunroof, heated front seats, second- and third-row side-window sunshades, a JBL audio system with a six-CD changer, driver and front-passenger curtain airbags, a DVD entertainment system, and the kitchen sink. Package 2 was simply carpet floor mats and doorsill protectors ($196). That elevated the price to a posh $35,761.
The Sienna quickly became a staff favorite for long trips and hauling humans in multiples. On the highway it was quiet and stable with a comfortable ride even when loaded with six adults. The engine had plenty of power for cruising and passing, and drivers often reported getting 25 mpg on trips, although we averaged 21 mpg during the Sienna's 40,000-mile stay.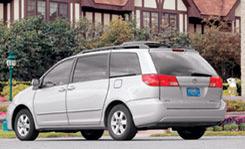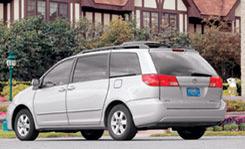 Most of us noted that the forward-flipping second-row seats made it easy for even the fully grown to get into the last row, although there were complaints about the violent way the seats moved forward and that the backrest angle had to be reset each time the seats were moved. The ability to split and stow the third-row seats (in 70/30 configuration) allowed drivers to haul bulky loads and a passenger, and they qualify as the easiest of minivan seats to flop into their wells. Long trips led most users to highly praise the nooks and crannies scattered about the interior, although one editor did think that five cup holders for just the driver and front passenger might suggest a Seattle-level caffeine addiction. Several passengers found the two 115-volt AC outlets handy for using laptops and other small electric accessories while motoring down the freeway.
All was not beer and skittles. The logbook contained sentiments of outrage over the electrically operated side doors--mostly because that's the only way they can be opened and closed. The rear hatch can be opened manually or electrically but can only be closed electrically. Art director Jeff Dworin put it best when he wrote, "Sliding side doors are painfully slow. Same for the rear hatch. Absolutely the worst operation from a key fob I've ever seen. I thought the battery in the fob was dead, but it turns out to be a poorly designed system instead." The need to close the rear hatch electrically became a problem whenever the space behind the last row was filled with stuff. As one user noted, "You aren't allowed to close it yourself, and it refuses to shut if it encounters the slightest resistance. More than once, we closed the hatch and walked toward a restaurant or hotel only to reach the door and realize the liftgate had touched our luggage and opened back up."