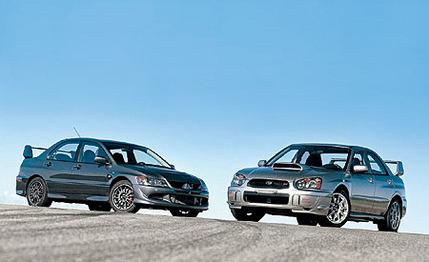 Comparison Tests
What we have here, in case you've been in a time warp the past couple years, are the Bad-Boy Cars, cars that began as family sedans--the Subaru Impreza and the Mitsubishi Lancer--but developed behavioral traits that are viewed by family types as threatening. Wheelspin. Impatience with the daily plodders. Lightning lane changing. Tigerish behavior on remote byways.
The plodders call this sort of action sociopathic scofflaw road rage. We have a shorter term for it: fun.
During the height of the muscle-car era, there were all sorts of these rascals rippin' up the roads, propelled by big-inch V-8 engines: Chevelle SS 454. Ford 427 Fairlane 500. Olds 4-4-2. Plymouth Road Runner. Dodge Dart GTS. Tire shredders, every one. And that's just a few of 'em.
Today, there are just these two, both hailing from Japan. Now, you might make a case for the Dodge SRT-4, which has become bad enough to be disinherited by its mainstream family: You can't call it a Neon anymore. And we await the arrival of the all-wheel-drive Mazdaspeed 6, previewed here. Nor have we forgotten VW's R32. But the SRT-4, although quick, doesn't have the grunt of the Japanese cars, nor does it deliver power to all four wheels. VW is fresh out of U.S.-spec R32s, and we won't get the Mazda to a test track before spring. So for the time being, at least, we're still mano a mano.
The Evo and the STi owe their development to professional rally competition--a world of high speed, low adhesion, and lots of sideways driving. Both of these cars have been the core of World Rally Championship efforts. Subaru began campaigning the Impreza in 1993 and won manufacturers' titles in 1995, '96, and '97, plus drivers' championships in '95 (Colin McRae) and '01 (Richard Burns). Mitsubishi had a run of four straight drivers' titles-1996-99 (Tommi Mäkinen)--and a manufacturers' crown in '98. Technology transfer is a common rationale for a carmaker's racing involvement, but in this case, there's substance to the claims. Both turbo motors, for example, are exceptionally strong at the core, a trickledown of racing editions that produce over 300 horsepower.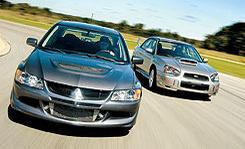 Both body shells are exceptionally rigid, both suspension setups are tuned to keep cornering attitudes flat and responses instantaneous. Both brake systems are by Brembo, and both are race worthy. And both all-wheel-drive systems have features that go beyond those of other passenger-car systems, a legacy of racing versions that have to keep all four wheels scratching all the time. (Particulars are detailed in this technical article.)
The net result is a pair of extraordinarily hairy-chested small cars that appeal to a narrow range of drivers. Both speak to their operators in conspiratorial imperatives along the lines of "Let's go! Whatsamatta, man? I thought you could drive!" Not so good for driver-license preservation, but very good for the soul. If your expectations include creamy ride, quiet operation, and lots of amenities, you're in the wrong story. But if exceptional all-around performance is the priority, with the bonus, however illusory, of four-door practicality, for the money it just doesn't get any better than this.
After years of yearning by U.S. WRC cognoscenti, the Evo and the STi finally snarled into U.S. showrooms in early 2003. We immediately matched them up in a two-car comparo ["New-Wave Slingshots," C/D, June 2003] that included a dirt-road component and the eye-widening skills of retired rally ace Rod Millen. The Evo prevailed by a whisker.
It's been 19 months since that landmark showdown. Both cars offer updates for the '05 model year, extensive enough to call for a rematch. We do this purely as a public service; no self-indulgence whatsoever. No, sir.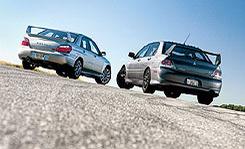 Our approach was a little different this time around. A replica rally stage wasn't part of the scoring, nor did we bring in any hired hotshoes. This time we drove over 450 miles of Michigan's winter-rumpled pavement (as distinct from the first runoff's smooth byways in California), and instead of the tight corners of the Streets of Willow in that state's high desert, we exercised the cars on Michigan's GingerMan Raceway, a distinctly faster layout.
As always, we've picked a winner. But that's pro forma, and the distinctions are subtle. With performance as the objective, it's hard to imagine anyone being disappointed with either of these cars.