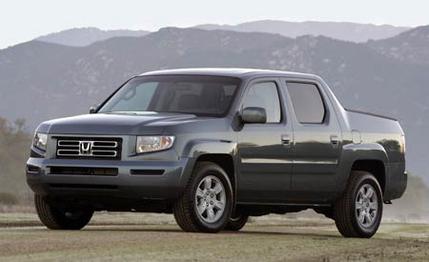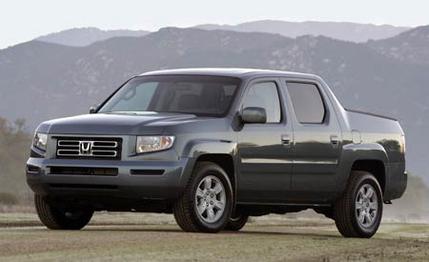 First Drive Review
In the past four years, Honda has become well equipped on the SUV front, redesigning the small CR-V and introducing the full-size Pilot, boxy Element, and upscale Acura MDX. But strangely enough, until now the company has never tried its hand at a pickup truck. For 2006, Honda is introducing the first H-badged alternative, the Ridgeline, which represents a new generation of truck with a unibody chassis, a four-wheel independent suspension, and even a trunk.
Honda's truck is targeted at a narrow portion of the small-pickup market. There is no two-wheel drive, two-door model; and neither a manual transmission nor a low-range transfer case is available. This makes Ridgeline options typical Honda-simple. All trucks have the same spacious four-full-doors cabin, 3.5-liter V-6, five-speed automatic, four-wheel drive (Honda's on-demand VTM-4 system), and five-foot-long bed.
Driving dynamics are a high priority to Honda, so a stiff unibody chassis and a four-wheel independent suspension were necessary to give the Ridgeline a best-in-class ride. But a typical shortcoming of this setup is towing capacity, and Honda didn't want to settle for a wimpy truck. So, although the Ridgeline's chassis stems from the Pilot's, the structure is significantly changed, with 93 percent being unique to the new truck. A respectable 5000-pound tow rating results from the fiddling. The front-strut, rear-multilink suspension design is carried over from the Pilot, but it, too, has been strengthened to handle additional loads.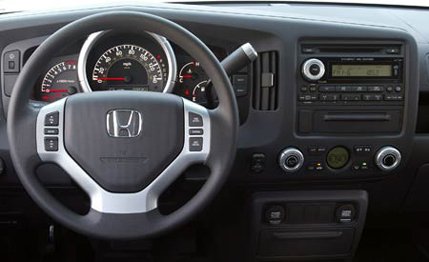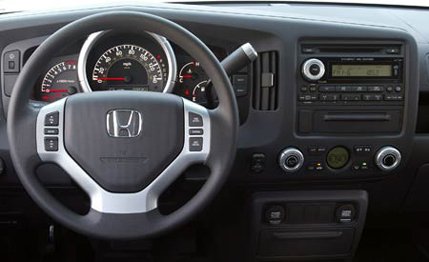 The Ridgeline's bed is also different, with a sheet-molding-compound coating that is dent and corrosion resistant—no bed liner needed. But the best part is the hatch in the floor of the bed that opens to expose a nine-cubic-foot trunk—large enough for three sets of golf clubs, a keg, or the Ridgeline's chief engineer, Gary Flint. Think it would be difficult to load stuff into a trunk over a tailgate? So did Honda. That's why the tailgate swings open from right to left like a door, in addition to its traditional tailgate moves, making it easy to get at the trunk.
The Ridgeline elbows itself into the four-door, short-bed small-pickup market. It's smaller than the mid-size Dodge Dakota, closer to the compact Toyota Tacoma or GM's Colorado/ Canyon, but wider than all the above. Well, wider is better when it comes to interior volume, and the Ridgeline's Pilot-size interior trumps all the compact and mid-size competition. The Pilot comparisons stop at the interior, though, as the Ridgeline's 122.0-inch wheelbase is almost 16 inches longer, and its 206.8-inch overall length makes it nearly 19 inches longer. Only the width and height measurements are close—the Pilot is an inch wider and a couple inches taller.
All Ridgelines get a high level of standard equipment, including 17-inch wheels, A/C, cruise control, power windows, anti-lock brakes, stability control, and a heated windshield area where the wiper blades rest. And with this new-for-Honda segment come new trim levels. Gone are DX, LX, and EX; a base Ridgeline is designated RT and costs roughly $27,000. The mid-level RTS should come in at about 30K and adds alloy wheels, a six-CD changer, and automatic climate control. The top-of-the-line RTL starts at about $32,000 and adds heated leather seats and XM satellite radio.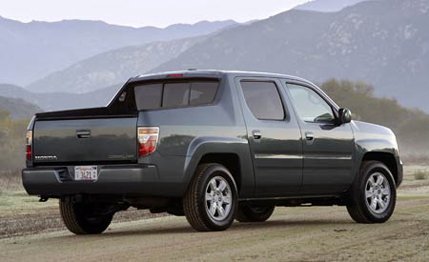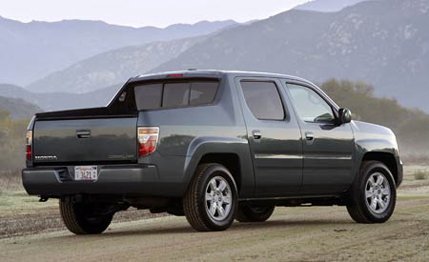 The 3.5-liter SOHC engine is familiar Honda goods and makes 255 horsepower and 252 pound-feet of torque in this truck. It doesn't get the cylinder deactivation from the Odyssey and Accord hybrid, Honda engineers say, because a pickup's aerodynamics wouldn't allow the engine to spend enough time in three-cylinder mode to make it worthwhile. Even so, emissions and fuel economy are kept in check—it's an Ultra Low-Emission Vehicle, and Honda estimates 16 mpg in city driving and 21 on the highway.
Added to the well-known five-speed automatic from the Pilot and MDX are higher-capacity clutches, a new torque converter, and a transmission-oil cooler. So what we have here is a small pickup truck that is competitive in people space, horsepower, towing, and hauling, and drives like a Honda. The Ridgeline probably won't galvanize hard-core F-150 buyers, but it looks appealing to those who care as much about carrying passengers as they do about hauling hay.