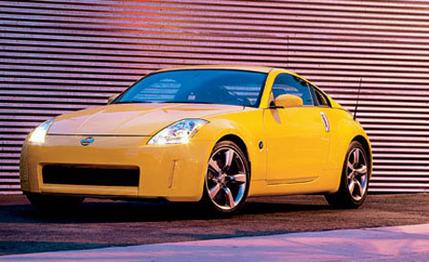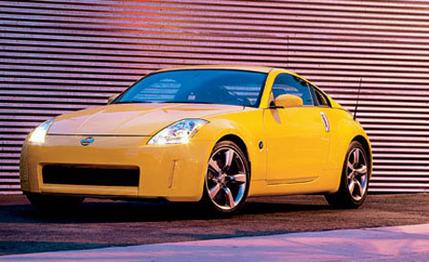 Short Take Road Test
Sadly, such cars as Nissan's estimable 350Z suffer from the flavor-of-the-month syndrome. Because the Z-car lives in a specialized novelty niche in the marketplace, it's prone to being displaced by the next hot new sporty coupe to come along. Somewhere in the sports-car netherworld is a collection of shirts lost in similar ventures.
Thus, to maintain a vehicle's sporty allure, you have to keep updating it in some meaningful way. That's exactly what Nissan has been doing by creating submodels of the basic 350Z concept. The Performance, Enthusiast, Touring, Track, and roadster models all cater to subniches within the realm of wannabe Z-car owners. And now--not entirely to the surprise of industry analysts--comes the 35th Anniversary Edition.
It is top dog among Z-cars, with more power, more equipment, brighter colors, and a heftier price. At $36,660, it's quite a stretch from the entry-level 350Z, which is just $27,060 out the door. That's nearly 10 grand more for essentially the same car, but the anniversary model does have some compelling reasons for a buyer to drag out the extra dough. One is the 300-hp engine found only in the anniversary and 2005 Track models. That's a healthy bump up from the base 350Z's 287 horsepower, even if it is accompanied by a reduction in peak torque--14 pound-feet--to 260.
Big deal. The 3.5-liter VQ V-6 has always had so much grunt that drivers of manual versions often burn the clutches by overslipping them when pulling away. There's still so much torque available in the anniversary car that sixth gear is ample for most highway passing maneuvers. Everyday driving can be accomplished using the venerable old-fart technique of shifting from first to third to fifth. And with that in mind, we'll happily trade a little torque for some extra horsepower and the extended rev range that comes with it. (This tach redlines at 7000 rpm instead of the 6600 rpm of the base model.)
The power increase was achieved through changes to the camshaft profiles, adoption of stronger valve springs as well as variable exhaust-valve timing, and installation of upgraded pistons, rods, and crank pulley. It doesn't sound like much, but the extra 400 rpm gives you a longer stretch in gears on tight and twisty roads and makes short tracks a bit easier to negotiate.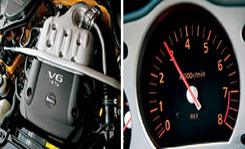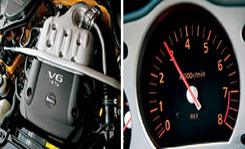 Ironically, the extra power and range didn't do much at the test track--producing a slower 0-to-60-mph time, 5.8 seconds, than that of our last 350Z Touring (5.7). Nor was the quarter-mile time shorter, just equaling the Touring's at 14.3 seconds, but this had a lot to do with the state of the desert test facilities after big winter storms. Grip was in short supply.
If you opt for an automatic transmission, you'll get neither the extra power nor the extended rev range, but you will get a matched-rev downshift program when utilizing the manumatic mode that is now included on all 2005 350Zs. It makes performance driving more enjoyable.
Naturally, you'll want to let everyone know your 350Z is a special edition, so the anniversary car wears some cool kit.
Our car was resplendent in Ultra Yellow, and those capital letters don't begin to emphasize just how yellow this paint is. Think tiny dab of French's mustard in a vat of Ferrari "Fly Yellow," and you're just about there. The anniversary model also comes in Silverstone and Super Black, which are bound to be eye-catching.
Unique 18-inch alloy wheels of an exceedingly pleasing design adorn the fender wells of this car, and through them you can clearly see the big Brembo calipers and rotors that share space with them. There's a unique chin spoiler, but if it's any different from the usual 350Z fare, it was too subtle for our Ultra Yellow-blinded eyes to detect. However, after donning Ray-Bans, we did notice the exclusive badging just ahead of the doors.
Like all 2005 350Zs, the 35th Anniversary Edition (we wish the name were shorter) features a tire-pressure-monitoring system, heated wider-view side mirrors, and a seat-cushion height adjustment. The optional navigation system now has a faster processor for 2005. You can also get a trick two-tone black-and-tan leather seat, but not with the Ultra Yellow paint. Show some restraint, you shameless extrovert. Even in a 300-hp, bright-yellow chick magnet you need to leave something to the imagination.