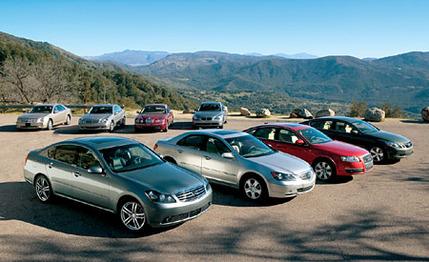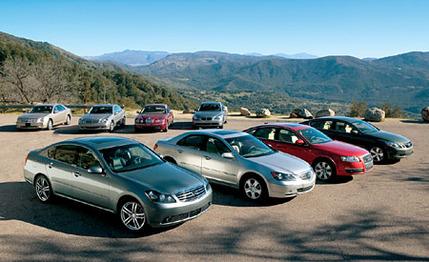 Comparison Tests
Okay, so that MBA and all the hard work paid off. There's the renovated farmhouse in the country, the wine cellar that is notable for not housing even one bottle of merlot, and the l.5 kids in good schools. Naturally, you also need a solid car, one that signals your standing in the community but also proclaims your penchant for practicality. Robber-baron flagships are not called for here.
You want plenty of power, but above all, the car has to be safe. You already know where to go car shopping. Like many of your contemporaries, you'll direct your attentions to the mid-size luxury-sports-sedan segment. After all, what speaks the language of the establishment better than a shiny four-door Mercedes, BMW, Audi, or Lexus in the driveway?
In this size class - which includes Mercedes-Benz's global bread-and-butter moneymaker, the E-class - you are now thoroughly spoiled for choice. These cars are rolling technological showcases, with as much convenience and safety gadgetry as you can shake a checkbook at. Better yet, most of the cars in this class are either brand-new or very recent arrivals.
Ideally, all the cars in this test would have similar engine types. But we wanted a price cap of $55,000 (to make sure Acura's relatively affordable new V-6- powered RL would qualify), and that restricted us to six-cylinder models from the increasingly costly BMW and Mercedes ranges, too. For Mercedes, that's not a serious issue, since the company has just slotted its new four-valve 3.5-liter V-6 into the E350. At $50,720, it handily undercuts the V-8-powered E500's $58,520 base price.
The price cap was not particularly good news for BMW, whose otherwise estimable 530i is only a few months shy of a new 3.0-liter engine invigorated by an extra 30 horsepower. Since it's a superb vehicle even with the engine we had, more thrust might well have improved this car's position in our rankings - even at a fairly steep $54,720 as-tested price.
Audi's new A6 got way more than just a face lift at its recent revision, benefiting from extensive upgrades to its structure and suspension. Our test car featured the company's 4.2-liter V-8 engine in concert with a six-speed automatic and Quattro all-wheel drive. Even when loaded with a Bose premium stereo, XM satellite radio, the Cold Weather package, 18-inch wheels, and a rear side-airbag option, the Audi shimmied under our $55,000 limbo bar. For many, that's a compelling deal.
Infiniti just unleashed an all-new M45 sedan that looks as if it could carry the war to the opposition in a big way, with a 335-hp V-8 and serious sport credentials accompanying a reasonable base price. The Sport model that showed up for this gunfight had just one of Infiniti's big-ticket options on it (the Journey Package Sport, for $1700) and thus rang the register to the tune of $51,860. But it still includes a load of equipment, and we knew before we set foot in this genteel bruiser that it had a sporting chance.
It's common knowledge that Lexus assembles cars on a just-in-time schedule, so we drove a preproduction GS430 away from its introduction just in time to have it compete in this contest. We picked the most photogenic color available - a metallic gray-green - and got a car with a comprehensive list of amenities - all at a competitive $55,725. Lexus offers a short list of options, among them a pricey Mark Levinson surround-sound stereo, but the standard sound system is not exactly hard on the ears.
In case this was not enough variety, we added a Cadillac STS V-8 and a Jaguar S-type 4.2 VDP Edition to the mix. Compared with the Jag, the year-old STS is virtually a newborn. Our first test of this model ran in August 2004. A Jag S-type first saw the light of day for model year 2000 and has benefited from some important upgrades since then.
Finally, we invited Volvo to field an S80 T6 Premier, but the company declined. We'd have felt rejected, but let's face it, eight cars is enough to be getting on with.