Short Take Road Test
In the annals of shocking departures from the traditional, ranking high is the recent hullabaloo over Porsche's having the gall to build a vehicle with all the aerodynamic savoir-faire of a pound cake (the Cayenne SUV), followed closely by proletarian Volkswagen cranking out a 12-cylinder capitalist tool for $100,000 (the Phaeton). Now Jaguar, for the first time, has gone and built a station wagon (the X-type Sportwagon). Has mommyism weaseled into the front office of this historic British sports- and luxury-car maker?
Most likely, the expansionist parent company, Ford, is behind this. It recently pinned the donkey tail on Jaguar, which it purchased in 1989, as one of the reasons Ford's car business has "a problem." That, despite the fact the three-year-old X-type, the smallest and least expensive Jaguar, outsells all other Jaguar models combined. Worldwide, the
X-type sold 62,652 copies in 2003 and bettered that with 65,994 in '04. Problem is, Ford got the Brits all geared up to sell 200,000 Jaguars worldwide, while the actual number was 120,570 in 2003 and 118,918 last year. So the Sportwagon gives Jaguar one more model to pump up that bottom line.
Jaguar's task was to build a station wagon that avoided the look of a box and yet would meet the company's eternal pledge of making cars that are "beautiful, powerful, and glamorous." Which is to say, in this case, it should look at least as good as those BMW and Audi wagons with which it competes.
Everything from the B-pillar back is new, including the doors. We have sworn affidavits that there are 420 new tooled parts and 58 new stampings on this Jag--all of which give the wagon a 150-pound disadvantage over the X-type sedan. The roofline indeed achieves its styling goal, sloping gracefully downward toward the tail, instead of boxily outward, to a split-opening liftgate (the smoked glass can also be raised, by key fob or by a switch near the driver).
That rear glass opens out smoothly via twin gas struts to reveal seatbacks that fold down 70/30 fashion. Doing so creates 50 cubic feet of space to play with (and you won't need to remove the seats' headrests). When those rear seats are raised, you don't have the sort of space you'd need to clean out a Costco: 24 cubic feet from the floor to the classy headliner, or just 16 up to the line of the window. Jag makes up for that with a useful storage space below the rear load floor, a Styrofoam hollow about the size of an oversize salad bowl. Park your laptop there and use the 12-volt power point to recharge it.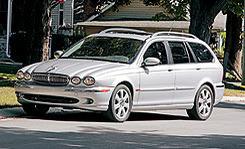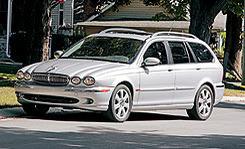 It's a handsome wagon. Some think the roof's bright "silver" rails--aluminum with plastic mounts, both painted--verge on the flashy, but buyers can get them in black, no charge.
Also no charge is a five-speed manual or automatic transmission and the car's big ticket: all-wheel drive. It works with the X-type's unchanged 24-valve, 3.0-liter Duratec V-6 that makes 227 horsepower and 206 pound-feet of torque, exactly the muscle under the hood of the X-type sedan we drove the hell out of for 40,000 miles in a long-term slog [ C/D, October 2003]. The X-type's lesser powerplant, a 192-hp 2.5-liter, will no longer be imported to U.S. showrooms, a good idea that would seem to guarantee the "powerful" part of the Jaguar credo. Add in 17-inch Cayman wheels and all-season tires and a raft of safety equipment, and the base tab comes to $36,995 for a very stylish and well-appointed luxo wagon.
People regularly banished to back seats have cause to applaud, as headroom in the wagon is increased by 1.3 inches over that of the X-type sedan, a car that sprang to life from the second generation of the close-quartered original Ford Mondeo. Oddly enough, our automatic-shifting test wagon felt stronger than that long-term manual X-type sedan, but we were momentarily deceived, perhaps due to a growlier exhaust note. In fact, the sedan is about a half-second quicker to 60. The ride remains smooth, silent, and comfortable, and there's a sense of luxury that's pervasive, owing to the slick fit and finish of some very nice interior materials.
For traditionalists who see this wagon as an insult to Jaguar's heritage, rumors were published as this was being written that the company is considering building some kind of sport-utility vehicle.