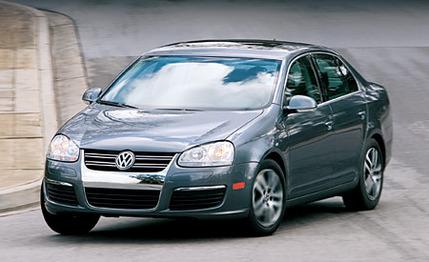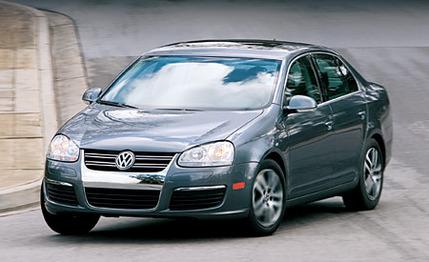 Road Test
Country of origin notwithstanding, the Volkswagen Jetta is an American invention. Okay, make that an invention inspired by the American market. The rest of the world is okay with hatchbacks, such as the Golf, VW's worldwide bestseller. But we prefer formal sedans-cars that have proper trunks. Which is why the original Jetta materialized in 1980. Volkswagen told us it wasn't just a Golf (then Rabbit) with a trunk. Uh-huh. Clue: It was a Golf (then Rabbit) with a trunk.
But we liked it, in a lukewarm sort of way, calling it "a useful addition to America's small-car pool." More important, America liked it. While the rest of the world made the Golf VW's perennial sales leader, here in the U.S. the Jetta topped the company's sales charts year after year. All because of that covered and lockable cargo compartment. Amazing, ain't it?
So let's look at that. Grafting a trunk onto the Rabbit stretched the rear overhang 14.9 inches and yielded a 13-cubic-foot cargo hold. That happens to be the exact trunk capacity of the fourth-generation Jetta, with an important proviso: In those days the seatbacks didn't flip forward to expand volume. Today they do. But we can forget those volumes, because the gen-five Jetta's trunk measures 16 cubic feet, a mobile temporary-storage facility that would impress even Tony Soprano.
Expanded cargo volume is only part of the story. The new Jetta is bigger all over, a lot bigger. In its first 25 years, through three makeovers, the Jetta grew gradually-4.4 inches in wheelbase, 4.5 inches overall, 4.9 inches in width, and 1.2 inches to the rooftop. The only major gain was at the scales, where over the years the little sedan put on about 1000 pounds. But in gen five, the growth is dramatic. The wheelbase stretches 2.6 inches, to 101.5; overall length is up six inches, to 179.3; width expands an inch, to 69.3; and the roofline is up almost an inch, to 57.5.
The dimensional expansion puts the new Jetta near the top of the compact heap and also gives it one of the roomier rear seats, so it's adequate for four adults, although essentially untenable for five (something that can be said of fifth-passenger seating for every car in this class).
The bigger Jetta also zooms to the upper echelons of its class in mass. Our test car weighed in at 3340 pounds-212 pounds heavier than the Jetta turbo-diesel, no wraith itself, we tested last fall ["The Frugalympics," C/D, September 2004] and very hefty for a compact sedan. What's up with that? Structure, for one thing. The previous Jetta was solid goods. The new one, with its laser-welded unibody, is a bridge abutment. VW cites a 15-percent increase in torsional rigidity, and the sense of stiffened body shell comes across almost as soon as the driver puts the car in motion. Safety features also add up at the scales. Among other passive keep-you-alive elements, there are six airbags, new crash-active headrests that tilt forward on impact, and foot pedals that fall away when the front begins to crumple, to minimize lower-extremity injuries. The foregoing, plus improved frontal- and side-impact performance, makes for heavier cars, whatever badges they may wear.
Fortunately, VW mitigates the Jetta's mass with more muscle. A new 2.5-liter DOHC 20-valve inline five [see Technical Highlights] replaces the previous base powerplant, a 2.0-liter four that was better suited to maritime employment-as a boat anchor, for example-than to automotive propulsion. Although the five's 148 peak horsepower isn't particularly robust, 168 pound-feet of torque spread across a big fat curve gets the Jetta out of the starting blocks with better-than-average alacrity.
The run to 60 mph might also be classifiable as better than average, with a manual transmission. However, our test car, like pretty much all the initial run of early-production Jettas, was equipped with a new six-speed Tiptronic automatic transmission. This device operates smoothly and does a good job of making the most of the Jetta's lovely torque, but outside of a race for three-legged dogs, 9.2 seconds to 60 and a 16.8-second, 85-mph quarter-mile can't be called quick. We're sure the standard five-speed manual would chop a couple ticks off the total. Not to mention enhancement of the old fun-to-drive quotient.
Speaking of fun to drive, we're ambivalent, with or without a manual transmission. On one hand, the new Jetta has the kind of taut, poised feel peculiar to German cars, and its everyday responses are reasonably brisk. On the other hand, when the driver begins to push hard in quick transitions, the Jetta becomes increasingly reluctant. Up and down body motions are snubbed fairly well, but a typical front-wheel-drive forward weight bias (59/41) and modest grip from a set of 205/55-16 Michelin Energy MXV4 tires (0.80 g on the skidpad) add up to rather deliberate progress on mountain roads. Switching off the stability-control function helps, but not a lot.
At least the all-purpose tires don't hurt braking performance much-174 feet from 70 mph is decent-and ABS is standard equipment. However, the power rack-and-pinion steering, although nicely weighted, is totally numb on-center.
On balance, the Jetta feels more like a small-scale luxury sedan than a compact German athlete. That sense starts with the car's general sense of solidity, augmented by a classy-looking interior and nicely sculpted bucket seats, plus handsome exterior styling that's as smooth and flowing as previous Jettas were bull-nosed and blocky. You don't have to squint very hard to see a Phaeton that someone washed without reading the laundry label.
That sense of luxury car extends to the window sticker. Pricing starts at just over $18,500, which isn't exactly the compact bargain basement, and if you start adding option packages-not to mention about a grand for the automatic-you'll soon find yourself in mid-size-sedan territory. Our loaded test car tallied in at a resounding $26,740, a price that would bolt you into a well-equipped Honda Accord with a 240-hp V-6. More room, more zoom.
Still, the Jetta has that Teutonic persona that only the Teutons manage to purvey. We're pretty sure we're going to be even more enthusiastic about the Jetta GLI, with its 200-hp, 2.0-liter turbo motor and more aggressive suspension. It's due this summer. Maybe we'll just refrain from looking at the price tag.