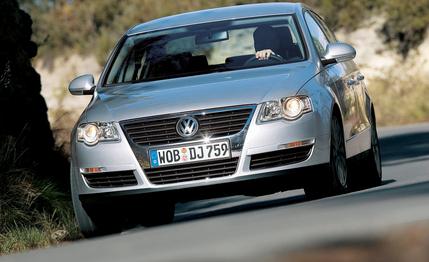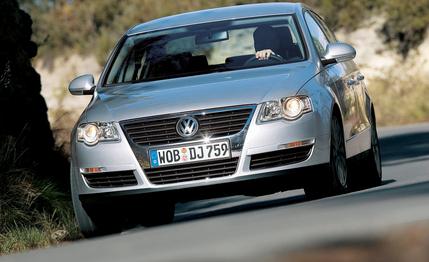 First Drive Review


"There is no brand worldwide that is more complex than the Volkswagen brand," says VW's chief designer, Murat Günak. "The challenge is to create products with both family appeal and unique character." That was the goal with this new, sixth-generation Passat, which will build on the more than 13 million units sold since the first one appeared in 1973, called the Dasher in America.
The new car embodies notable aspects of past Volkswagens: the Jetta-style rear end with the sharp trunk edge, the Phaeton-like rear lights, and the so-called Mays curved roofline created by Ford's V-P of design, J Mays, during his time at VW 15 years ago. The family appeal lies in the classic three-box design that encompasses a particularly roomy interior, making the Passat about as spacious as a B MW 5-series or Mercedes E-class.
This enlarged interior was achieved through two major changes. First, unlike all previous versions, this Passat employs transverse rather than longitudinal engine architecture. This change occurred because the new model is built on an extended Golf platform rather than a variation of the Audi A4 architecture, thereby breaking the commonality with the small Audi sedan that goes back to when the original Dasher was a twin of the Audi Fox. The transverse engine arrangement is more compact and leaves more room for cabin space.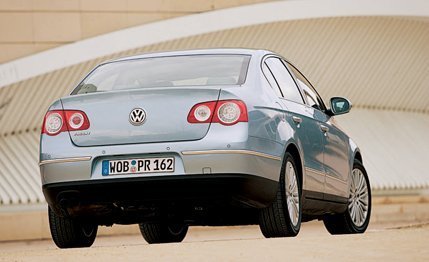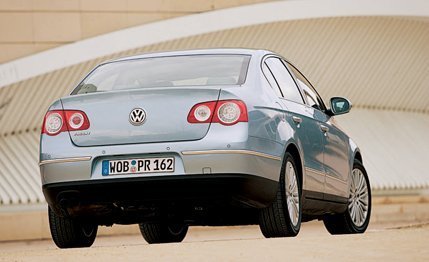 The second reason for the large interior is simply size—this Passat is the largest ever. Length has grown by 2.4 inches to 187.6 inches. Width is up 3.0 inches. And height has increased 0.4 inch to 58.0 inches. Unfortunately, the wheelbase has increased only 0.3 inch, producing largish front and rear overhangs that give the car a less dynamic appearance.
Blame the pedestrian-safety regulations due to take effect in Europe this fall for the long front overhang with the high hood line. On the other hand, the trunk has grown dramatically, up five cubic feet to 20—that's bigger than a Mercedes S-class trunk. Rear-seat space is also usefully increased with more leg, knee, and shoulder room. After the Phaeton and the Golf Plus (a raised-roof hatchback we don't get in America), the Passat is the next Volkswagen getting LED taillights. They are unique in the Passat's class.