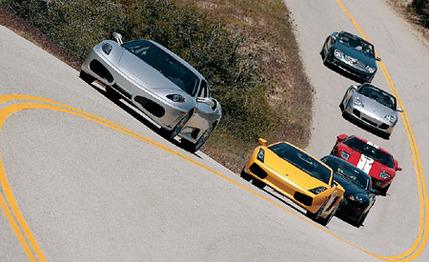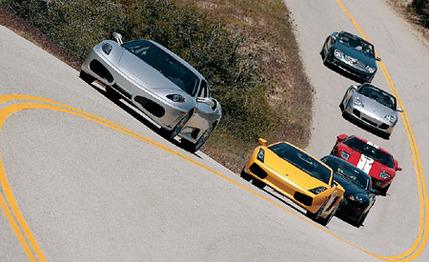 Comparison Tests
The makers of the world's greatest sports cars probably should not seek alternative employment in stockbrokerage. It seems like every time we get a bumper crop of fabulous new supercars from the purveyors of these highly desirable vehicles, it coincides with a weakening global economy.
Maybe that's how it works. Ferrari, Aston Martin, and others see a booming economy and immediately set to work on a gloriously indulgent new coupe or convertible, only to have the ticker numbers steadily decline during the car's development period. By the date of the new car's introduction, everyone has cashed out of the market and is sitting tight for a new administration to change the picture.
For the ultra-rich, protected from market vacillations by eight-figure assets, this matters less. Ask Jay Leno, who continues to collect cars with enthusiasm. Or Steve Knappenberger, owner of Porsche Santa Barbara (www.sbautogroup.com; 805-682-2000), who saved this giant street-racer shootout from certain impossibility when he lent us a Ferrari F430 after our anticipated test car was T-boned at a New Jersey intersection by a driver running a red light. Knappenberger also provided us with a Porsche 911 Turbo S cabrio when the Porsche fleet managers pronounced no test cars were available.
That's what you call real generosity, folks. Most Ferrari owners don't permit strangers within spitting distance of their swell cars. This guy let us put his personal silver F430 through all the hard tests we run for comparisons. Ferrari North America and Porsche Cars North America owe him big time, and so do we, so thanks, Steve.
The basis of this comparison was simple. Assemble the latest crop of sub-200-grand high-powered sports cars, and see how the various flavors titillate the editorial palate. To get an idea of how strong those flavors are in this group, consider the fact that the car with the least horsepower among them is the Porsche 911 Turbo S, with 444.
Proceeding alphabetically, the Aston Martin DB9 is the latest addition to Aston's three-model lineup, flaunting a svelte new shape in aluminum and enjoying thrust from a 449-hp V-12 driving through a six-speed automatic with paddle-operated manual override. Slathered in beautiful leather and wood, the Aston offers the best of classic British opulence at an all-inclusive price of $164,500. But they're not easy to come by-ordering a DB9 coupe in the U.S. involves a four-month wait, and it'll be a year for the convertible Volante. Perhaps 600 of a 1500-car worldwide production run will be sold here this year.
The F430 is the newest of Ferrari's hot-selling mid-engined models, now packing 483 horsepower from a 4.3-liter V-8 and a sleek new shape from the artists at Pininfarina. Although there is some carry-over of basic components from the beloved 360 Modena, the execution has made the F430 feel like something quite special. This car was a new experience for a number of us, and its performance was as startling as its $191,225 as-tested price. Not that you can buy one for that amount.
No test of this kind would be complete without the Ford GT. After all, it emerged victorious in all performance categories in our three-car challenge of January 2004. And almost all the automakers featured here have competed in the 24 Hours of Le Mans-the race for which the Ford GT's progenitor was specifically designed. Were it not for the presence of the Lamborghini Gallardo in this group, this could almost be a rematch. With a potent, supercharged 5.4-liter V-8 doling out 550 horsepower, the Ford GT is pretty much in its own league for its $156,945 price-second lowest in this group.
Anyone owning a Saeco espresso maker will attest to the benefit of a joint German/Italian engineering exercise. You get Italian flavor with German technology, and isn't that the best of both worlds? Lamborghini's Gallardo is something like that, with its Audi-sourced body shell (from the A8 plant in Gyor, Hungary) and Italian-tuned engine and chassis. The evolution of the original Gandini-designed wedge concept seen in the Diablo and Murciélago (revised in the Gallardo by Luc Donckerwolke) is pretty flawless in fit and finish, and the 493-hp V-10 trumpets its theme like the horn section at La Scala. And at a base price of $177,600, the Gallardo is, comparatively speaking, an affordable Lambo.
Mercedes' SL65 AMG is a powerful combination of luxury and horsepower. Call it the rocket-assisted limo in this group. Replete with every luxury gadget in the Mercedes arsenal-including a power convertible hardtop-and weighing in at 4480 pounds as a result, the SL65 shrugs off the mass when its twin-turbo, 604-hp V-12 answers the call. Although it is the second-most-expensive car in the group-$189,970, as tested-the AMG-modified SL works just fine as an everyday driver.
Finally, as a perfect example of how the world turns, we have Porsche's 911 Turbo S cabriolet. A coupe would have suited this comparison better, but a cabrio was all Knappenberger had on hand. Even with an engine upgraded in "S" spec to 444 horsepower as a result of higher turbocharger boost pressure, the venerable Swabian sports car tails this field in output as well as alphabetical placement. The Turbo model still uses the previous-generation body design and interior, but it remains a highly desirable car. For 2005, ceramic-composite brakes are fitted as standard equipment.
That's the lineup. This is how we rated them.