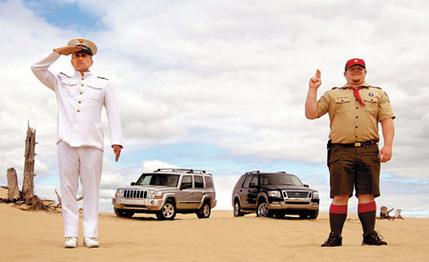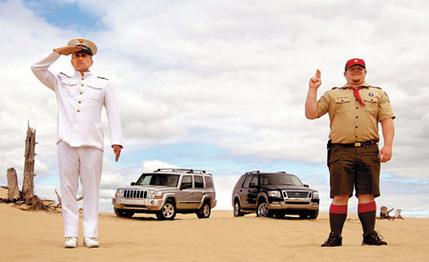 Comparison Tests
It was only last April, in a C/D comparison test dubbed "Destination: Chicken Point," that we sampled six size-M SUVs. Since then, two newcomers have alighted. Well, not newcomers exactly. More like face-lifted Hollywood agents just back from a trying month at Betty Ford.
In fact, one is a Ford, the comprehensively reworked Explorer, notable not for its styling — again a say-nothing ode to suburban blandness — but for its six-speed automatic and 292-hp, 24-valve V-8, the Mustang GT's engine.
The other new and decidedly angular face is that attached to the Jeep Commander. You may not know the Commander's name, but you know the Commander's dad. What we have here is a made-over Grand Cherokee, with which the Commander shares its driveline and wheelbase. This new model — an adjunct to the line, not a replacement for the Grand Cherokee — adds 1.9 inches of length and 4.2 inches of height, allowing it to become the first Jeep in history with three rows of seats, an increasingly mandatory sales tool in the segment. And the blocky styling? Well, the Jeep guys say they've rarely had a group of buyers more devoted than those who owned 1984-to-2001 Cherokees, thus the familiarly retro nose and refrigerator-like silhouette. Which makes you wonder why the Commander's rump resembles a Hummer's.
In our "Chicken Point" comparo, the Explorer finished an embarrassing sixth among six, mostly because it was then in its fourth year without a major freshening. But in the same test, the Grand Cherokee — again, the vehicle on which the Commander is based — finished first. Clearly, these two newcomers deserved their own middleweight rumble. But instead of reexamining all the major players so soon, we opted for a more efficient two-ute arm-wrasslin' and sand-slingin' bout in the horsefly-infested wilds of Michigan. Which, in C/D-speak, means we again wound up at the Silver Lake Sand Dunes, searching for fulgurites, which aren't prohibitionist missionaries but are, instead, tubes of glass formed when lightning strikes the sand. Thing is, if lightning struck here anytime in August, it would first melt the helmet atop a sweaty human head. That's because all 2000 sandy acres are seasonally aswarm with whooshing motorcycles, buggies, ATVs — and SUVs, whose hard tires and colossal heft make them as suitable to duning as Michael Jackson is suitable to babysitting.
For no good reason — well, some beer may have been involved — we brought along human representations of the vehicular contretemps to follow. Representing the Ford Explorer was Explorer Scout Billy "'Bama" Banjo, a hefty and solid young man who came equipped with bowie knife, Scout-approved ropes, and an apparently inexhaustible supply of teriyaki beef jerky. Representing the Jeep Commander was Commander "Mad Brad" Lavender — fit, trim, impeccably starched, and clearly annoyed to be in the company of juveniles, not so much Explorer Billy as, uh, us. Scoff if you will at their eccentric struggles, but rest assured that Messrs. Banjo and Lavender fought heroically and Homerically, both emerging with slightly chewed ears.