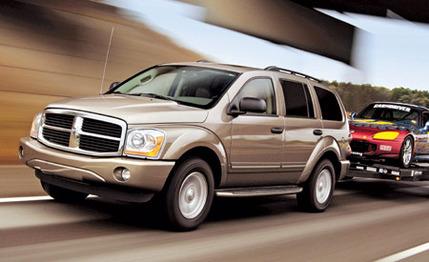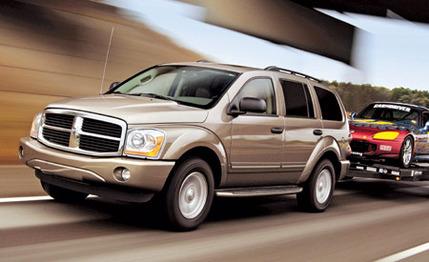 Long-Term Road Test
When we put sport-utilities through their paces in standard road tests, we spend a lot of time talking about handling, acceleration, and
braking-the dynamic subtleties that help give each vehicle its personality. They're the basic components of all our evaluations, and they provide a matrix for comparison. But the truth is that dynamics in the full-size-SUV realm-we're talking automotive Clydesdales here, not thoroughbreds-aren't as important to prospective owners as other traits. Durability. Comfort. Power. Work ethic.
The Durango measured up well in our traditional testing, including a solid first place in a midwinter full-size-SUV shootout ("Gitche Gumee Games," C/D, April 2004). But a four-day thrash in Michigan's winter wonderland didn't reveal much about how the Durango might stand up to the equivalent of a couple years' of hard work. Computer sims won't answer that one, either. Only way to get the answer is to drive it, and so, in mid-October 2004, a Durango joined the C/D long-term test fleet.
You can buy a Durango for less than $30,000, with rear drive and a 210-hp, 3.7-liter V-6, but we wanted to duplicate the one that prevailed in that wintry comparo. That meant four-wheel drive and a base price of $36,235, plus another $995 for a Hemi V-8. We knew there would be lots of towing, so a trailer tow group ($455) was a must. Other relatively small-ticket extras included traction control ($300), a full-time feature for the four-wheel-drive transfer case ($195), a 3.92:1 axle ratio ($40), heated front seats ($250), wiring for hands-free phone calls ($275), a set of Goodyear Wrangler SR-A all-season tires ($135), and Sirius satellite radio ($195).
The Dodge boys also thought we needed a $1200 DVD entertainment system, a power sunroof ($850), and body-color running boards ($445). They were wrong on all counts. They were particularly wrong about the running boards, devices we suspect were created by a cabal of dry cleaners. Anyone who can keep pant legs clean throughout ownership of this or any other SUV with running boards probably qualifies for an Olympic gymnastics team.
With or without the foregoing, this was a pretty posh Durango: automatic climate control; a premium audio system with a six-CD in-dash changer and MP3 capability; and leather seats, power adjustable up front. Amenities make the going more pleasant, and the Durango did its share of going, racking up mileage quicker than most other long-term testers. It took just over 10 months for the odometer to click past the 40,000-mile mark, a sure sign that the troops found the Durango to be an agreeable long-distance ride as well as a willing workhorse.
With a Hemi under the hood, the Durango has a gross vehicle weight rating (curb weight plus cargo, including occupants) of 6600 pounds, a towing capacity of 8650 pounds, and a gross combined weight rating of 14,000. These are big numbers, even by the hefty standards of the full-size class, and inevitably, they were numbers attractive to folks who wanted to drag something heavy somewhere far away.
The first of these excursions was a run from Ann Arbor to Texas and back, with a little 1800-pound U-Haul trailer behind and ice beneath the tires in central Indiana. This wasn't so much a test of work ethic as it was of stability in dicey conditions, and the Durango rolled along straight and level while others were "doing pirouettes into the median," according to the logbook.
The real hauling came once the frost was out of the Midwestern tundra and SCCA club racing resumed, which meant the loads got heavier-about 4600 pounds of trailer and race car, plus some 400 pounds of tools and spares. Aside from a peculiar glitch with the trailer lighting circuit one night in the construction chaos skirting the south end of Lake Michigan-not a good place for your trailer to go dark-the Durango went about its work without a murmur. Even with a trailer, there was plenty of punch for passing on two-lane highways, freeway merges were no sweat, and short haul or long, the Durango's comfort quotient was high.