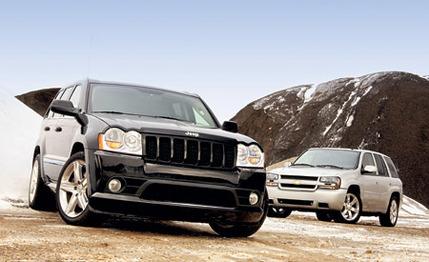 Comparison Tests
On the scale of silliness, a hot-rod truck is up there with a gas-powered bar stool. Sure, you can do it, but why would you want to? If you just want to go fast, why not start with a lighter car? Still, anything that has a 395-hp engine and costs less than 40 grand is going to seize our attention. Which is why we're here comparing a pair of new, high-powered sport-utility vehicles: the Chevrolet TrailBlazer SS versus the Jeep Grand Cherokee SRT8.
Jeep's Grand Cherokee, already a powerful player with the available 330-hp, 5.7-liter V-8, emerged from Chrysler's Street and Racing Technology fitness regimen as a sport-ute with plenty of sport. In the engine bay sits a 6.1-liter Hemi V-8, coupled to a five-speed automatic transmission and full-time four-wheel drive, that produces a whopping 420 horsepower. There's some bodywork action, too, including an extended front spoiler, 20-inch wheels, and two exhaust pipes three inches in diameter poking out the center of the rear bumper. It looks very cool, especially in the black paint worn by our no-options $39,995 test vehicle.
In the other corner, our loaded TrailBlazer SS cost a similar $39,885. The SS carries a lower base price of $33,600 and does not have four-wheel drive as standard. We wanted this to be as close a matchup as possible, so we ordered our SS with the $2250 full-time four-wheel drive and enough options to bring the two vehicles to as-tested prices that were just $110 apart.
The SS is a little down in pony count, packing a 395-hp, 6.0-liter V-8, but it, too, sports 20-inch wheels and an automatic transmission. And in case you think these two vehicles are straight-line specials, both have pumped-up suspensions and large brakes with cooling air ducts. We recommend neither for off-road rumbles.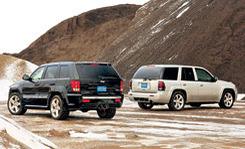 If one company deserves credit for hot-rod-truck madness, it's General Motors. The first of the genre appeared in 1991, when the boosted GMC Syclone landed with a turbo whoosh heard everywhere the power crazy gathered. Its turbocharged six-cylinder engine belted out 280 horsepower, which was big news back then, and we were not immune to its charms. In our September 1991 issue, we compared the $25,970 truck to a $122,180 Ferrari 348ts. Yes, we were just being our demented selves, but the Syclone could hit 60 mph in 5.3 seconds, 0.7 second quicker than the megabucks Ferrari.
The formula fell apart, however, when the Syclone was asked to do what it appeared built to do, namely, haul stuff. Its payload capacity was a paltry 500 pounds. What good is a truck that can barely carry a load of firewood? When the Syclone's powertrain was mated to an S-15 two-door sport-ute, the Typhoon, the formula made a little more sense because for about 30 grand it offered seating for four, four-wheel drive, and Corvette-like acceleration. In the Typhoon's towing-capacity box, however, was a goose egg, a zero. As fun as those trucks were, their limited usefulness affected sales -- only 4700 Typhoons and 2995 Syclones were sold between 1991 and 1993. Chevy made sure not to repeat that utility pitfall this time. The TrailBlazer SS can tow up to 6700 pounds. Jeep, on the other hand, seems to have retreated: The SRT8 can tow only 3500 pounds. And the Grand Cherokee's visually appealing exhaust pipes occupy the space where a hitch would go.
As hot-rod trucks, you might think only performance should matter here. Sorry, remnants of our rational streak got in the way. If it looks like a truck, then in some ways it should act like one, too. So, although we put these two through our usual battery of performance tests, back-road driving, and highway slogging, we also considered the usefulness of each. Let's see how they fared.