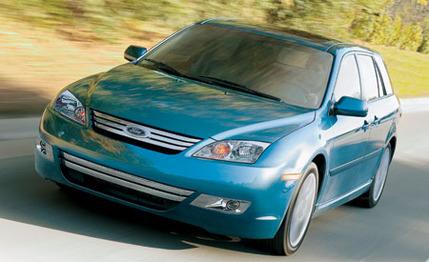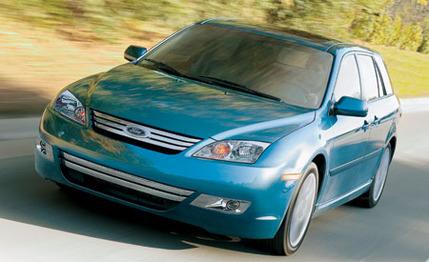 Road Test
It was June of 1963 when we last tested any product that employed the words "Futura" and "Sprint" in the same breath. That car was a Ford Falcon Futura Sprint. Actually, describing it as a car was an act of largesse on our part, but, hey, we were easygoing and affable in those days, and some of us had hair.
Forty-three years have passed and now comes another Futura Sprint, only this one's a wagon based on the all-wheel-drive Ford of Europe platform that currently underpins the Asia-only Taunus and, of all things, the SEAT Toledo minivan.
But forget all that. What's important about the Futura Sprint is that wagons are apparently again in vogue, despite the best efforts of Detroit marketers, who have, in recent years, applied the term "crossover" to so many models that the transgender community raised holy hell from Cleveland to Cedar Point.
The Futura Sprint is powered by a Mazda-derived narrow-angle Miller-cycle 3.0-liter V-6 - a lot to spit out every time you open the hood - which is curious not only for its boxer-like growl but also for producing more horsepower than torque from 2800 to 4250 rpm. Our uplevel Sprint, with the GT/A performance bolt-ons ($2250), delivered a bonus 25 horses funneled through a five-speed manual with Hurst linkage identical to that in the Dodge Ram SRT10. The GT/A is further differentiated by a three-person front bench but no rear seats whatsoever, just a long unupholstered cargo bay that can be hosed out, à la Honda Element. It's perfect for wet springer spaniels and wet nurses.
The car's New England designer, Emmett L. Brown, apprenticed for J Mays, and the two have long agitated for a wagon "from the early Beach Boys era - a woody without the wood." Brown's best-known previous creations include the Ford Cinnamon concept shown in Turin and - laugh if you will - a $900 art deco countertop radio for Panasonic that made it all the way to the Tokyo Museum of Modern Art.
The Futura Sprint resembles - in size and aspect, in warp and weave, in tone and tenor - nothing so much as a Mazda 6 wagon, although onlookers are quick to fixate on the Ford's single door on the passenger side and its dual doors on the driver's side, one of which opens suicide-style. The rear liftgate extends some two feet into the Sprint's roof, making it heavy and impossibly tall when erect. It looks like something that might have fallen off a Chaparral.
The dash and the IP are perhaps too relentlessly retro, with five memory pushbuttons on the radio and a push/pull headlight switch that doubles as a dimmer. Two of the steering wheel's spokes are swathed in chrome, two are highlighted with what Ford swears is genuine teak veneer, and one is so populated by redundant radio controls that we don't know what its surface is supposed to resemble.
The Futura Sprint GT/A is no rocket but does easily keep up with, say, a Chevy Malibu Maxx for the length of the quarter-mile. The car is more at home on a road course or skidpad, where its 17.5-inch Fulda Redcoats grip like Iowa chiggers, assisted by unflappable standard-issue Monroe triple-adjustable shocks, independently toggled to one's preferred setting via a chrome rheostat next to the ashtray. The settings are imaginatively named. In order of firmness they are: Harbor Freeway, Santa Monica Boulevard, and Mulholland Drive. Brown reports that the original idea was for the firmest setting to be called "Good Vibrations," but the marketing mavens nixed it. No matter, it's gratifying to see designers having fun with such projects, and Ford has already rewarded Brown for his efforts. His current assignment is a unique open-air police car for equatorial climes, in which the driver and passenger both stand upright. Imagine a windshield-less UPS van the size of a Scion xB and you have a grasp of the thing.