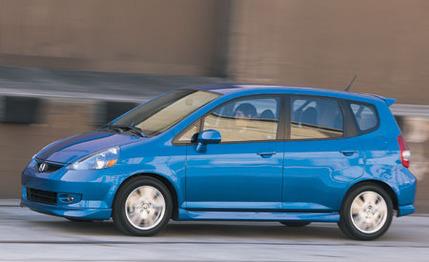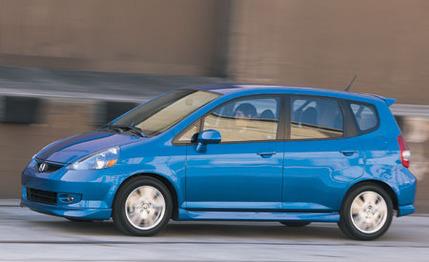 Short Take Road Test
This is not widely understood, but we have no conceptual problem with small, basic-transportation cars. Particularly now. For anyone interested in preserving the negotiable contents of one's pockets, small cars make big sense, and the more fuel prices soar, the more sense they make. Beyond that, the penalties we once associated with small cars - noise, spartan accommodations, primitive amenities, motor-scooter power - are essentially gone.
Where we have had reservations regarding small cars is when we encounter one whose limited power resources are further drained by an automatic transmission. Generally speaking, self-shifting plus modest power yields a car whose role in life seems to be getting in the way. And in a country where most drivers don't want to be bothered with - or are perhaps incapable of - manipulating a clutch and shift lever, the majority of the vehicles on our public roads are equipped with automatic transmissions.
So there's this institutional prejudice we harbor when we plant our backsides into any automatic-equipped subcompact. Which is precisely what makes the Honda Fit Sport automatic a pleasant surprise. As subcompact automatics go, it actually goes. Okay, 0 to 60 mph in 10.4 seconds isn't likely to produce brownouts in your peripheral vision. The manual Fit Sport in our May comparo, "$15,000 Cheap Skates," did the same sprint in 8.7 seconds. But it's not bad for cars at this end of the spectrum, it's far more entertaining to operate than competing automatics, and it's well suited to urban driving.
The key to all of this is the Fit's five-speed transmission. That's five forward speeds, as distinct from the four-speed autos offered by most other subcompacts on the market. Five speeds are obviously a better bet for optimizing the thrift-oriented power of the Fit's 1.5-liter SOHC 16-valve long-stroke VTEC four: 109 horsepower at 5800 rpm, 105 pound-feet of torque at 4800 rpm. Even better, the Fit's automatic includes paddle shifters and a manumatic function that's essentially bimodal. Tap the paddles when the lever is in the normal drive mode, and you'll achieve upshifts or downshifts that will hang on until the transmission management computer decides, on the basis of what you're doing with the throttle, that you're finished with that gear and it's time to move on.
Or, if you're feeling frisky, slide the lever back to the "S" position, and make your gear choices with the paddle shifters. The transmission holds selections as long as you like, shifts are brisk, and using the paddles yields quicker acceleration, reflected in our test results - a half-second to 60 mph. Or leave it in drive and simply go with the flow. The Fit Sport automatic is no urban street guerrilla, but it doesn't have any trouble keeping up with traffic.
The automatic commands an $800 price premium on the $15,720 Fit Sport, and it's a pretty sophisticated piece of equipment for a car in this class. The product planners chose this transmission over a continuously variable one because they felt a conventional automatic was a better bet for the U.S. market - that is, sportier, and also more compatible with the paddle-shift setup. Honda was able to finesse some of the five-speed's cost by using the gearbox case and shafts from the '06 Civic's five-speed auto, although the internal gearing is obviously unique to the Fit's more modest power.
So, would we opt for a Fit Sport automatic? Whoa - that's going a bit far. At the end of the day, we still think the operation of a good manual gearbox - the Fit's standard transmission is arguably the best in its class - enhances the relationship between car and driver. But for the urban driver who doesn't need much involvement and wants economy without excessive sacrifice in the realm of comfort and convenience, the Fit automatic is a very good, uh [ here it comes; we knew he couldn't resist this indefinitely - Ed.] fit.