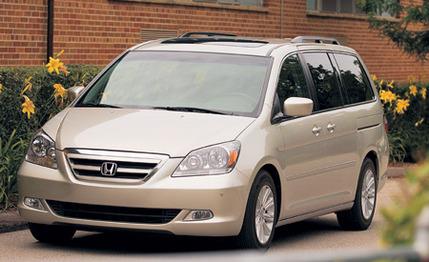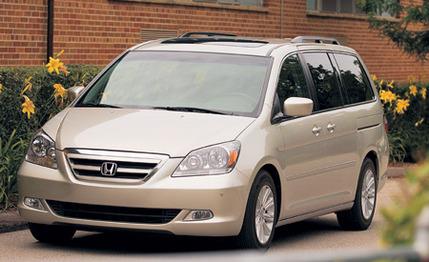 Short Take Road Test
"Touring" is one of those vaporous descriptors that mean, well, what? Seven of nine C/D staffers agreed that touring, when applied to a car, means "kinda decent," although clearly not up there with "grand touring." Both terms, of course, are junior-league players compared with "GT," never mind that GT is short for grand touring.
Still with us? The exception is Honda, where Touring means Odyssey with whipped cream, a cherry, and nuts. The model line tops here, complete with power liftgate, power-adjustable pedals, auto on/off headlights, and seven-speaker stereo with subwoofer. The big change for 2007: Now the tilt column telescopes, too.
While other minivan makers try for pretty - think Toyota Sienna - or pleasant - as in Dodge Caravan - this Honda has a heavyset look about it, wide and slab-sided and unapologetic for offering space in Costco quantities. The grille thrusts forward, a strong chrome statement. Each front corner houses a pair of searchlights, and the wheels shoulder their way out to the edges of the box. Another hefty chrome gesture finishes the space between the taillights. There's nothing tentative going on here.
Inside, the Touring is superbly dressed in gray leather. Come in, sit down - there's plenty of room. Pull up one of seven chairs, fold down an armrest, make yourself to home.
"Touring," the car-world adjective, brings with it a vague performance implication. This Honda is similarly vague on the topic. Touring and EX-L models get the i-VTEC V-6. There's no power advantage, but the torque peaks at 4500 rpm, 500 earlier than engines in lesser Odysseys, and it boosts mileage by shutting down three cylinders during cruise and coast. The result is 20 mpg city and 28 highway versus 19 and 25. Acceleration is leisurely: 0 to 60 takes 8.6 seconds as the 244 horses labor under the Touring's heavy load of features and a curb weight of 4645 pounds.
The Touring also includes distinctive-looking, square-shouldered Michelin PAX System run-flat tires mounted on special 17.5-inch, 10-spoke alloy wheels. No other tire fits this wheel, so you'll be locked into PAX replacements. They're well adapted for ride comfort and silence, and they steer accurately. Skidpad grip measured 0.77 g.
Don't expect the Touring's handling to be noticeably different from that of other Odyssey models. Honda says the front shocks are the only suspension difference.
What the Touring brings, really, is a Ritz-Carlton level of comfort and convenience inside. The instruments are wonderfully legible, the many switches inevitable with power doors are exactly where you want them to be, the seat levers and releases work intuitively, the second row tilts and slides in one motion to ease boarding of the third row. Honda, of course, pioneered the fold-into-the-floor third row, and no one else has yet done it better. With run-flat tires freeing up the spare's space under the floor amidships, the well has been given over to an underfloor Lazy Susan storage area, just right for the DVD collection.
Touring, in the Honda sense, means: When in doubt, bring it.