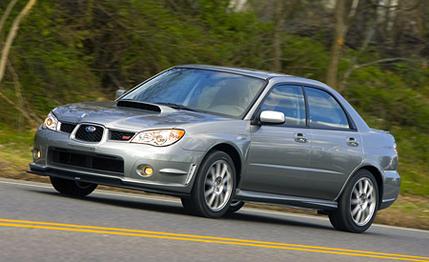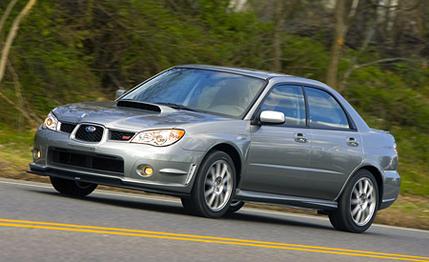 First Drive Review
For those young professionals who have been putting off a WRX STI purchase solely because it is too Converse All Star for their Kenneth Cole world, take heart: The STI Limited is here. Although nothing will ever glamorize the maker of the B9 Tribeca, the STI Limited—with the dual plane rudder gone from the trunklid—at least doesn't trumpet the driver's youth as loudly as before.
Aside from the wing delete—a smaller lip graces the trunk of the Limited—the exterior gets a new, deeper front spoiler sure to catch every parking log the car encounters, painted Enkei wheels (still wrapped in the same 225/45ZR-17 Bridgestone Potenza RE070s), and subtler black Brembo brake calipers with white lettering instead of the gold/red calipers of the regular STI.
Most of the upgrades are inside the car, where a black leather interior awaits, with a standard sunroof to heat the seats in the summer and seat heaters to do the job in the winter. New carpeting is said to improve sound-deadening, but road noise from the RE070s is still quite prominent. Other small bits are scattered around the interior, like unique instrument bezels, an auxiliary audio jack next to the power outlet, and Sirius satellite radio availability. A numbered plaque below the HVAC controls identifies each Limited.
Mechanically, the Limited is just like every other STI on the road. No real need for improvement there. Same old 293-hp turbocharged and intercooled boxer four-cylinder that slung the last STI we tested to sixty mph in just 4.9 seconds and through the quarter in 13.4 at 102 mph, same old six-speed manual, and same old all-wheel drive system with driver adjustable center differential hanging on for 0.92 g in the corners. It's the same old remarkably satisfying car, unfortunately with that same old beak.
Available now in a run of just 800 units (400 white, 400 gray metallic), the Limited is a no-cost option, with the same old STI starting price of $34,120. Unless you need the additional headroom in the base STI--it has no sunroof--you might as well make it a Limited.