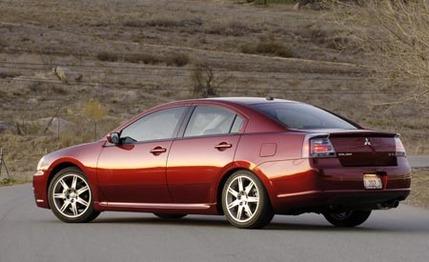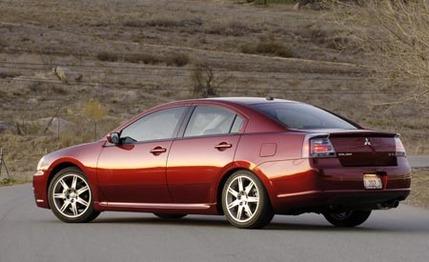 Short Take Road Test
First, a confession: As we wandered toward the new-for-2007 Galant Ralliart, which Mitsubishi proudly calls a "sports sedan," we were prepared to be underwhelmed. Come on, how sporty can a front-wheel-drive, mid-size sedan be? We figured we'd brave the inevitable torque steer and likely never think about the Galant again.
Remarkably Good
Imagine our surprise then, when we first toed into the Ralliart's throttle and it responded right now! In fact, the reaction is almost too quick—the average Camry driver would likely provoke the Gallant into a full-blown tire-spinning, traction-control-inducing launch—but once you respect the throttle, it's a good thing.
Hey, this sedan feels pretty strong, too, and, in fact, it is quick. At the track, we blasted to 60 mph in 6.1 seconds and through the quarter-mile in 14.8, which is enough to outrun all four V-6-powered mid-size sedans with automatics (Honda Accord, Hyundai Sonata, Ford Fusion, and previous-generation Toyota Camry) from the last comparo. This wasn't a total surprise, however, as the Ralliart is powered by a 258-hp version of the 3.8-liter V-6—an engine we've found to be quite vigorous in the Eclipse GT—which is 28 more horsepower than this V-6 makes in lesser Galants. The nearly 3800-pound Ralliart is a bit of a brute, though, outweighing that comparo-winning Accord by almost 350 pounds. Despite packing 200 more pounds than an Eclipse GT and available only with a five-speed automatic (instead of the Eclipse's five-speed manual), the Ralliart ties the last Eclipse we tested in the sprint to 60 mph.
We actually liked this meaty V-6 better in the Ralliart than in the Eclipse, crediting the Galant's extra mass and automatic transmission with alleviating some of the vicious torque steer the Eclipse GT is known for. But that unnerving steering-wheel tugging is still noticeable during aggressive acceleration in the Galant, which is pretty much the only way we drive. And accelerating after happening to stop with one of the front tires in gravel produces enough squealing wheelspin to attract gawkers.
However, the Ralliart can't keep up with an Accord V-6 manual or the V-6 versions of the new-for-2007 Nissan Altima and Toyota Camry. And although Mitsubishi would like you to consider the Ralliart a Mazdaspeed 6 competitor, to us, that's a different, far-sportier animal, one we would classify as a sports sedan. The Mazda doesn't offer as much passenger space, but it's far quicker, has all-wheel drive, handles better, and doesn't cost much more, either.
Truly Sporty
Aside from the additional power, the Ralliart gets a much stiffer suspension, 18-inch wheels and all-season tires, and slightly larger rear disc brakes. And it's the only Galant endowed with a rear anti-roll bar. The surprise is that the tuning actually collaborates to produce convincingly athletic behavior.