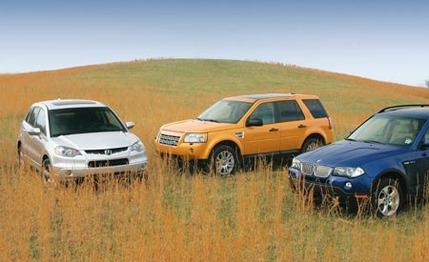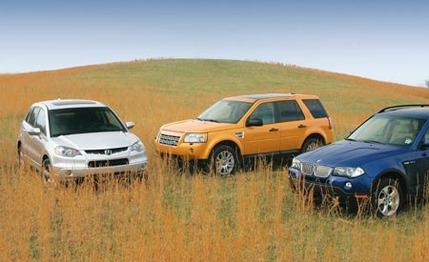 Comparison Tests
Eight years ago, at our favorite driving site in southern Ohio's Hocking State Forest, we were greeted by an aural assault halfway between keening and screeching. The racket was emanating from a zillion cicadas that had crawled into the trees and were singing for sex-really, this is true-which is a romantic strategy few of us, even in our most desperate high-school years, ever contemplated.
For 20 years, we've been drawn to the Hocking Hills' six parks, each carved out of Black Hand sandstone that has eroded into baroque gargoyles, twisted columns, 200-foot-deep chasms, dank caverns, natural amphitheaters, and British-racing-green grottoes. The place looks like Abe Lincoln's coloring book. The cabins we inhabit down there are but a stone's throw from Cedar Falls, which Ohio magazine dubbed the most scenic waterfall in the state.
On this trip, however, our Buckeye cicadas were as quiet as, well, dead cicadas, and for good reason. The place was abuzz with cicada-killing wasps, which are as much as two inches long and resemble yellow jackets or MiG-25 Foxbats, depending on how closely they skim your nose. Sharing the serpentine roads with us, one cicada killer met his maker and the left-front corner of our blue BMW X3 simultaneously. He left his mark. About four feet worth. We tell you this because the Hocking Hills are teeming with all sorts of fast-moving fauna, sometimes us.
This time, we were drawn to southern Ohio to examine the latest batch of compact luxury SUVs. These are small utes in a small niche, because "compact" becomes "mid-size" as soon as the vehicle's length stretches much beyond 181 inches-the length of the Acura RDX, as a matter of fact. This ruled out a few SUVs we might otherwise have included-the Lincoln MKX and the Lexus RX350, for example, both with strong V-6s and luxury aplenty. They would have fared well in this group, but both were more than five inches too long. Ditto the Infiniti FX35, eight inches too long. The 183.9-inch-long Toyota FJ Cruiser might have been granted special dispensation, but no one would consider the funky FJ luxurious unless he'd just moved here from Kazakhstan.
So an alluring ménage à trois it remained, with special attention paid to the brand-new Land Rover LR2, from which, until now, we'd been unable to obtain test numbers. As you'll see, alas, our Tambora Flame LR2 got attacked by a couple of metallic cicada killers.