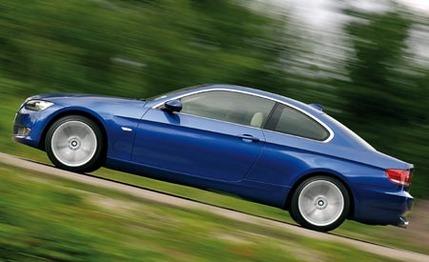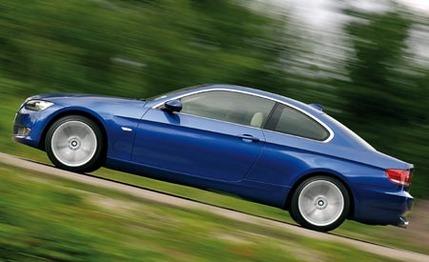 First Drive Review
Behold the BMW 335d coupe, a car that allows you to feel like you're helping to save the earth while covering it with smoky burnouts and black strips of burned rubber. This diesel-sipping Bimmer is only a few 10ths shy of a Porsche Boxster's best in the sprint from 0 to 60 mph at a claimed 6.1 seconds. But we've already nailed 60 mph in six seconds flat in the less powerful 330d, so we're thinking mid-fives is more like it.
Cruising on the highway, however, it's 15 percent more fuel efficient than the already frugal 328i, in which we regularly average 30 mpg. Okay, some pesky Prius owners will still smugly inform you that their pride and joy manages better mileage. Then again, no Prius-or any hybrid or diesel currently sold in the U.S.-makes the driver feel nearly as good as does the 335d coupe.
Who Ever Heard of a Turbo Wizard? (BMW Apparently Has a Few of Them)
Credit goes to the variable-twin-turbo 282-hp, 3.0-liter inline six-cylinder engine lurking beneath the hood. Diesels are great at producing huge amounts of torque down low, and this engine doesn't disappoint. There are 428 pound-feet available from 1750 to 2250 rpm. That's also about the point where BMW's twin-turbo wizardry makes itself known.
The smaller of the two turbos quickly spools up at low speed, and then the larger one takes command at higher speeds. The two-stage system provides crushing acceleration that is free of any dreaded turbo lag. Peak horsepower arrives at 4400 rpm, and ultimately, this slick inline-six delivers an impressive 94 horsepower per liter-a phenomenal figure for a diesel engine.
Bring the Noise
About the only negative is the totally uninspiring exhaust note. The big and bad-looking twin exhaust pipes definitely have a mean, aggressive style. Yet the sound coming from them-especially at idle-could leave new converts to diesel driving wondering what the hell their $67,000 (base price in Europe; almost $80,000 as tested!) has bought.
Rolling politely away from BMW France's headquarters, roughly 20 minutes southwest of central Paris, we came to a highway on-ramp and slammed the accelerator to the floor. Question answered! A few colorful (and unprintable) adjectives later, and we knew exactly what the hefty sticker price gives a 335d buyer: a sports car in disguise, a road rocket in a conservative suit but minus any Clark Kent spectacles.
Let the Gearbox Think for Itself
The engine and the six-speed automatic transmission-the 335d can't be had with a manual-work perfectly together; shifts are fluid, and acceleration is seamless. If you like, you can shift manually using the gear lever (push forward to shift down, pull backward to shift up) or paddles located on the steering wheel. Like the gearshift, pulling the paddles toward you shifts up, pushing them away shifts down.
Some might be turned off by not having one paddle devoted to upshifts and one to downshifts, but it was the plasticky click of the paddles as they engaged each gear-plus all that monstrous torque-that left us opting to allow the six-speed to do the bulk of the shifting.