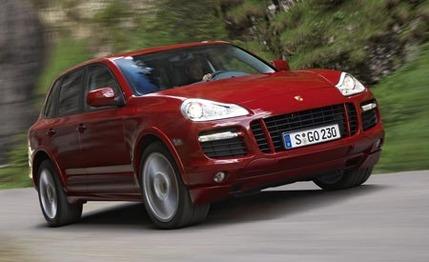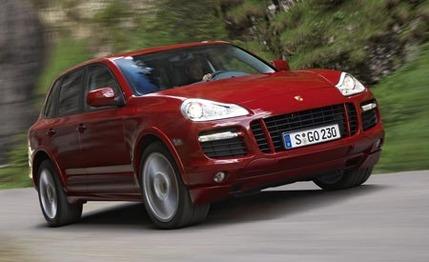 First Drive Review
Just a blink back, the 21st century arrived, and a lot of people were wondering if someone had slipped a little acid into Porsche's breakfast cereal. Excuse me? Who, exactly, is willing to pay a lot of money for a Porsche sport-utility vehicle?
The laughter has died way down. The Cayenne SUV is now Porsche's bestselling vehicle, accounting for about a third of all sales: exactly 10,061 of a total 29,140 Porsches sold in the U.S. through October 2007. Porsche says it's making all the Cayennes it can, 180 a day.
The Fourth in a Bestselling Lineup
When the fish are biting, you want to take advantage, and that's why Porsche has been churning out new variations of the Cayenne. There are now four of them. The base Cayenne, with a 290-hp V-6, goes for $44,295. Sporting an updated 385-hp V-8, the Cayenne S starts at $58,795. The monster Cayenne Turbo, with a 500-hp twin-turbo V-8, checks in at an eye-crossing $94,595. That left one slot for a fourth model, the $70,195, 405-hp GTS you see here, which goes on sale in February.
Like all Porsches, the Cayennes have long options lists intended to give the automaker the greatest per-car profit. Mission accomplished. It's ridiculous. What car company sells fewer than 100,000 vehicles per year worldwide and makes a pretax profit of $8.5 billion (helped along by a $759 million reevaluation of its 22-percent stake in Volkswagen)?
That's Right, a Proper Manual Transmission in a 405-hp SUV
Move in closer. What really makes this newest Cayenne particularly interesting is that Porsche has seen fit to arm the 5300-pound truck with a six-speed manual gearbox—something apparently no other V-8-powered sport-ute maker thinks is a wise idea. So in early November, we arrived in southern Portugal to see if a two-and-a-half-ton truck and a six-speed manual make sense.
The first thing that makes the manual an entertaining idea is that there are 405 horsepower and 369 pound-feet of torque on one end of it. That's a 20-hp premium over the output in the same-size V-8 in the step-down Cayenne S. Imagine the wrinkled brows and clucking tongues of all those Porsche engineers: That's a horsepower-to-weight ratio of about 13 pounds per, compared with the crushingly fast Turbo's rate of 11.3 per horsepower. The only thing that materializes to us as competition is a supercharged Range Rover, which boasts an even 400 horsepower and a $93,600 sticker, or if you have a sense of humor, a 393-hp Hummer H2 that is stuck lugging around almost 17 pounds per horsie.