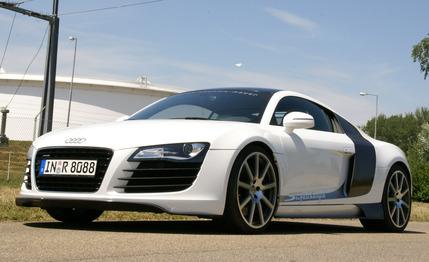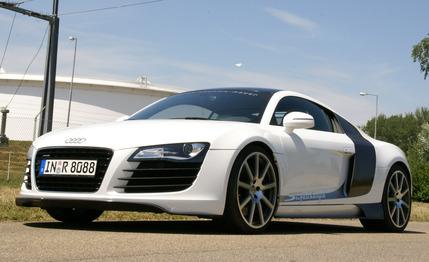 First Drive Review
We don't think we go too far in stating that the Audi R8 is a nearly perfect supercar. It looks great, with the inimitable proportions of a mid-engine sports car topped off with Audi's trademark styling and attention to detail. Fit and finish is top-notch—and the R8 is comfortable enough to gobble hundreds of miles without ever wearing out the driver. Moreover, given the mid-mounted engine placement, it behaves in a forgiving and benign way. In fact, the Audi feels so planted to the road that it could easily handle more than the 420 horsepower it serves up.
More Power? Yes, Please
This leads directly to the sole complaint we have about the R8—its relative lack of power in the exalted world of supercars. Even so, its acceleration is good, right up there with that of the Porsche 911 Carrera S, and it will cut through the lofty 300-km/h (186 mph) barrier, if barely. But other mid-engine cars, such as the R8's Lamborghini Gallardo sibling or the Ferrari F430, are significantly faster. Even high-powered sedans and station wagons, such as the Mercedes-Benz E63 AMG wagon, can outaccelerate the R8.
If there's a power issue with an Audi, German enthusiasts have long known where to find the cure: at Roland Mayer's MTM tuning house in Wettstetten, Bavaria, a few kilometers down the road from Audi's headquarters in Ingolstadt. Mayer is a former Audi engineer who took part in the development of the legendary first-generation Quattro. He founded MTM (Motoren Technik Mayer ) in 1990 and has gained a reputation for offering a wide range of tuning options, from reprogramming turbo-diesels to extreme vehicles such as the Bimoto, a first-generation Audi TT with two engines rated at more than 500 horsepower each. That car has broken 244 mph at the Papenburg test track in northern Germany, and Mayer aims to go even beyond that.
Give It a Little More Air
Mayer's cure for the R8: Supercharge it. The MTM R8 Supercharged uses an intercooled, twin-screw Lysholm unit bolted onto Audi's high-revving 4.2-liter FSI V-8. Operating with a maximum boost of 8 psi, it pushes horsepower from 420 horsepower at 7800 rpm to a claimed 560 at 7750. Maximum torque is improved from 317 pound-feet at 4500 rpm to 413 pound-feet at 5500 rpm.
The chassis and the Quattro four-wheel-drive system, which favors sending power to the rear wheels, remain unchanged. But MTM offers 20-inch wheels, a high-performance braking system, and some aerodynamic enhancements, such as a front lip and a diffuser. It all looks quite sophisticated and could have been done by Audi itself. The interior is transformed with two carbon seats padded with separate cushions. They look futuristic and are far more comfortable than we expected.
We drove the car on its home turf in Germany. The MTM R8 Supercharged will be available to U.S. customers via Hoppen Motorsport of Sarasota, Florida—although it must be said that Roland Mayer doesn't expect a lot of U.S. takers.