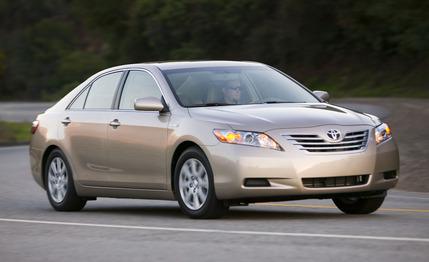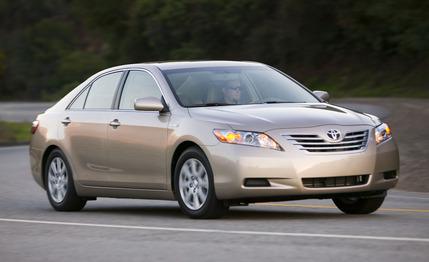 Review
Introduction
Toyota is now the market leader in hybrids, building on the huge success of the Prius. The same gasoline-electric technology is available in the Camry mid-size sedan, a pleasing if slightly dull vehicle. The Camry hybrid mates an electric motor with a 2.4-liter inline four-cylinder gasoline engine for a nominal combined power rating of 187 horsepower; the pair works through a continuously variable transmission. The real fuel saving occurs in stop/start traffic and urban driving, where the car achieves an EPA mileage rating of 33 mpg, 12 mpg better than a four-cylinder Camry. However, the improvement in highway driving is minimal: 3 mpg better than the four-cylinder's 31 mpg, according to the EPA.
Verdict
Like the stock Camry, the hybrid model is a comfortable, spacious, refined family sedan that has the added benefit of being more economical with fuel. However, it costs about $4000 more than the similarly equipped Camry LE models with the four-cylinder engine, so there's little short-term financial sense in buying the hybrid unless most of your driving time is spent sitting in traffic or driving around town. Because it looks so much like a regular Camry, the hybrid Camry doesn't make nearly as much of a green statement as the Prius and doesn't achieve the same lofty gas mileage, either. For enthusiast drivers who need a family sedan, there are more compelling choices.
Click here to read our full review of the Toyota Camry hybrid.
What's New for 2009
The Camry hybrid is basically unchanged for the 2009 model year.
Highlights and Recommendations
The Camry hybrid comes in one well-equipped form. Outwardly, it's pretty plain, with 16-inch steel wheels, but the interior has plenty of standard equipment. Power windows and locks, a smart entry system with a pushbutton start, cruise control, dual-zone climate control, and a six-speaker AM/FM/MP3/WMA audio system with a CD player are standard. Worthwhile stand-alone options include heated front seats and a really good voice-activated, DVD-based navigation system that is wrapped in with a premium JBL audio system. There are also a couple of upgrade packages, but beware that a fully equipped Camry hybrid noses up to the $32,000 mark.
Safety
Like the regular Camry, the Camry hybrid features front, front side, and curtain airbags and a driver's knee bag. Anti-lock braking is standard. Unlike other Camry models, traction and stability control are standard on the hybrid.