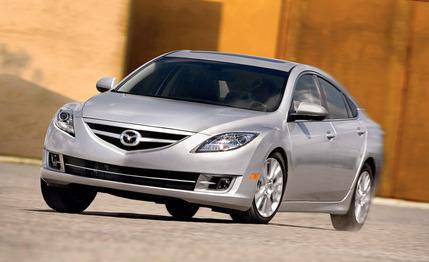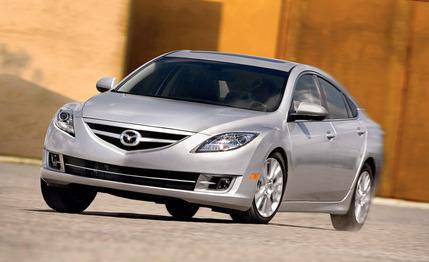 Road Test
No matter how much we liked the old Mazda 6, introduced in 2002 as a 2003 model, it was always at a disadvantage in the mid-size-sedan market because it was a little undersized.
For 2009, Mazda has rectified that matter with the new 6, which is bigger in every dimension. The wheelbase has gone up by 4.5 inches, to 109.8 inches. Overall, the car is 6.9 inches longer and 2.3 inches wider, at 193.7 inches and 72.4 inches, respectively. The maximum interior volume has increased from 96 cubic feet to 102 cubic feet, and the trunk volume is about 10 percent bigger, at 17 cubic feet. From being the minnow of the mid-size pack, the 6 is now one of its whales.
As before, the car is available with four-cylinder or V-6 power, denoted by i and s suffixes. There are four trim levels: base SV (four-cylinder only), Sport, Touring, and Grand Touring. Our test car was a four-cylinder i in Grand Touring trim. The base price is $25,580, but adding a navigation system ($2000) and the uplevel Bose stereo that gets packaged with a sunroof ($1760) inflated the sticker to $29,340 (California emissions equipment added $100). Change the six-speed manual transmission to a five-speed automatic, and the sticker would rise to a pricey $30,340.
Although the new body shell is much bigger, Mazda claims 39-percent-higher bending rigidity and a 17-percent increase in torsional stiffness over the previous car. The front suspension is a control-arm and coil-spring layout, replacing the previous two lower links with a one-piece steel forging for greater steering precision. At the back, there's a multilink setup, which has been revised with higher trailing-arm attachment points for increased anti-lift to keep the body level during hard braking; larger-diameter trailing-arm bushings for better ride quality; and a more upright, outboard location for the rear dampers to improve wheel and body control. Sport and SV models have standard 16-inch wheels and tires, but our Grand Touring had 17-inch aluminum wheels shod with P215/55R Michelin Energy MXV4 S8 all-season ­rubber.
The previous car's 2.3-liter, inline four-cylinder MZR engine has been replaced by a 2.5-liter version, which has a 1.5mm-larger bore (89mm) and a 6.0mm-longer stroke (100mm). There is variable valve timing on the intake side only. A new cylinder head was designed to improve gas flow. The upshot is more horsepower, up from 156 to 170, delivered at 6000 rpm. Torque is increased from 154 pound-feet to 167. However, California-spec four-cylinders such as that of our test car make 168 hp and 166 lb-ft. (The optional V-6 engine, now mated to a six-speed automatic, also has grown, from 3.0 to 3.7 liters. Power has gone from 212 to 272 horsepower.)
The standard transmission is a close-ratio six-speed manual, but there's an optional five-speed automatic that improves the EPA mileage estimates from 20 mpg city and 29 highway to 21/30. The manual Honda Accord gets 21/31 mpg according to the EPA, while the Nissan Altima is rated at 23/32 mpg. Our C/D combined cycle, the equivalent of the Lead Foot Quotient, worked out to 23 mpg for the 6.