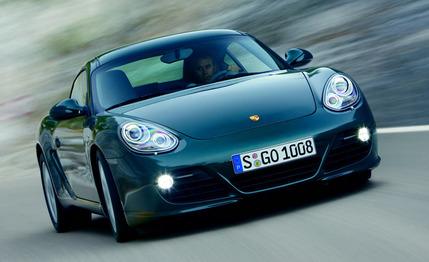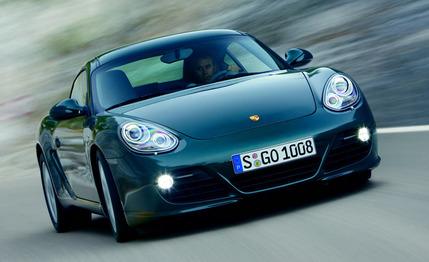 First Drive Review
First came the 911. Then the Boxster. Now the Cayman is the Porsche getting revised engines (including direct fuel injection for S models) and a new seven-speed twin-clutch transmission dubbed Porsche Doppel-Kupplungsgetriebe—or PDK, for those not inclined to German. PDK replaces the aging Tiptronic five-speed manumatic transmission. The base Cayman's engine gets a 0.2-liter and 20-hp boost to 2.9 liters and 265 hp, and the Cayman S gains an additional 25 horses, up to 320.
The extra power isn't life changing. Subjectively, the Cayman S PDK we drove (Porsche didn't let us drive any other setup) felt about as quick as the 2008 model. Porsche claims a PDK-equipped Cayman S will accelerate to 62 mph in 4.9 seconds when performing a start in sport plus mode with launch control, a feature only available with the optional Sport Chrono package. We'd call that an extremely conservative estimate, considering the 4.8-second sprints we've whipped out of a 295-horse, manual-transmission S model and that launch-control starts are engineered to allow the car to accelerate as quickly as physics will allow. We'll have to wait to test both transmissions to see which is ultimately quicker, but for now our money is on the PDK, with the manual a 10th or two behind.
Shift Buttons Bad, Limited-Slip Good
The ZF-supplied, dual-clutch gearbox works flawlessly in automatic mode, with barely noticeable shifts, like other well-developed dual-clutch setups. Unfortunately, Porsche didn't fit dedicated paddle shifters for the manual operation. Instead, what rests on both the left and right steering-wheel spokes are sliding buttons that one pushes to upshift and pulls to downshift. Although this system works if you are a drink-my-coffee-and-talk-on-my-phone-while-I-shift-in-traffic kind of person, it tends to confuse drivers accustomed to the internationally recognized, "right paddle up, left paddle down" setup. It took the better part of a day to break our hands of that custom.
A notable first for the Cayman is the availability of an optional limited-slip differential. It can be coupled to the standard six-speed manual or the PDK gearbox. Both transmissions also have a hill-start assist feature.
Driving Pleasure at Its Best
The Cayman S remains a delight to drive and is one of the few cars that really can deliver complete driving bliss. Those who think mid-engine Porsches are not real Porsches clearly have never driven a Cayman S. The car delivers 90 percent (if not more) of the joy one gets in a 911. The ride and handling balance has always been near-perfect, and it's even better now, thanks to a retuned suspension. Top it off with the Porsche Active Suspension Management variable-shock system, and it just gets better.
Porsche has also tweaked the steering slightly on 2009 models. It's still direct and communicative—we have described the Cayman's steering as "far from numb" in the past—but it seems as though artificial weight has been introduced into the system, although we might be splitting hairs.
Like applying just a bit of makeup, Porsche lightly restyled the exterior of the Cayman S. The headlights now feature an LED strip similar to those found on the latest 911s and many Audis. They serve as the daytime running lamps. The front fascia is modified as well, and the trapezoidal grille's orientation is changed. The taillights are more sculpted, too. Inside, there's the latest version of the Porsche Communication Management system. The new touch-screen navigation system reduces the button count from a busy 32 to a manageable 16. The controls are far better than the old system that used a spinning wheel to select commands.
As with the updated Boxster, the 2009 Cayman S takes a great car and makes it even better. What's not to like about that?