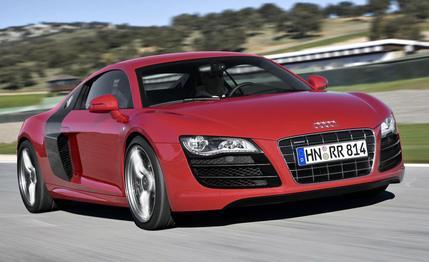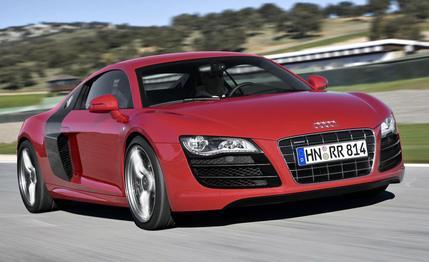 First Drive Review
Building the R8 has been one of the best decisions Audi has ever made. At launch, Audi had almost everything right. Indeed, avant-garde styling, light weight from an all-aluminum body and structure, and nearly perfect handling with a standard all-wheel-drive system all contribute to the car's special nature. Alas, one thing was missing from the package: brute force.
It's true that tuners such as MTM in Wettstetten, Germany, have squeezed extra power out of the R8's standard 420-hp, 4.2-liter V-8, bringing it into supercar territory. But it has been a poorly kept secret for some time that Audi was planning its own, more-powerful version of the R8, with a V-10 installed behind the driver's head. And now it has arrived.
Simple to Accomplish
Audi didn't have to reengineer the car or even develop a new engine for the R8 5.2 FSI Quattro, as the new V-10 model is officially designated. This is the very engine launched in the Lamborghini Gallardo LP560-4 last year, including the cylinder head. "The only difference lies in the intake and exhaust system, as well as the electronics," an Audi engineer told us at the launch of the R8 V-10 in Marbella, Spain. The engine is equipped with a dry-sump lubrication system, as well.
In deference to the Volkswagen Group's internal pecking order, the R8 V-10 is rated at 525 hp, 27 less than the Gallardo's. It is also noticeably quieter than the super-loud Lambo, although it sacrifices little in the character department. The engine's tone is unmistakable as being racing-bred, whereas the regular R8's V-8 timbre possesses less fullness.
Make Sure You Have a "Get Out of Jail Free" Card
In the Audi R8 V-8, you are standing on the gas all the time; the new V-10, on the other hand, teaches you to treat the fun pedal with a bit more respect. This car is wickedly quick, and if you don't watch the speedometer, you will be driving with one foot in jail most of the time.
Despite its all-wheel-drive system, the R8 behaves a lot like a rear-drive car. It sends almost all of its power to the rear wheels, with up to 30 percent of the power transmitted to the front wheels once wheelspin is detected. The weight distribution is about 44 percent in the front and 56 percent in the rear, and the bigger engine doesn't add much heft. At 569 pounds, the V-10 is just 68 pounds heavier than the V-8.