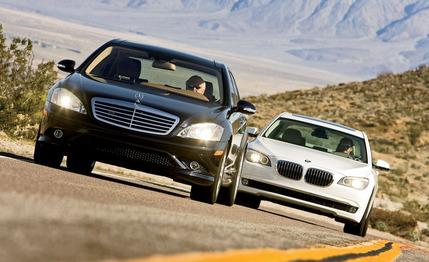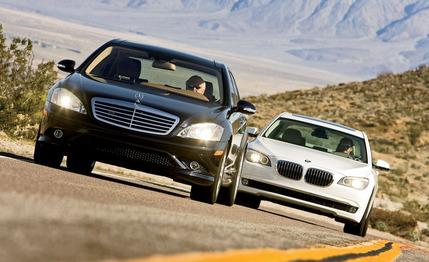 Comparison Tests
So you had to say goodbye to the Gulfstream, the corporate retreat in the Napa Valley, and your custom wastebasket—the decoupage job trimmed with pages from a Gutenberg Bible. Times are hard, and it just won't do to be perceived as excessively self-indulgent—especially if you're high up in the echelons of a publicly held corporation.
The new corporate Puritanism extends to automobiles, too, but in this area you have a little more latitude. Consider these two execucruisers. Yes, they're flagship sedans with prestige brand names. But even in an age of austerity, top execs are still allowed some personal-transportation indulgence. You don't want to be flaunting it with a Bentley, of course. But they don't expect you to drive an econocube, either. We admit that greenies won't approve. Both cars carry gas-guzzler taxes, and their mpg during our test—17 for the Mercedes, 16 for the BMW—is pickup-truck poor. And yes, pricing for both cars is a little high for public approval—more than $88,000 base, well over 100 large as tested—but who knows that?
See, that's the good part. To casual observers—not you or us, of course—one BMW sedan looks pretty much like another. That goes for Mercedes sedans, too, with the added benefit of looking like a Hyundai—though we're pretty sure no one in Stuttgart perceives any advantage in this.
So, elegantly subliminal and not too likely to attract a lot of invidious attention. With cars bearing price tags like these, you expect more than understated grandeur. You expect power. Comfort. Upscale interior appointments. Technical sophistication. Dynamic competence. Even night vision [see "Afraid of the Dark?"].
Check. Both cars deliver on these expectations, and neither is likely to disappoint its owner. But of course there are distinctions, and in at least one category, the distinction isn't particularly subtle.
There are other high-end sedans that meet our (relatively) low-profile criteria—the Audi A8L, the Maserati Quattroporte, the Jaguar XJ Super V-8, and the Lexus LS460L, or even the LS600hL hybrid, which adds a greenish tint to your comings and goings. But we confine ourselves here to the Bimmer and the Benz, the former because it's new, the latter because it prevailed in our most recent comparison of long-wheelbase luxosedans ["Chauffeur Showdown," January 2007]. Here's how the games played out.