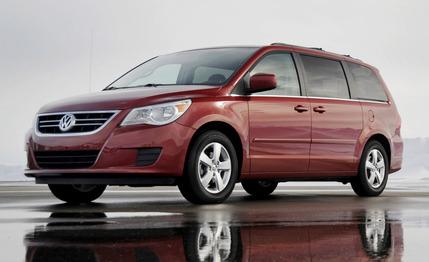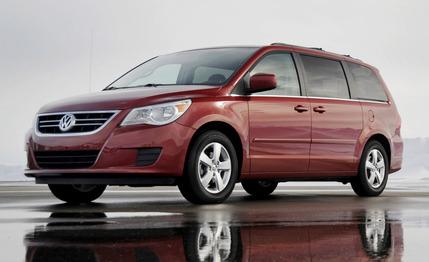 Short Take Road Test
Volkswagen bills the Routan as a "stylish alternative to the minivan," and we have it from no less an authority than actress Brooke Shields, who in Routan ads claims that its German engineering drives women to motherhood (to qualify for ownership).
The TV spots starring Ms. Shields, herself a mom, were clearly zunge in der wange (German for tongue in cheek), but we confess that this minivan alternative looks a lot like a real minivan (German for minivan) to us. If it weren't for the VW fascia and big VW logo (six inches in diameter), you might even mistake it for, say, a Dodge Grand Caravan. Which, of course, it is. Mostly.
Chrysler builds Routans for VW at its plant in Windsor, Ontario. Canada. Not in Germany. And the hardware that makes it a Routan comes from Chrysler suppliers.
Still, there really is German engineering here, and at least some development in faraway Wolfsburg. The project produced positive results. The Routan's moves are more decisive than those of the Chrysler versions, and its ride is more Euro firm than U.S. creamy. The interior preserves Chrysler's clever Stow 'n Go third-row seats but adds more support to the front buckets and a distinctive look to the trim.
Demerits: Our test van was an SE model with Chrysler's 197-hp, 3.8-liter pushrod V-6 and six-speed automatic. The transmission isn't well matched to this engine, and it took 9.5 seconds—and three shifts—to drag our test van to 60 mph, 17.2 through a quarter-mile. What's needed is the 4.0-liter V-6 (251 horses, 259 pound-feet). It'll knock about 1.5 seconds off zero to 60, make you happier in all your driving, and deliver better mpg (17 city and 25 highway, according to the EPA).
To get the 4.0, you have to move up to the SEL ($34,350), $525 more than a mid-grade Honda Odyssey EX-L. Routans are also pricier than their Dodge counterparts. This VW is a little noisy, and in cold weather, it took a lot of time for warmth to emerge from the heater. Still, as Chrysler minivans go, German engineering improves the breed.