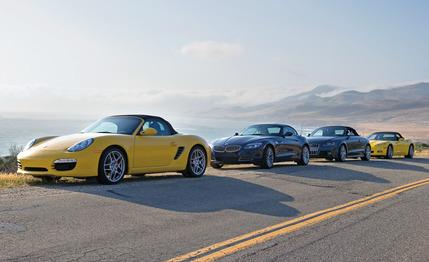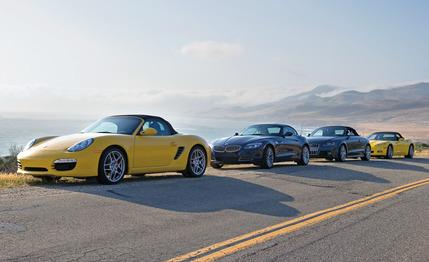 Comparison Tests




With all the doom and gloom out there—evaporating 401k plans, exploding mortgages, pay cuts, Paula Abdul—this might seem like a bad time to buy a roadster. Two seats, flashy looks, extrovert performance, and a voracious fuel appetite are bound to anger your foreclosed neighbors faster than the Senate Finance Committee can bully you into returning your annual bonus. But if you haven't already spent your ill-advised home-equity loan, now is the time to reward yourself with an automotive indulgence. If you are someone who still has a positive net worth, you can jump-start this knocked-down economy just by spending. And we're here to help you make the best choice.
The idea was to round up a group of 50-something-thousand-dollar roadsters, but like the TARP plan, we blew through that ceiling almost immediately. The most egregious example is the Boxster S, which Porsche sent loaded with almost $20,000 worth of options—including the automaker's new $3420 PDK dual-clutch transmission—for an overindulged as-tested price of $76,625. For 2009, the Boxster S comes with a revised 3.4-liter flat-six engine and freshened front and rear styling. It's mostly direct injection that boosts the output 15 horsepower, for a total of 310.
Our second-most-pricey car is the new BMW Z4. The 300-hp sDrive35i starts at a not unreasonable $52,475, but a Sport package (which includes an adjustable suspension), a premium stereo, and a navigation system catapulted the sticker price to $65,345.
To paraphrase sputtering congressman Barney Frank, there are people who, for economic circumstances, must accept the inevitability of not being able to own. In that case, you can do what we did when Chevy couldn't find a Corvette for our test—rent one for a few days. But we had to make do with a year-old 2008 model. If you ignore the 15,000 miles on its odometer, the rental is mechanically identical to an '09, which would cost $62,720 new.
The only car that kept within our 50-something ballpark was the Audi TTS. It might even have arrived under that figure, but about seven grand worth of options put the as-tested price at $55,550, and that included $3000 for the Premium Plus package (the cheapest way to get a power softtop). The TTS comes with an upgraded 2.0-liter, turbocharged four-cylinder engine making 265 horsepower. In roadster form, the TTS folds its cloth roof into the rear seating area found in the coupe version.