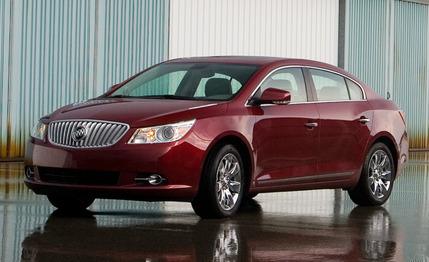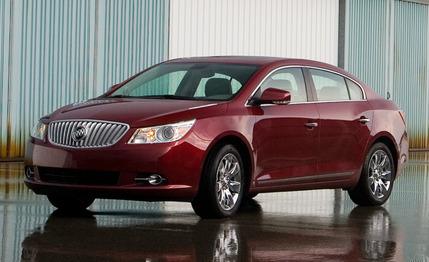 Short Take Road Test
In Canada, this car is sold as the Allure because, in French-speaking Quebec, "lacrosse" is slang for pleasuring oneself. Given General Motors' desperate financial situation, there are those who believe Buick's continued existence is a sort of corporate self-gratification. But the Enclave proved that people are willing to pay a premium for a stylish, well-executed Buick, and the 2010 Buick LaCrosse should please more people than just those inside GM.
Heritage Reinterpreted
Even if its shape seems a bit like an Americanized Lexus GS, the LaCrosse presents a new look for Buick, with a plunging line stamped into the body side that's the strongest commitment to Buick's signature "sweepspear" in decades. The front end is boldly styled, with aggressive creases and bulges in the hood and a wide-mouth grille that definitely says "Buick," but might also ask, "Excuse me, do I have something in my teeth?"
Chrome is everywhere. It's on the shiny hockey sticks that separate the taillights from the trunk; on the big, ovoid grille; on the portholes—which have migrated from the fenders to the hood—and on the door handles, which might be a bit much. Chrome body appliqués are tasteful in no book we've ever read.
Far East Influence
Inside the LaCrosse, however, is a design that is original, adventurous, and spectacular. A stitched material arcs from elbow level on the door panels up to the top of the dash in a dramatic sweep. At the middle of that arc sits the radio/HVAC stack, nestled inside a chrome horseshoe and fashioned from a handsome combination of expensive-looking plastics. Huge audio controls seemingly sized for arthritic hands and octogenarian eyes live on a separate island floating in the middle of the stack. The radio-preset buttons push down like piano keys.
Even the door pulls are things of beauty, looking like lobster claws wrapped in leather (we're not sure who'd wrap a lobster claw in leather, but you know it's happening somewhere on the internet, and that someone is, um, "self-gratifying" to it). Their placement farther aft than in most cars does make for an uncomfortable reach, and we had a couple of close calls in parking lots when wind almost blew the doors into an adjacent car before we could quickly find the pulls.
Back-seat passengers will find themselves in similarly attractive surroundings. The back seat is also spacious; it's upsized for the Chinese market, where this car is expected to be a hot commodity and an estimated 40 to 50 percent of owners will never drive themselves. Bigger Americans will find it a pleasant place to pass the miles, as well, with both longitudinal and latitudinal space on par with the segment's most voluminous sedans.
Old Habits Die Hard
It's not all beer and skittles inside, though, as we did catch a few lingering whiffs of cheapness. The most glaring is the in-dash info screen on cars without navigation. When a high-res, high-contrast screen can be found on a $200 base Garmin or TomTom navigation system, a pixelated display that looks like a refugee from a '70s calculator is inexcusable in any car with upmarket aspirations. The screen looks especially cheap compared to the beautiful, multifunction display tucked between the speedo and tach.
We were also disappointed with a rear-view mirror that suggests GM will never understand how to gracefully shape black plastic, as well as the hard plastic used to form the exceptionally shallow map pockets and glove-box door. We also noticed a slight vibration from the seat coolers—which are among the most effective we've ever experienced—when the car is stationary, but it was unnoticeable once we got moving.
Surprisingly Composed, Yet Pacemaker Friendly
Perhaps more surprising than the interior design is that the LaCrosse is a pretty stimulating place to be while in motion. While nothing about it is outright sporty, neither is it a wallowing pleasure craft. The steering feel is rubberier than that of most sport sedans, but it's pleasantly weighted and offers a degree of feedback absent in Buicks of the last forever or so, and we doubt Buick expects many LaCrosses to go autocrossing anyway. Dive into an on-ramp at seven-tenths, and the LaCrosse feels competent and its body stays mostly flat, but a full-scale assault will reveal the LaCrosse's inner Serta, and speed gives way to howling understeer. Adjustable dampers with a Sport mode are available, but they weren't fitted to our test car. The brake pedal is likewise firm, but goes soft under a heavy foot. Braking to a standstill from 70 mph takes a responsible—but not particularly aggressive—181 feet.
The direct-injected, 280-hp, 3.6-liter V-6 pulls hard to its near-7000-rpm maximum and whisks the LaCrosse to 60 mph in 6.7 seconds, all the way sounding smooth and strong. Some torque steer does emerge when driving in anger, but it is far from unmanageable. The six-speed automatic transmission is a tad slow to swap gears, and although there is a manual mode, it isn't the sort that inspires people to actually use it. We also noted particularly long travel between Park and Reverse that had us double-checking our gear selection in parking maneuvers.
A Sign of Things to Come?
A quick look under the hood suggests—and a quick call to the powertrain engineers confirms—that two more cylinders are an easy fit up front. Sadly, the days of the gratuitous V-8 are probably gone for good. A 182-hp, 2.4-liter inline-four will be standard on base CX models later this year. The CX starts at $27,835 with the 3.0-liter V-6, which also powers the $30,395 mid-level CXL (all-wheel drive adds nearly $2200 to the CXL). The top-of-the-line CXS has exclusive access to the 3.6-liter. Base price on the front-drive-only CXS is $33,765, and our lightly optioned test car rang up at $36,130.
The LaCrosse just may be proof that Buick's best days are yet to come. A bit derivative on the outside but simply stunning on the inside, this is the first Buick in some time that is gratifying to drive. You might even call it alluring.