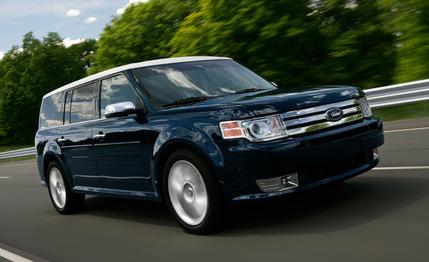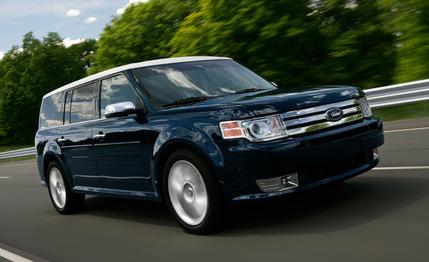 First Drive Review
We think the funky Ford Flex is comfortable and generally likable, but we'd hardly call it a performance vehicle. The newly available twin-turbocharged, 3.5-liter EcoBoost V-6 doesn't fundamentally change that, but it does at least add some performance to a crossover desperate for speed. As it turns out, a few other modifications help spice things up, too.
Even Heavier, Much Faster
The standard Flex might look like a wagon, but it drives like a crossover. It isn't particularly quick, hitting 60 in 8.4 seconds, and although it handles relatively well, it isn't terribly thrilling to toss around, due to numb steering and a base curb weight that tops 4800 pounds in all-wheel-drive guise. The Flex EcoBoost, available only with all-wheel drive, adds roughly another 200 pounds. But with 355 hp at 5700 rpm and 350 lb-ft of torque available from 1500 all the way to 5250 rpm—advantages of 93 hp and 102 lb-ft over the naturally aspirated Flex—it feels much, much quicker.
We didn't have a chance to strap test equipment to the Flex on our initial drive in mile-high Boulder, Colorado, but Ford claims a 0-to-60 time of 6.8 seconds. Our recent test of the Lincoln MKT, which shares the Flex's platform and EcoBoost powertrain, resulted in a 0-to-60 figure of 6.1 seconds, so we think Ford may be sandbagging a bit.
The blown engine is complemented by the same six-speed automatic transmission found in the standard Flex, only it's enhanced with an overdrive lockout mode with hill descent control, as well as a true manual shift mode. Self-shifting is done via steering-wheel paddles shaped exactly like those on a BMW 3-series, a surprisingly sporty touch for a Brady-grade family hauler. (It's too bad about the cheap black plastic in which they're rendered.) Speaking of grades, the overdrive lockout mode's hill descent control automatically downshifts into an appropriate gear for engine braking when the shifter is set in "M" and the brake is held for a half-second or so.
The hill-descent control works well even while pulling a 2500-pound trailer, which the Flex did with incredible ease at the 7000-plus-foot altitudes we experienced in Colorado. As a forced-induction motor, the EcoBoost V-6 is innately thin-air friendly, which helps explain—but in no way tarnishes—the fact that the Flex EcoBoost proved more adept at light towing than the Chevy Suburban, Toyota Sequoia, and GMC Acadia that Ford brought along for comparison.
But the story of the Flex EcoBoost is not merely one of flexing muscle. The suspension is revised with stiffer springs and revised dampers, which serve to lower the vehicle by 0.4 inch and deliver a nice, taut ride that remains delightfully free of harshness. Roadholding was impressive as we hustled through mountain passes. We did notice a bit of a low rumble emanating from the rear of the vehicle during high-speed cruising, however, as well as a bit of wind noise from the A-pillars—no doubt a byproduct of the tall windshield, which is also responsible for ending many a bug's life (in a splat, not even a smear).
The standard Flex has a hydraulic power-steering system which we don't particularly like; it's replaced in the EcoBoost model by an electric power-assisted system that we also don't particularly like, owing to its having more or less the same lack of feel. The EcoBoost's electrically operated system does allow for two noteworthy pieces of technological innovation: an active straight-line assistance feature that countersteers automatically in the face of crosswinds and crowned road surfaces and a sonar-based self-parallel-parking system that absolutely shames the slow and sloppy camera-based self-parking technology currently offered in certain Lexuses.
Can You Tell the Difference?
Big 20-inch, 10-spoke wheels, a discreet "EcoBoost" tailgate badge, and two fat outboard tailpipes that stick out far enough from the bumper to sear one's shins are the only giveaways that this Flex has hit the gym. Inside, there are even fewer unique features—just the aforementioned shift paddles and the "M" slot in the transmission gate. However, 2010 also brings certain refinements to all Flexes, such as a telescoping function for the tilting steering column and more comfortable front headrests. Improvements are always welcome, but we think the Flex interior is already among Ford's strongest, with above-average materials and assembly quality and a level of practicality that's virtually unmatched in all of crossoverdom.
Ford admits the twin-turbo Flex will have limited appeal. The company expects the model to make up only 15-or-so percent of all Flexes. And it won't be cheap. The base price is technically $36,890 for a 2010 Flex EcoBoost, but Ford admits the only way to get one that cheap will be to order it. The effective base price for an example in dealer stock will be $39,940, which includes goodies like leather upholstery, a 12-speaker Sony sound system, power-operated pedals and liftgate, and heated mirrors. The Flex Limited with EcoBoost, with its upgraded leather, voice-activated Sync and navigation, LED taillamps, and xenon headlamps, will effectively start at $43,580.
That might seem pricey for a Flex, but it's in the same ballpark as well-optioned seven-seat crossovers from GM, as well as the far heftier and thirstier Toyota Sequoia and Chevrolet Tahoe and Suburban, vehicles that Ford claims are cross-shopped with the Flex. In that company, the Flex EcoBoost is not only one of the most-fuel-efficient options but also by far one of the sportiest. Plus, it looks cool. If you have to drive a box, at least make it an interesting one.