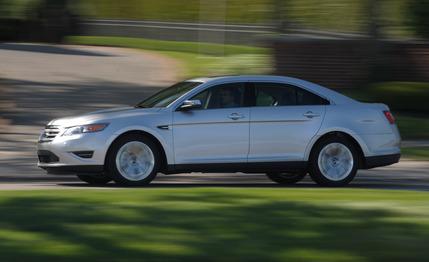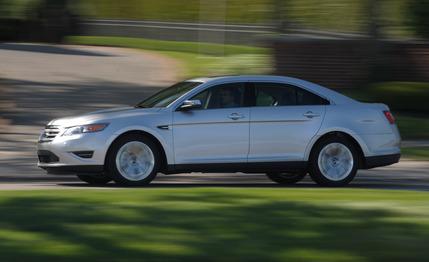 Road Test


It's no secret that the automotive world has changed since 1985. That's when the original Taurus rolled onto center stage, provoking observations such as these from C/D's test staff:
"This is easily the most agile and capable sedan Detroit has ever produced" [October 1985].
"For the person who enjoys driving, American sedans don't come any better" [April 1986].


A quarter-century later, here's the newest Taurus, a thoroughly refined large family sedan embodying the latest in contemporary safety technology. Attractive inside and out. Roomy. Solid. Quiet. Exemplary fit and finish. A better car than the original in almost any category you care to cite.
So why don't we love it as much as we loved its mid-Eighties ancestor?
Back to that in a minute. First, let's review what's new about this newest Taurus. This is more than a simple reskin of the previous name bearer, which in fact began life in 2004 as the Ford Five Hundred. The 112.9-inch wheelbase is unchanged, but length (202.9 inches, up 1.1), width (76.2 inches, up 1.7), and height (60.7 inches, down 0.8) have all been altered. There's more character in the body sides, an attractive evolution of Ford's corporate three-bar grille up front, and a graceful swoop to the roofline.
If the greenhouse seems a little restricted—the ratio of side glass to the height of the door panels yields a gun-slit look—well, that's the way mainstream buyers seem to like it. It makes them feel more secure. In any case, forward sightlines are good (thanks to the fall-away design of the dashboard), and rear-quarter views are augmented by the radar-based "blind-spot information system" (BLIS), which flashes a light in the side mirror when another car lurks in your blind zone. Though not technically new—Volvo was first with it—BLIS is a welcome and helpful safety touch.
By today's standards, this is a big car—a member of the EPA's full-size fraternity. It's smaller than the Mercury Grand Marquis (as well as the fleet-sales-only Crown Vic), Ford's rear-drive old guard. But it's bigger than the Honda Accord sedan, which edged into the full-size category in its latest makeover. As befits a big sedan, there's plenty of room inside, front and rear, though thanks to a lowered H-point and small compromises in knee- and legroom, the new car feels a little tighter in back. Nevertheless, the updated Taurus is one of those rare cars in which the center rear seat is actually adult-habitable for more than five blocks. And the trunk is vast: more than 20 cubic feet, which can be augmented by folding the rear seatbacks.
Inevitably, big adds up at the scales. The basic front-drive Taurus weighs in at more than two tons—4097 for this upscale Limited model—and, of course, all-wheel-drive versions are heavier still. Mass is never an asset in the 0-to-60-mph game, but Ford's corporate 3.5-liter, DOHC 24-valve V-6 (263 horsepower, 249 pound-feet of torque) and six-speed automatic conspire to get the Taurus moving respectably: to 60 mph in 7.0 seconds and through the quarter-mile in 15.4 seconds at 92 mph. There are hotter rides in this market segment—an Accord V-6, for example, is significantly quicker. But this Taurus doesn't seem to us to have been conceived as a thrill ride; viewed as abuilt-for-family-comfort-and-not-for-frolic sedan, the company need not apologize.
_______________________________________________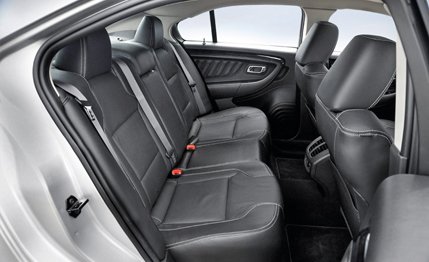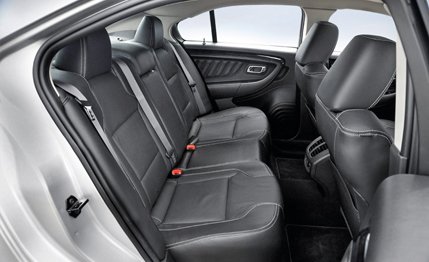 Black is Beautiful
In back, enough space for three adults.
_______________________________________________
In view of its character, we found the paddle shifters in our Taurus test car to be something of an anomaly. Function is good; selected gears hold to the 6700-rpm redline (not indicated on the tach), and the shifts are reasonably prompt. But this feature feels out of place in a car that otherwise keeps any sporty pretensions well concealed.
The latest Taurus occupies a different position in the Ford product panoply than the original. It's bigger and more luxurious, even in base trim; the Fusion is the corporate mid-size standard-bearer today. And with a price ladder that starts at $25,995 (our Limited test car opens at $31,995), you'd expect a fair amount of pampering, in this or any car, as well as a solid inventory of standard safety features: traction and stability control, anti-lock brakes, airbags galore.
Several Taurus goodies merit mention here. There's a capless fuel filler (standard), first introduced on the '05 Ford GT. No more lost gas caps or caps flapping in the wind. Then there's Sync, the voice-activated communications-and-entertainment system (also standard), which debuted with the current Focus. A breathless Detroit Free Press writer thought Sync was as significant in the advance of the automobile as the Ford Model T, which is hyperbole, though the system is excellent. We've already mentioned the BLIS option. Ford has also added adaptive cruise control, an optional upgrade on the basic cruise that includes collision warning and preloads the brake system for quicker response. When the system decides collision potential is high, it beeps and flashes a row of red lights atop the dash. For anyone given to dissecting the bovine plodding of commute traffic, this can be irritating.
The new key fob no longer includes a key. It just needs to be in the car; then the driver pushes a button to provoke combustion. Nothing new there, but micromanaging owners can program the car to restrict maximum audio volume and top speed and also to sound speed-alert chimes (when a specified key fob is present)—useful functions in a car that may be shared by impetuous young drivers and senile old ones.
Ah, yes, the drivers. We don't regard ourselves as impetuous—and some of us are no longer young—but with any given set of cars, we're going to favor the ones that deliver driver gratification: athletic responses, tactile steering, powerful braking. The original Taurus had the agility and steering parts of the checklist covered and led us to equate it with an Audi 5000S and a BMW 528e—pretty heady company for a mainstream American sedan.
The latest Taurus doesn't inspire comparisons with any Eurosedans. Its rack-and-pinion power-steering system is numb on-center and rubbery as the driver cranks in more lock; there's no real certainty about where the front wheels are pointed. Similarly, the trade-offs for exceptionally smooth ride quality are what's-your-hurry responses and progressive understeer. And though the braking performance—191 feet from 70 mph—is an improvement on our '86 Taurus test, it's not by much (three feet), nor is it respectable.
Most of what Ford has achieved here is laudable, particularly in terms of materials, quality, and styling. For those who don't care about driver involvement, it may just be the ideal full-size family sedan. We're on record about where we stand regarding this trait. So let's just say that when assessed as a car for the discerning driver, the latest Taurus doesn't invite comparisons with Bimmers, Audis, or even the Honda Accord.