2009 Audi Q7 3.0 TDI Quattro Diesel S-line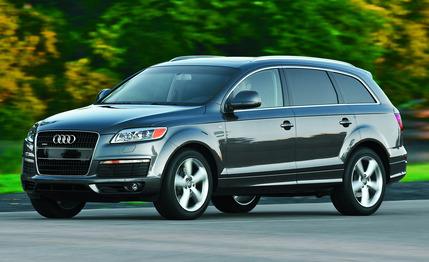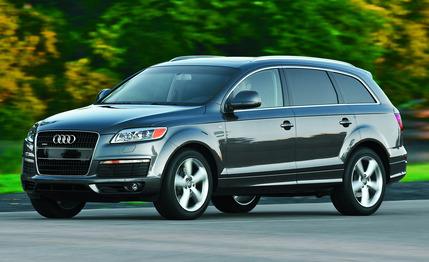 Quick Take


Diesel Engine? Check. Otherwise Similar? Check.


Audi's seven-passenger SUV is now available with a 225-hp, 3.0-liter diesel V-6, but it's otherwise identical to its gasoline-powered siblings. Delivering 406 pound-feet of torque to the road means just a little bit of right foot is all that's needed to get this 5651-pound dreadnought off the line.
Diesel or Gas, Which is For Me?
If you're talking fuel economy, diesel wins. We achieved 21 mpg in the TDI, which is 24 percent better than the 17 mpg we saw with a 3.6-liter V-6 and 31 percent better than the 4.2-liter V-8's 16 mpg. In straight-line runs, the diesel lags behind both gas engines. When the V-8 passes the quarter-mile mark at 15.6 seconds, the gas V-6 is 0.4 second behind, and the diesel trails the gas V-6 by an equal margin. All Q7s feature a smooth, cruising-friendly ride and good forward sightlines from an elevated driving position.
What's the Cost?
The Q7 with the compression-ignition V-6 starts at $51,725, which is $4000 more than an equivalent 3.6-liter sparker and $2420 less than an equally optioned V-8–powered 4.2. Even with diesel prices currently below the cost of premium unleaded, it would take about 95,000 miles to recoup the TDI's $4000 price hike over the 3.6.