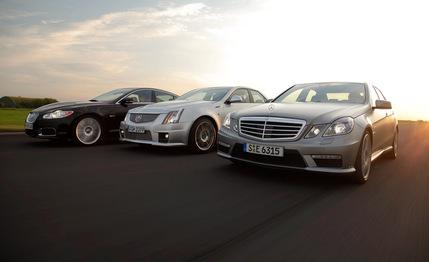 Comparison Tests


Under full-throttle acceleration, the Mercedes-Benz E63 AMG spews such a thunderous wail from its four exhaust pipes that usually cheerful southern Germans, apparently used to the softer sounds of airplanes taking off and landing at our runway testing site, called to complain about the noise. In Bavaria, it seems, it's an unalienable right to leave your windows open and protest when the slightest clank disturbs an idyllic afternoon.
Truth is, we weren't exactly behaving like ambassadors of goodwill in a foreign land. We blame the cars, all supersedans pumping out more than 500 horsepower each. Even the Jaguar XFR, rebelling against its tweedy British stereotype, was nearly as loud from the side of the road as the Benz.
The Cadillac CTS-V, perhaps in an extension of President Obama's happy rhetoric about restoring our relationship with Europe, provoked no such ire from Germany's greens, thanks to a soft-spoken exhaust made to meet European noise regulations. Even with the muted soundtrack, our usually home-team-loyal German correspondent quickly deemed the Cadillac to be the sportiest-feeling car of our trio and one that, at $67,345, undercuts the test's second-priciest Jaguar by more than $12,500.
It will cost you about $8000 more than the Jag to start looking at the Mercedes; with optional carbon-ceramic brakes, 19-inch wheels, and some luxury accouterments, we estimate an as-tested price to surge past a hundred grand. Those brakes are available right now in Europe, but their U.S. arrival will be delayed a year reportedly due to short supplies, thus the estimate. Also to be determined are the E63's U.S. fuel-economy ratings and, thus, the severity of its gas-guzzler tax. And that doesn't include the stealth-fighter matte paint on our test unit, which will be found stateside on only the SLS supercar for the foreseeable future.
Despite the disparate window stickers, everything else—horsepower, weight, terrible fuel economy, even tire width—is nearly identical in this group. Even the acceleration to 100 mph ended up in a three-way tie. We wouldn't dare call any of these cars a loser, but still, there must be a winner.