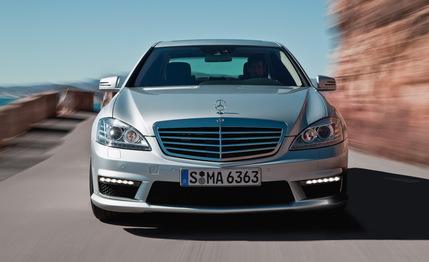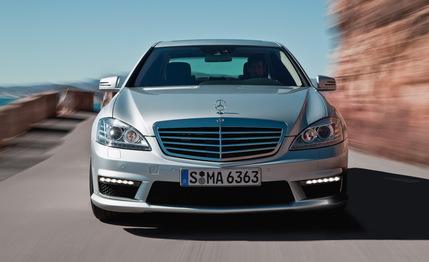 First Drive Review
Over at Mercedes-Benz, they take their flagship S-class seriously. As the halo car for a brand represented by a star, the S had better shine pretty brightly in its segment—a segment full of customers who are as diverse as they are discriminating. Thus, the S-class has to be all things to lots of very rich people, which explains why there are no fewer than six S-class models, two of which are warmed over by the wild bunch at the company's AMG tuning division, which tends to turn everything it touches into a big fat pot of fast.
Case in point: the E63 AMG, an E-class sedan (or wagon, if you ask really nicely) blessed with a snap-to suspension and stuffed with a 518-hp version of AMG's pride and joy, a mellifluous 6.2-liter V-8 with a truly satanic exhaust note. But whereas the E63 is as raucous as a rabid wolverine, the larger, costlier S63 AMG behaves more like a mildly irritated lioness chasing pesky hyenas off her territory. Of course, with the S63's 518 hp and 465 lb-ft of torque shooting through fat 20-inch rear wheels, those hyenas don't stand much of a chance. During our most recent test of a S63 AMG—a car virtually identical under the hood to the 2010 model—the big saloon pegged 60 mph in 4.5 seconds, hit the quarter-mile in 13 flat at 110 mph, and stopped from 70 mph in 159 feet, which is pretty awesome for a 4900-pound cruiser.
Hypercomposed, not Hyperactive
All is done, however, in the utmost of style, thanks to new LED head- and taillamps, which comprise the most major among the year-to-year upgrades for all 2010 S-class models. The high performance is also delivered in extreme composure, thanks to the Active Body Control suspension, which Mercedes has been honing for years and seems to have gotten just right in the 2010 S63. Some credit must be given to the new variable-ratio steering system that feels both natural and beautifully weighted. Over the road, only the occasional rough impact will remind you that AMG has indeed had a hand in the suspension tuning. But in the corners, the confidence level rises somewhat higher than one would expect given the car's size.
The S63's interior remains as decadent as Hearst Castle, and as with every 2010 S-class, it gets new ambient lighting color choices among Solar (amber), Neutral (white), and Polar (ice blue). The seats are snug, with active bolsters and massage functions that keep the driver and front passenger firmly in place when gettin' jiggy in the twisties. The enhanced night-vision system now recognizes and highlights people in view (à la the system in the latest BMW 7-series), although our daytime drive allowed us no opportunity to chase down pedestrians to see how they look in infrared.
Also for all 2010 S-classes, Mercedes has further developed its assistance devices, including adaptive high-beams, lane-keep assist, collision mitigation, and a crosswind-stabilization program, and has added a drowsiness detector. During our two-hour, fair-weather California drive in the S63, there didn't seem to be any crosswinds—at least not that we noticed. So maybe that means it worked. We'll never know.
You Want Crazy? Look Elsewhere
Of course, pretty much all of what we just highlighted also applies to the competent and handsome S550, which takes about a second longer to reach 60 mph but, with its optional AMG sport package, looks virtually identical. Indeed, without much separating the S63 AMG from the S550—performance-wise or character-wise—this begs the question: is the S63 worth the $134,425 price of entry when the S550 starts some 40 grand less?
That is the same question that we grappled with when we first tried the S63 AMG out two years ago, and one that we still answer with a "not really." With six versions of virtually the same car, ranging in price from the S400 hybrid's $88,825 to $202,025 for the top-dog, 604-hp S65 AMG, Mercedes might have let the S63 AMG stand out with some of that "You want crazy? I got your crazy!" demeanor that makes the C63 and E63 so wildly addictive. But, while the S63 and all those other "63"-powered AMG cars share more or less the same heart, that heart certainly doesn't beat the same way in the S; the S63 AMG remains an S-class first, and an AMG second.