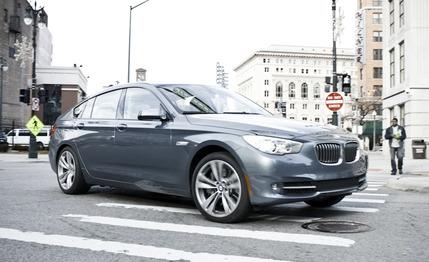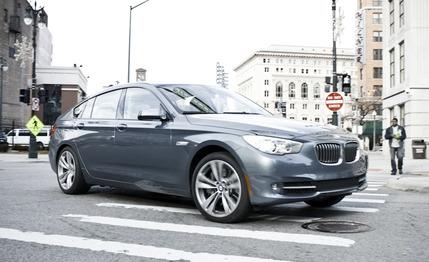 Short Take Road Test




This may be hard to accept, but what you see here is a BMW that's not really conceived to please Bimmer loyalists in the U.S. That's because this inflated version of the 5-series sedan is aimed at expanding markets where vehicle priorities differ from our own. China, for one.
If that seems peculiar, remember that the booming Chinese market is the main reason Buick survives while other GM brands have perished: We're talking about people more interested in comfort, space, and prestige than ultimate driving.
Not that this swollen five-door is deficient in basic BMW dynamic virtues. Yes, its, uh, generous dimensions—3.9 inches longer than the 2011 5-series sedan on which it's based, 1.6 inches wider, 3.8 inches taller—make the regular 5s look svelte. Our test car weighed almost 2.5 tons (4939 pounds), which is a staggering 891 pounds more than the last 550i we tested [November 2006].
Nevertheless, the 550i GT prances right along with its tidier stablemates, sprinting to 60 mph in 5.2 seconds and covering the quarter in 13.6 at 105 mph. That's a wink quicker than the sedan in that 2006 test. The GT's 400-hp, 4.4-liter direct-injection twin-turbo V-8 churns up 40 more horses than the naturally aspirated 4.8-liter in the 2006 test, but the real key to the GT's performance is the turbo V-8's massive torque—450 pound-feet, a gain of 90—plus instant throttle response and a very slick ZF eight-speed automatic transmission.
If the GT's acceleration is surprising, its agility is not. BMW's chassis engineers have already shown us remarkable skill in mass management with the M versions of the even heavier X6 and X5, and the GT is another example, albeit not as extreme. Body motions are limited, with noticeable roll-stiffness distinctions through the three suspension presets; grip is respectable, at 0.86 g; and if the optional ($1750) four-wheel active steering lacks on-center feel, it's a welcome feature in high-speed cornering and also makes the GT surprisingly handy at parking-lot speeds.
True to BMW's dynamic standards, ride quality is supple and braking performance is excellent (160 feet from 70 mph to standstill). Plus, the GT has specific advantages: presidential-limo head- and legroom in the aft cabin, replete with adjustable seats (part of a $3650 option package); nifty configurability to the cargo compartment and rear hatch; and exceptionally low noise levels.
On the debit side, there's fuel economy (if that's the right word): 15 mpg city and 21 highway per the EPA, 16 mpg in our test. The price is $65,775 for the base model (including a grand for the guzzler penalty), $4500 more than a standard 550i. And options add up at a frightening rate: Two GTs came to us for evaluation—the first was loaded to the tune of $90,925; the second not quite so loaded, at $80,425. Whew.
Then there's the styling. BMW marketing types say they don't expect hard-core Bimmerphiles to appreciate it. We think that expectation may be optimistic.