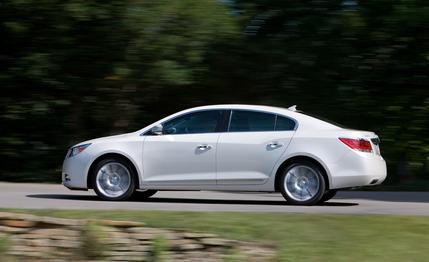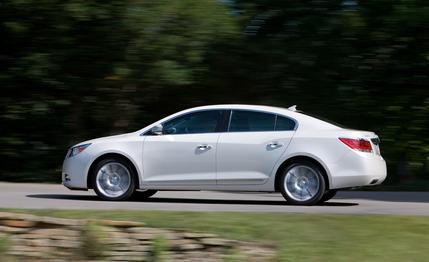 First Drive Review
The Buick LaCrosse was overhauled for the 2010 model year from the vehicular equivalent of a floral-patterned, plastic-covered sofa to, well, still a sofa, but one that's much more modern and stylish. And although we've already sampled the range-topping LaCrosse CXS equipped with its 280-hp, 3.6-liter direct-injected V-6, we've just taken a spin in the newly launched 2.4-liter four-cylinder CX model. Many consumers are shifting their focus to fuel economy rather than performance, but is a four-banger the right fit for this large sedan?
Changes in the Range
Before we answer that question, it's worth noting that GM has several changes in store for the LaCrosse this year and next. Here, a quick recap of what's going down:
At the bottom of the range sits the CX model, which is available for 2010 with this new 182-hp, 2.4-liter Ecotec four-cylinder or a 255-hp, 3.0-liter V-6; for 2011, the 3.0 will be dropped from the powertrain lineup completely. Even being the base trim, among the CX's standard goodies are electronic stability and traction control, power and heated side mirrors, keyless entry, power front seats, XM radio, and rear parking assist.
The next step up is the CXL, which now has only the lame-duck 3.0-liter and is the lone model to offer all-wheel drive. For 2011, CXL buyers will get to choose between the 2.4-liter and the 280-horse 3.6-liter, the latter available with all-wheel drive.
Last is the loaded 3.6-liter CXS, for which all-wheel drive becomes available in '11. But the big CXS news this year is the new front HiPer Strut system that will become standard after May of this year. HiPer Strut is a no-cost addition that revises the geometry of the front MacPherson struts, and Buick says it maintains more tire contact with the road, reduces torque steer and kickback in the rack, and increases steering feel. You can read more about our short drive with it here. (After 2011, Buick will be dropping trim designations for all its models.)
The Right Stuff?
Now that you're well versed in LaCrosse goings-on, let's get to the specifics of the 2.4-liter CX. This 3800-plus-pound sedan is motivated by a mere 182 hp and 172 lb-ft of torque, but even so, the LaCrosse can get out of its own way. Beyond just moving this big four-door, the direct-injected 2.4-liter has enough power to facilitate safe passing maneuvers on two-lane roads. It's rated for decent mileage, at 19 mpg city and 30 on the highway, so what more could you ask for? Well, that depends on what you're seeking.
If you're looking at the four-cylinder because it's the cheapest way to get into a LaCrosse (at $26,995) and you desire a nice, comfy car wherein performance or mechanicals are of no importance, then by all means, go for it. But if you're looking at the LaCrosse as an entry-luxury car, then you should step up to the 3.6-liter V-6.
During our drive in rural Virginia, the LaCrosse CX exhibited the same annoyances with its transmission that we've encountered in the Chevrolet Equinox equipped with the same powertrain. The six-speed automatic is obviously programmed for fuel economy above all else and thus is constantly changing ratios. Shift up, shift down, back up again, and back down; the box is as annoying as a twitching eyelid, swapping gears on the slightest incline or even gust of wind. It wouldn't be so bad if the changes were seamless, but they are felt, and the transmission in our example even stumbled over itself a couple of times, causing a hard jolt in the cabin. Speaking of cabin disturbances, in fifth or sixth gear, we found that the 2.4-liter often sounded like a diesel, producing a low rumble that vibrated the floorboards. Our car was a preproduction build, so we hope this was an isolated case; all that NVH certainly contradicts the smooth luxury rep the LaCrosse is trying to cultivate.
We will admit that ordering the smaller motor does have a benefit beyond fuel economy, as the steering lightens up a bit with less weight over the front and offers better on-center feel than in the V-6 cars. The LaCrosse has a solid structure that can actually take a twist in the road with some confidence, although the huge A-pillars hinder visibility, especially in left-handers.
The LaCrosse, of course, isn't intended as a performance machine. It's supposed to be a luxury car where disturbances are minimal—if they're there at all. But given our early disappointment with the refinement of this drivetrain and the fact that its fuel-economy gains over front-wheel-drive V-6 models are minimal—2 mpg city and 3 mpg highway—stepping up to a couple extra cylinders makes sense if you can afford it. We look forward to testing a production LaCrosse CX to see if that opinion changes.