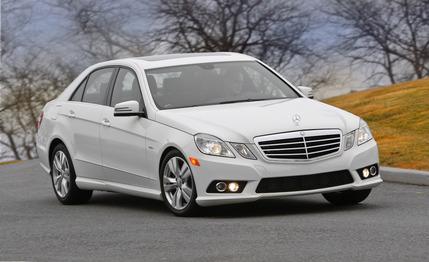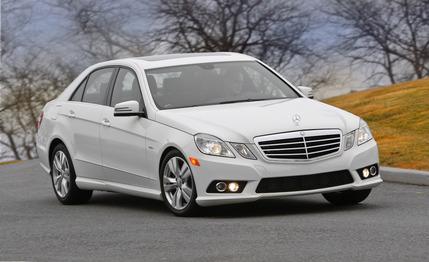 Short Take Road Test
The Mercedes-Benz diesel-powered mid-size sedan is as durable a notion as you'll find in autodom. Mercedes created the world's first production diesel-powered passenger car in 1935 and began putting oil burners in its mid-sizers (a.k.a. Pontons) in 1955. The very words "Mercedes diesel" conjure all kinds of associations, from college professors who have forsaken their Peugeots, to wiry German mechanics, to cab drivers in Kabul. It's an archetype; a 911 Turbo for meerschaum-smoking squares, a Shelby Mustang for people who got beat up in high school. Let's see how this newest one, the E350 BlueTec, stacks up, shall we?
Stirring Diesel into the E-class Formula
In every regard save for its powerplant, the E350 BlueTec is a regular E350. It shares the mainstream sedan's body, seven-speed manumatic transmission, coil-spring and multilink suspension, long-haul seats, and no-BS interior. But the car's 3.0-liter diesel engine drastically alters the nature of the beast.
Unlike the gas-powered E-class's 3.5-liter, 90-degree V-6, the diesel mill is smaller by half a liter and keeps just 72 degrees between the banks. This engine first came to the U.S. under the hood of the 2006 E320 diesel, but it's now fitted with Mercedes' urea-injection system that scrubs the exhaust clean of almost all its NOx emissions and makes the car 50-state legal. Producing just 210 hp, the diesel V-6 packs a 400-lb-ft wallop; that's more torque than the E550 sedan's 391 lb-ft rating.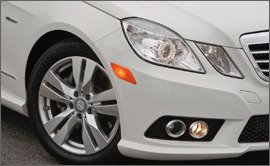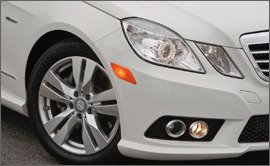 Acceleration isn't nearly as astounding as those torque figures might suggest. Our test car posted a tepid 7.2-second 0-to-60 time, nearly a second off the 258-pound-footed, gas-powered E350's 6.3 seconds. We attribute some of this laggardlyness to our diesel's 300 extra pounds, most of it exhaust-scrubbing hardware, but also to the fact that the engine tops out, in diesel fashion, at a low 4500 rpm. And so, predictably, the BlueTec ran out of thrust before its gas-powered sibling, the disparity approaching almost a full second as the diesel went through the 30-to-50-mph, 50-to-70-mph, and quarter-mile drills.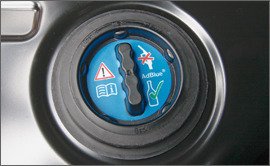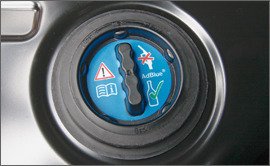 The character of the engine, however, is perfectly matched to that of the car—solid, firm, unbreakable. It's less coarse and clattering than you'd imagine a diesel to be, even bettering the sound-level readings we took from the regular E350 at wide-open throttle and 70-mph cruise. The steering is slow, a bit numb, and not very linear; it gets more faithful with g-loads in the tires. Stopping the car in an unspectacular 172 feet, the brakes are nevertheless deliberate and predictable. The ride is absolutely stable, and the car tracks with locomotive determination. Responses are stout; this is a linebacker, not a wide receiver.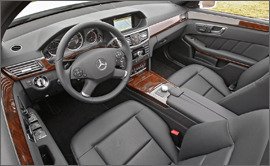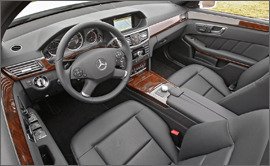 Aside from torque, the other great advantage of diesel engines is their range. The higher energy density of the fuel compared with gas means that cars like the E350 BlueTec burn juice at a slower rate. The EPA pegs the BlueTec at 22 mpg city/33 highway/26 combined versus the regular E350's 17/24/19—that's roughly 30 percent higher across the board. We came up far, far short of that in our testing, with a combined 21 mpg. This particular car's economy suffered because we used it as part of our 10Best drive, whereupon the tar was fairly beaten out of the thing. We've enjoyed 35-mpg highway cruises in other contemporary E-class diesels.
Purely a Luxury Car
At $51,775, the E350 BlueTec runs $1500 more than its gas-powered sibling. Our test car added $6450 via the Premium Package 2 with its navigation, Harman/Kardon audio, HID headlamps, and heated seats, among much else (the Sport package on our car is a no-cost option). But nothing approaching the full cost of the BlueTec system's hardware appears to be passed along to the consumer, and fuel savings promise to be significant if diesel prices remain close to those of gasoline. About that urea, though: If you're not planning on harvesting and refining it yourself, expect to spend about $1500 on the stuff for every 100,000 miles you drive, thereby negating a large chunk of the fuel savings. Note that we said every 100,000 miles. The E-class diesel may be more expensive to buy and just as expensive to run overall, but it will keep going until you croak. For this reason, Mercedes diesel loyalists tend toward the evangelical, and the diesel version traditionally holds its value better than any other E-class.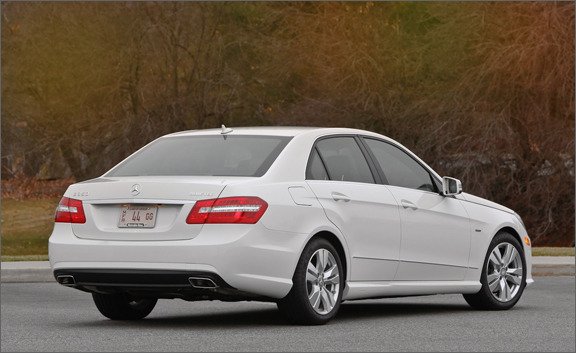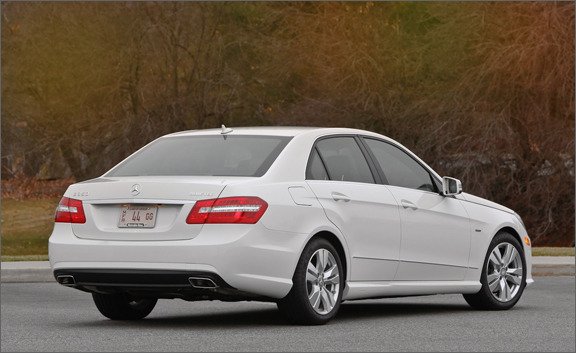 There's another, subtler rationale for their allegiance. Over the past quarter-century, the definition of a luxury car has expanded to include a high degree of sportiness. Not everyone wants that, especially the aforesaid nerds. So it's refreshing and even a bit nostalgic to be confronted with a high-end sedan such as the E350 BlueTec, a car that defines luxury as the reduction of stress.