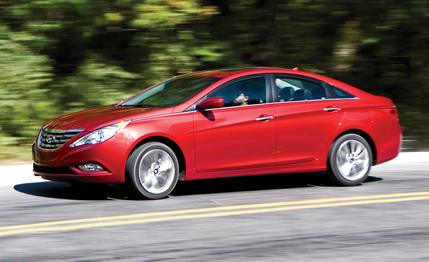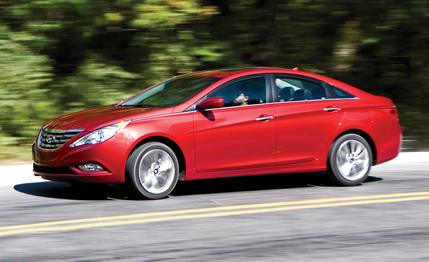 Instrumented Test


From the December 2010 Issue of
Car and Driver
TESTED
In our May issue, we lamented that the new Hyundai Sonata lacks a V-6 engine option ["Practically Chic"]. The absence persists, but most of our complaining has ceased. The Sonata's performance version spreads 1998 cc among just four cylinders, fed by a new direct-injection system and enhanced by a new twin-scroll turbocharger.
A square design—86-mm bore, 8
6-mm stroke—the DOHC aluminum four has continuously variable valve timing on both cams and a 9.5:1 compression ratio. With the turbo huffing up max boost—17.4 psi—the new engine (Hyundai calls it Theta II) is rated for 274 horsepower at 6000 rpm and 269 pound-feet of torque from 1800 to 4500 rpm. That works out to 137 horsepower per liter. On regular unleaded fuel.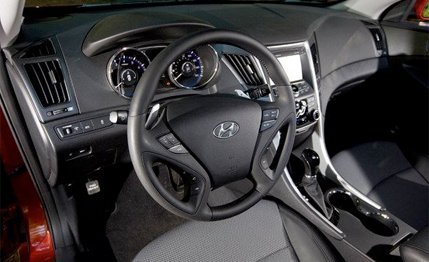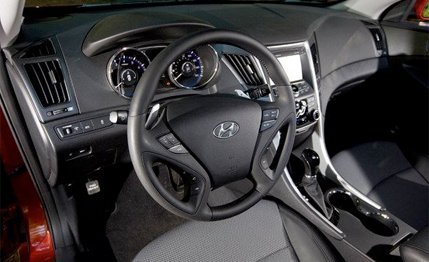 The output numbers, in fact, are stouter than any of the V-6 engines offered in the Chevy Malibu, Ford Fusion, Honda Accord, ­Nissan Altima, or Toyota Camry. And with better fuel-economy numbers. This Sonata achieves EPA ratings of 22 mpg city and 33 highway. (We averaged 24 mpg.)
Hyundai says the new engine delivers the best power-to-weight ratio in this class, although, by our math, it falls just shy of the Altima's. But that still ought to add up to one of the quickest cars in the segment. Right?
Not so fast. Our test car ran from zero to 60 mph in 6.2 seconds and to the quarter-mile mark in 14.7 at 99 mph. A Camry V-6 cracks six seconds to 60 (5.8) and covers the quarter-mile in 14.3 at 99. A Mazda 6 s Grand Touring sedan with V-6 power hits 60 mph in 6.1. And both V-6 cars with automatics are quicker in the 5-to-60-mph street-start sprint.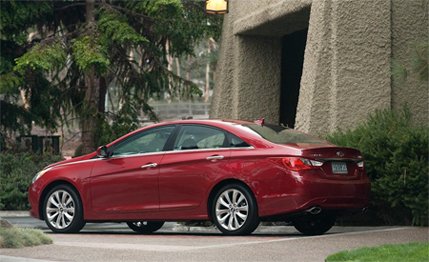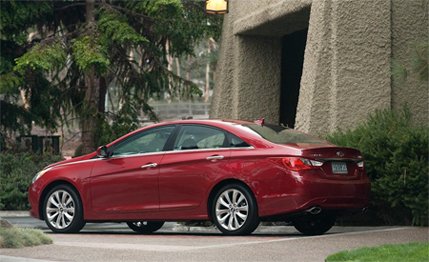 We'd expected the Sonata turbo to deliver a little more haste. But to be fair, our test car went to the track with just 367 miles on its odo. And a manual transmission might have helped, as it does for some of the ­Sonata's competition, such as the Altima, which gets to 60 mph in less than six seconds as well. Hyundai's six-speed automatic includes a manumatic mode and is smooth, but it's not as prompt as some of the dual-clutch setups out there. And it's the only gearbox offered with the turbo motor—which is lamentable.
On the other hand, throttle response is lag-free, and 6.2 to 60 is 1.6 seconds quicker than the Sonata four that took the blue ­ribbon in our May comparo. And this Sonata, like that one, possesses excellent road ­manners (though the electric power steering weights up unnaturally and stopping distances could be better), brisk responses, ­all-day comfort, a handsomely appointed ­interior, seductive good looks, first-rate fit and finish, and lots of features baked into an attractive price.
Hard to improve on a formula like that.