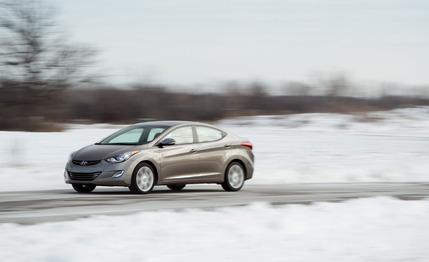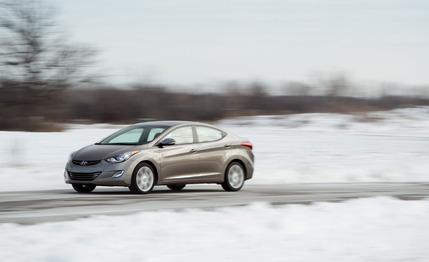 Short Take Road Test


As we gaze out our office window at the 2011 Hyundai Elantra compact sedan, we are prepared to forgive Hyundai for ever uttering the phrase "Fluidic Sculpture," the company's intensely awkward tag line for its current styling.


This is because Hyundai's fifth-generation Elantra is the one car in this reinvigorated class that actually looks like anything at all. That the Elantra's jutting-jaw face has a passing resemblance to the Montauk Monster, the half-decayed and unidentified creature that washed up on a New York beach and into internet notoriety, is actually not at all a bad thing. We suggest, though, that Hyundai consider describing the Elantra's styling as "Pelt-ic Sculpture," since it appears that an extremely strong headwind has peeled back the dermis from its face and sent it flapping and undulating down the side of the body. And somehow, it looks great.
By comparison, the Chevy Cruze does no undulating whatsoever.
And the undulations continue inside the Alabama-built four-door's cabin. The dash top swoops from the outer edges toward the center stack, tapers beneath the navigation screen, and flares back out to accommodate the shifter for the six-speed automatic that was on our well-equipped Limited model. (A six-speed manual is available on GLS models.) Even the heated leather seats' perforations are set in a dizzying wave pattern. Too much? No, not really. It's more exuberant than tacky, and this whole swirling atmosphere is rendered in materials that are quite nice.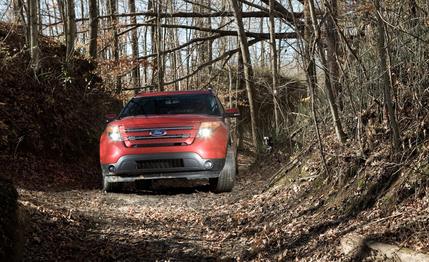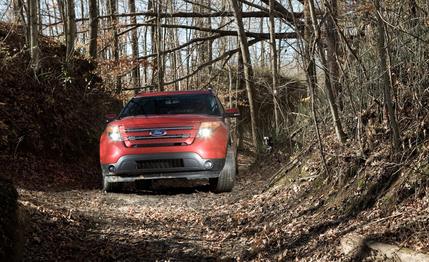 At $22,830, our test car sits near the upper reaches of the Elantra line. In recent Hyundai fashion, that price brings a staggering level of standard equipment; our Limited includes stability control, a power sunroof, automatic headlights, remote keyless entry, Bluetooth connectivity, one of the industry's most straightforward iPod interfaces, leather seats—and did we mention heated front and rear seats? And the Premium package (a $2000 option) adds a nav system with a high-res seven-inch screen, a rearview camera, and a premium audio system.
Competitive Power and Size
The Elantra now rides on a 106.3-inch wheelbase, which, like the rest of its dimensions, is nearly identical to that of the current Honda Civic sedan, or about the same as mid-size sedans of a decade ago.
The Elantra is powered by a new 1.8-liter four-cylinder that makes a competitive 148 hp and is named after the cutest Greek letter of them all, Nu. This all-aluminum DOHC engine with variable valve timing delivers 29 mpg city and 40 mpg highway, according to the EPA, trouncing everything in the class except the expected fuel-economy ratings from the fuel-sipping, low-volume versions of the Cruze and the 2012 Ford Focus. (We got 26 mpg, driving with very heavy feet; drivers with less fire under their butts should get better.) Our Elantra hit 60 mph in 8.6 seconds and stopped from 70 mph in 172 feet, 0.3 second quicker and nine feet shorter than did a Cruze LTZ.
The Elantra is not without faults, though. The new engine makes the kind of high-pitched racket at high rpm that barges into your ear canals screaming, "Hey, I'm still an economy car!" And the Elantra's ride is unnecessarily stiff and noisy.
These are shrill reminders that, underneath all the dramatic bodywork and luxury-car equipment, this Hyundai remains an economy car, one with no shortage of strong competitors. These include the two new American-brand entries, both of which have more sophisticated NVH control and ride-and-handling attributes. But the Elantra sure is a looker.