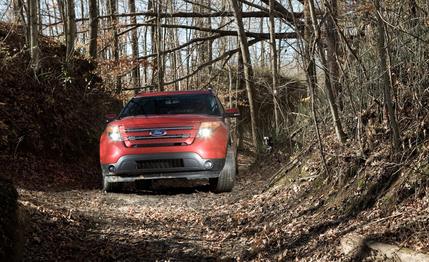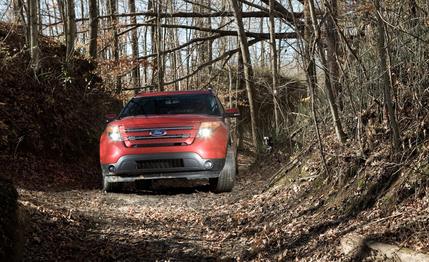 Instrumented Test


At the end of the 1990s and into this millennium, the Ford Explorer was a giant profit center for the Ford Motor Company. The Explorer was the bestselling non-pickup truck in North America, finding 445,157 buyers in calendar  year 2000. By comparison, the Camry, Toyota's star, posted  422,961 sales.


That was before the Explorer went from hero to zero, courtesy of the Ford/Firestone tire debacle. For those with short memories, the National Highway Traffic Safety Administration (NHTSA) went on a blue-oval witch hunt in 2000 after Explorers started rolling over with monotonous regularity. Firestone Wilderness AT 15-inch tires would suffer tread separation if they were overloaded and inadequately inflated, especially in hot climates, and unskilled drivers would end up on their roofs. A Car and Driver experiment showed that even if the rubber went pop!, a competent driver could bring an Explorer to a halt without crashing, but by then the Explorer's reputation was already blown like so many Firestone tires. Predictably, sales deflated, too. By 2005, Ford sold about half as many of the SUVs as it did in 2000. And in 2010, that number was down to about 55,000, 12 percent of what the company did a decade ago.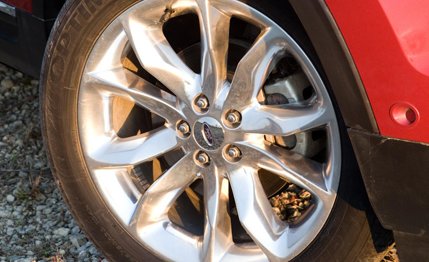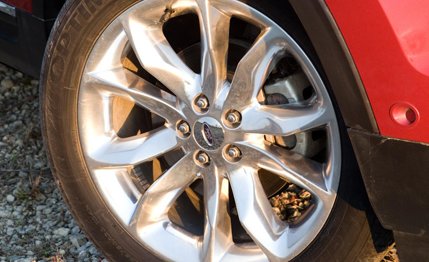 While Ford was busy watching Explorer sales slide during the Aughts, the segment's center of gravity began to shift. It moved away from body-on-frame, pickup-based SUVs like the Explorer to car-based crossovers that offer less towing and off-road capability but better road manners, gas mileage, and comfort.
Finally recognizing this trend, the all-new 2011 Explorer shares it underpinnings with the Ford Flex and Taurus and the Lincoln MKS and MKT. (This platform has its roots in the first-gen Volvo S80, so it's not exactly a spring chicken.) At 197.1 inches, the Explorer is 3.7 inches longer than the old vehicle and is 5.2 inches wider, at 78.9 inches. It's also 159 pounds lighter than the V-8 Eddie Bauer Explorer we tested in 2006. Mind you, it's still a porker, at 4900 pounds, or 212 pounds more than a Honda Pilot Touring 4WD. The bigger exterior translates to more head and shoulder room in the front two rows, as well as 21 cubic feet of luggage space behind the third row, up from 14. But the old vehicle had 84 cubic feet of cargo capacity behind the front seats compared with the new one's 81.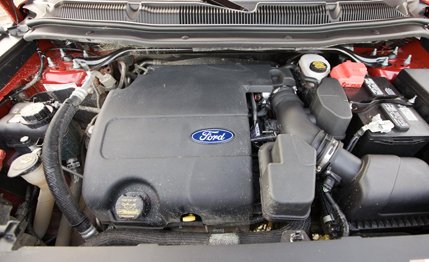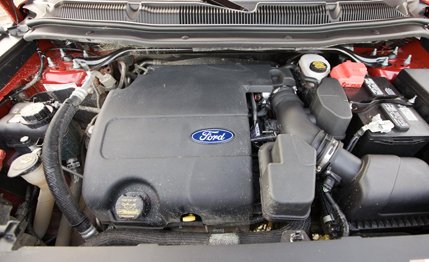 Unlike previous Explorers, which could be optioned with a V-8 in place of a base V-6—an engine nearly as old as the city of Cologne, Germany, where it was built—the new Explorer will offer V-6 and four-cylinder engines. The new 3.5-liter V-6 makes 290 horsepower and 255 pound-feet of torque, down from the 4.6-liter V-8's 292 ponies and 315 pound-feet. Ford will introduce an optional 2.0-liter, turbocharged four-cylinder in 2011, producing an estimated 237 horsepower and 250 pound-feet, up from the old V-6's ratings of 210 and 254, respectively. All models get a standard six-speed automatic transmission, whereas the previous V-6 had a five-speed. Fully equipped, the new Explorer can tow 5000 pounds, down from the 7115-pound rating of the 2010 V-8 model. Towing capacity for the four-cylinder is 2000 pounds, enough to haul a Jet Ski or a snowmobile but not much more.
Base Explorers are now front-wheel drive, a dramatic shift away from the old rear-drive layout. The optional $2000 all-wheel-drive system is biased toward the front wheels in steady-state driving, but Ford says that the system can transfer up to 90 percent of available torque to the rear wheels when needed. With hill-descent control and "terrain management," the AWD setup is similar to the system in Land Rovers, offering four driver-selectable modes: normal, mud/ruts, sand, and snow.
The Explorer has a control-arm suspension at the front and a multilink layout at the rear. Compared with its platform-mate the Flex, however, the Explorer gets a number of changes for increased durability. Up front, there's a new cradle for the suspension and engine, along with new control arms, knuckles, struts, and wheel bearings. At the back, there's a new upright and the driveshafts are beefier. Electric power steering replaces a hydraulic rack.
Understandably, Ford is sensitive to Explorer safety. Thus, the new vehicle has a flotilla of airbags and stability-control programs. Ford crows about its available second-row inflatable seatbelts ($195) that spread impact forces more evenly across the body than a conventional belt does, which is especially beneficial to kids and "mature" (a.k.a. old) people. And Curve Control, which has the ability to project the vehicle's path and apply the brakes before it starts to slide off the road, is essentially a more sophisticated form of stability control.
There are three trim levels: base, XLT, and Limited. Our tony Limited 4WD tester had a base price of $39,995 but was optioned up to $50,435—Acura MDX money. Limited models come very well equipped, with features such as standard leather seats, 20-inch wheels and tires, and a rear-backup camera. A $4000 package adds a power-folding third-row seat, heated and cooled front thrones, voice-activated navigation, a power liftgate, active park assist, HID headlights, and adaptive cruise control and collision warning. Other goodies include second-row captain's chairs with a console ($850 for both), a dual-panel sunroof ($1595), a headrest-mounted DVD entertainment system ($1995), and polished aluminum wheels ($595). The very well-equipped Honda Pilot Touring model, the most expensive in its lineup, starts at $41,175, although it doesn't have all the electric gizmos and safety nets the Explorer boasts.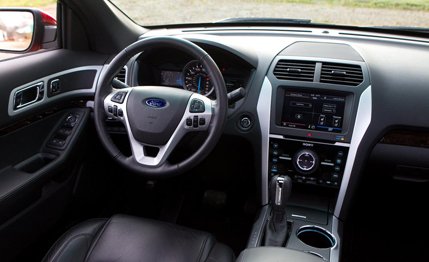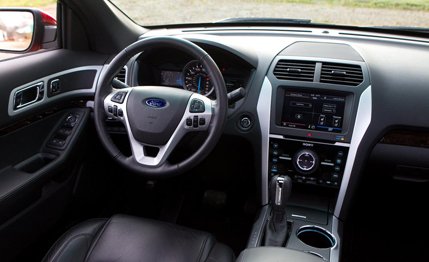 The Explorer certainly feels like an expensive vehicle. The interior is swathed in soft-touch materials, and the fit and finish is excellent. The gauge cluster is simple, and an LCD screen to the left of the speedometer is reconfigurable to show a tachometer, a fuel gauge, a coolant-temperature readout, or all-wheel-drive torque splits. With the optional MyFord touch system (standard on the Limited, optional on XLT, and unavailable on base models), the color-coded audio, navigation, phone, and climate settings on the screen in the center stack are also shown in a second instrument-panel LCD. Changing settings can be done by touching the slow-to-respond, main eight-inch screen or by using overly sensitive buttons located directly underneath. Legroom in the front and middle rows is generous, but the third row is tight for grown-ups.
The Explorer initially feels imposing from behind the wheel but drives smaller as the miles pile on. The ride is supple, and the vehicle is composed when being hurled around corners, thanks to direct and accurate steering and a well-controlled body. Too bad the stability system cuts in so early and can't be switched off, or this thing could hang serious tail. The V-6 in the model we drove was unobtrusive most of the time—the Explorer is quieter at 70 mph and wide-open throttle than a Pilot—but didn't sound particularly happy at the top end. We also experienced some tire slap over breaks in pavement.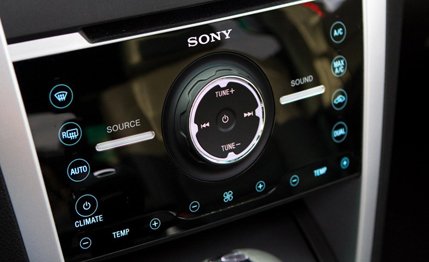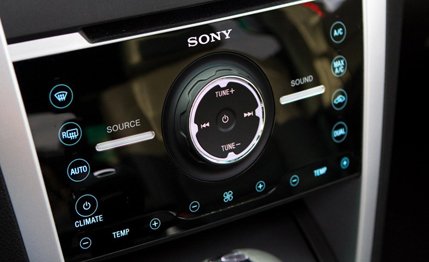 Performance is solid, with 0 to 60 mph coming up in 7.5 seconds and the standing quarter-mile arriving in 16.0 seconds at 89 mph, both of which are quicker than a Pilot Touring and the last V-8 Explorer we tested. Ford is addressing the abysmal braking performance of its SUVs—the Edge now stops decently, and this Explorer went from 70 mph to zero in 174 feet, a 20-foot improvement over the previous model. Despite Ford's claims that the new engine is 32 percent more efficient than the old V-8, we got only 18 mpg out of the Explorer. While that's better than the 16 mpg we got in the previous truck, it's still 2 mpg off the last Pilot we tested.
The Explorer isn't as light on its feet as the Honda, either, but it's undeniably an impressive machine. Our main reservation, and it's one that applies to most new Fords, is that it gets pricey when optioned out. Now that this market segment is so crowded, it will be hard to see the Explorer recapturing the sales volumes of yore. But the combination of its all-around goodness, the latent equity in the Explorer name, and the current goodwill factor surrounding Ford will make this new SUV a solid player.