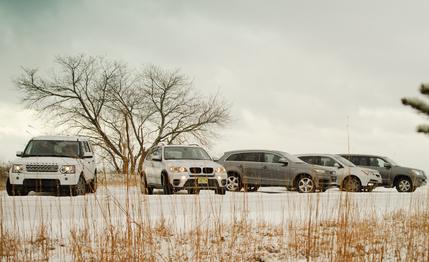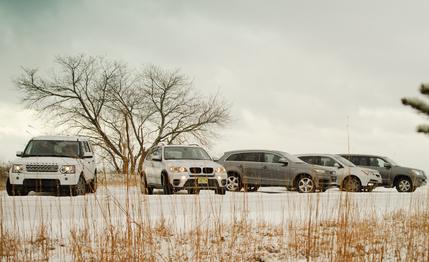 Comparison Tests


From the March 2011 Issue of
Car and Driver


The words "coast to coast" have very specific connotations when they appear in this magazine. The Cannonball Baker Sea-to-Shining-Sea Memorial Trophy Dash, for one. Not this time. Do you see any California beaches in these photos? Any Red Ball Garages?
The coasts visited on this tour do lie on vast bodies of water, but the water is fresh (so to speak) and defines the eastern and western boundaries of  Michigan's Lower Peninsula.
So, rather than the 2798-mile blitz from New York City to Redondo Beach, California, as in the original Cannonball Run, our coast-to-coast dash was a little more modest—135 miles, from Alpena on Lake Huron at the east to Traverse City, tucked into Grand Traverse Bay off Lake Michigan, on the west. With some dirt-road diversion, plus the trek from and to Ann Arbor, it added up to 650 miles. Which seemed like enough. More than enough, in at least one of  these vehicles.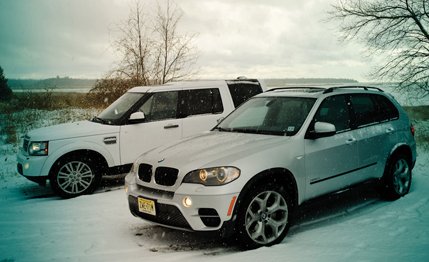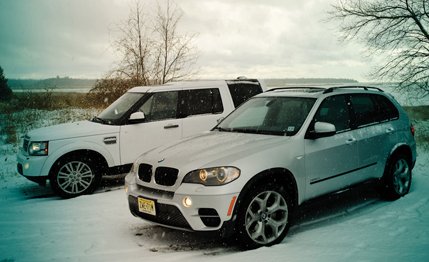 There were five, and their classification isn't quite as easy as their shapes might suggest. We're tempted to call them crossovers, but for all its elasticity, that word can't stretch quite far enough to cover the Lexus GX460. One of the guides we use in identifying crossovers is their construction—unibody  versus body-on-frame, usually based on front-wheel-drive passenger-car architecture. The 460's body doesn't catch up with its chassis until late in the assembly process. Which makes it a truck.
For that matter, even though the four others are unibodies—frame rails integrated with the body structure—the front-drive passenger-car connection is pretty much absent.
We also look at towing capacity. Vehicles rooted in front-drive architecture tend to be relatively anemic as draft animals—usually 4000 pounds max—but even that simple rule of thumb fails us here. The Acura MDX, which traces its ancestry to the front-drive Honda Odyssey minivan, has the lowest rating in the group, but it's a respectable 5000 pounds.  And the max capabilities range up to the Land Rover LR4, pegged at 7716.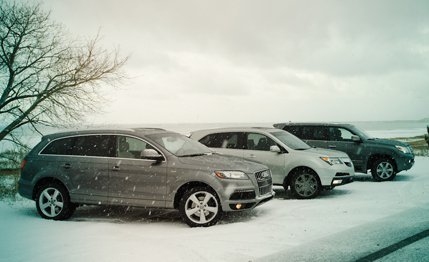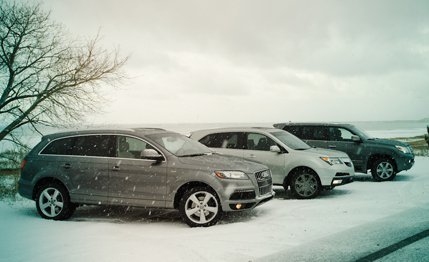 In the end, we settled for a classification based on one inarguable attribute: three-row seating. Not very snappy. But accurate. You could add the word "luxury" because that, too, is accurate. The ­amenity quotient is high across the board, and so are the prices. The as-tested ticket for each member of  this quintet is well above $50K, soaring to a max of  more than $67,000.
With snow in the forecast, we climbed into our three-rows and set out for Michigan's northeast coast, right where the index finger would poke up through the mitten of the Lower Peninsula. Suffice it to say, Dom DeLuise won't be starring in this movie, but that doesn't mean it wasn't entertaining.