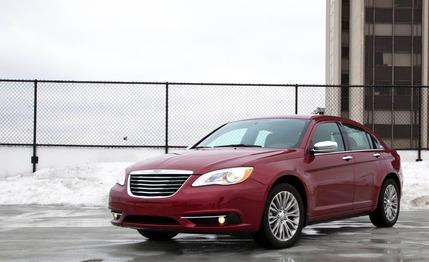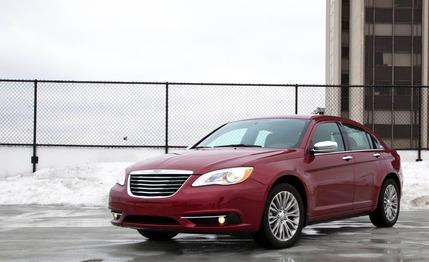 Short Take Road Test
When George Clooney's character in Up in the Air rents a car, he will settle for nothing less than a Chrysler Sebring. Now, there's some willful suspension of disbelief that accompanies moviegoing, but it's hard to accept that anyone would insist on that dreadful mid-sizer, even at the rental counter (unless he or she had some devious plan). Chrysler apparently agreed, as it set about attempting to right many of the car's wrongs for 2011, even going so far as to rename it the 200. For this test, we asked nicely for one—the only way in which this author differs from Clooney's demanding character—and got a 200 sedan with Chrysler's new Pentastar V-6.
The "200" badge on the C-pillar is begging, pleading for passersby not to confuse the car with the Sebring from which it was spawned. The front and rear views are fresh, and from certain angles, the car can easily be mistaken for a newly minted model. The side profile, however, with its carry-over roofline and doors, is basically identical to its unloved predecessor's. The stylistic conflict makes it clear that the newly energized designers and engineers had one idea, but the vehicle's hard points had their own, er, fiat. Still, the design is worlds ahead of the Sebring's, a major accomplishment from a work-with-what-you-have standpoint.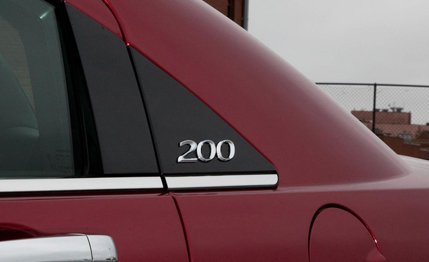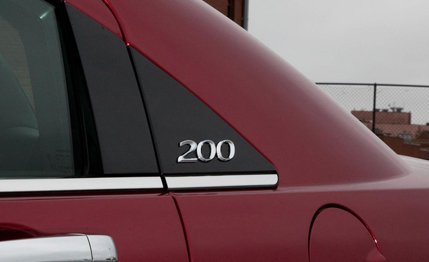 About 200 Times Nicer Inside (Except that One Gap)
Inside, it feels even richer and more worthy of the $20,000 price of entry. Everything you touch is nicer than its equivalent in the Sebring's cabin, and it seems as though actual consideration went toward aesthetics. This is not to say everything is consistent, however. The Audi-grade, smooth-as-silk leather on the new multifunction steering wheel sharply contrasts with the optional leather seat upholstery, which is shiny and vinyl-like. Further, the car we tested was rattle-free and appeared well screwed together, but there was an appalling chasm where the gloss-black trim around the HVAC controls met the lower part of the dash. The gap there was at least a half-inch wide, providing a peek at the bolts—tightly fastened as they were—that secure the center stack's substructure. Not good.
Attention was paid to the 200's suspension. Ride height has been lowered by a half-inch in front and a quarter in the rear, with new spring and damper rates taming the chattery setup of the Sebring. There's more isolation from road imperfections and noise—a heap of new sound-deadening measures deserve some credit, too—although a good amount of body roll remains. According to Chrysler, the suspension changes were meant to bring more steering precision. They didn't. We wouldn't say the steering is surgical in its precision; rather, it requires a surgeon's precision to operate smoothly, especially when the brawny V-6 is trying to alter the car's course.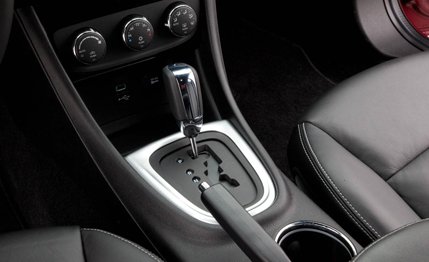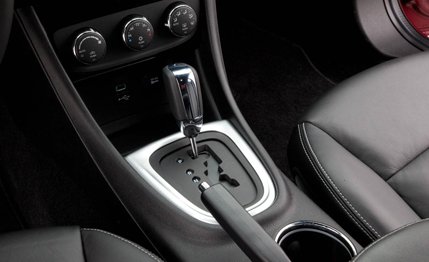 A $1795 option on the Limited trim (it can also be had on the 200 Touring and is standard on the 200 S), the Pentastar V-6 is new to the lineup. This 3.6-liter replaces the V-6 in almost all of Chrysler's other products, here making 283 hp and 260 lb-ft of torque. That added power gives acceleration times a kick: 0 to 60 mph takes 6.3 seconds, and the quarter-mile is reached in 14.9, reductions of 0.5 second and 0.4 second compared with the last Sebring we tested, which had a 3.5-liter V-6. The more powerful engine also sends a kick through the steering wheel, causing sharp jolts when the sedate steering unloads and then loads back up during shifts. When it's not indirectly affecting the steering, the six-speed automatic is smooth, a characteristic that extends to the engine's power delivery. We saw 20 mpg in our testing.
Aside from the V-6, our test car came with a six-speaker sound system ($475), an upgrade to a head unit with Garmin's intuitive nav system baked in ($395), and special red paint ($295). That's all on top of the Limited trim's base price of $24,495, which nets things like leather seats, keyless entry with remote start, automatic headlamps, and 18-inch wheels. The total of $27,455 isn't a bargain, but neither is it outrageous.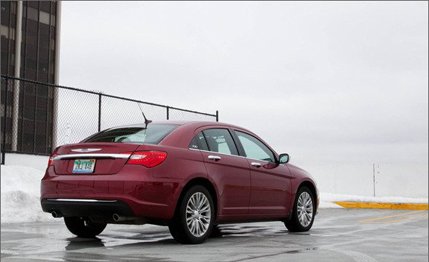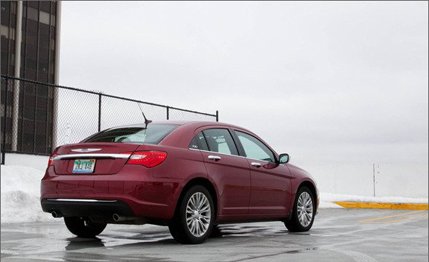 In its second go, Chrysler has vastly improved on its mid-size entry, giving us a 200 that can almost meet—but not beat—the Honda Accord and the Hyundai Sonata in terms of comfort, although it still trails those segment leaders by a fair amount dynamically. If not competitive, though, the 200 at least proves that its maker is headed in the right direction. If the next generation improves on the 200 as much as the 200 did the Sebring, customers at rental—and even dealer—lots may actually find something stylish and sensible wearing a Chrysler badge.