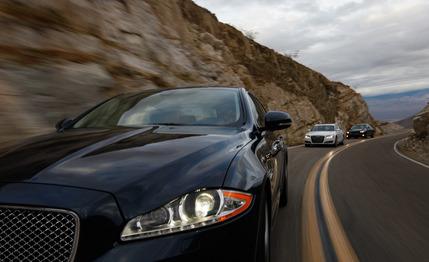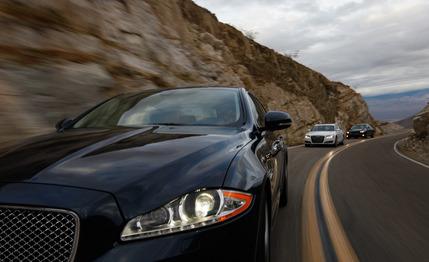 Comparison Tests




Governments buy big luxury cars to move around the deciders. Corporations rely on them to hustle executives to their executive jets. Studios hire them to deliver celebrities to their appointments with stardom. And lucky mortals use them to celebrate lives well lived and to seal themselves off from the outside world, a world hopelessly short on wood inlays and 14-way power seats.
The ideal big car is a calm and reassuring presence, deliberate and proficient in motion and abundantly powerful. We've pulled three such candidates from the luxury-car class, all European—oh, excuse us, one is British—all stretched to the maximum available wheelbase, all with V-8 engines that'll knock on 100 mph as softly as the knocking that awoke Stalin on Sunday mornings, and all with a base price of about 85 to 90 large.
Two of them, the Audi A8L and the Jaguar XJL, are constructed primarily of aluminum, while the BMW 750Li's unibody is a mix of steel and aluminum. The Jag is only 164 pounds heavier than the new Chevrolet Camaro SS convertible despite being more than 17 feet long.
But for all the engineering sweat that greases these flagships, total combined U.S. sales of the three nameplates in 2010 equaled just 18,052 cars, about the number of Camrys that Toyota sold every 20 days last year. And it was an off year for the Camry. By a windblown chasm, the biggest seller was the 7-series, at 12,253 units, three times the volume of the XJ and nearly eight times that of the A8.
Redesigned in 2010, the all-wheel-drive Audi is the longest car here (207.4 inches), and it packs the smallest-caliber munitions: 372 horses from its 4.2-liter V-8. It is also the least costly, starting at $84,875 and tested at $88,375, with two options aboard that would appeal only  to owners who eschew chauffeurs: the $2300 Audi Drive Select Plus package, which includes dynamic variable-ratio steering and a torque-vectoring rear differential, plus $1200 worth of 20-inch wheels with summer tires.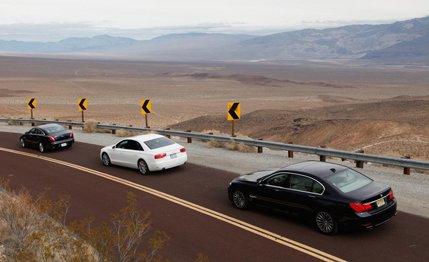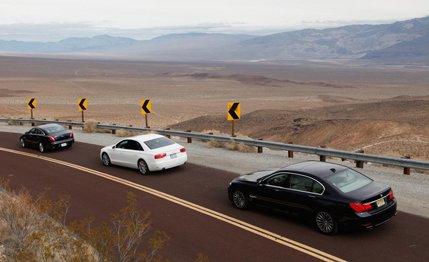 The longest BMW in the catalog is the shortest car in this test, with 205.3 inches separating the 750Li's flaring nostrils from its fluid stern. However, it is the wheelbase champ, outstretching the Jag by more than two inches. Our blue example, with its twin-turbo, 4.4-liter V-8 blowing out 400 horsepower, carried more than $10,000 in options, including $3750 in sport-driving addenda such as dynamic anti-roll bars and variable four-wheel steering. You get Oyster Nappa leather and matte-finish wood everywhere, plus a navigation system, for the base price but pay $1800 for the stereo upgrade with iPod and USB adapters and $1300 each for a head-up display and a set of 19-inch wheels. This is the only car here to suffer a gas-guzzler penalty of $1000, owing to its combination of 14 mpg city and 21 mpg highway in EPA tests.
Lastly, we come to the Jaguar. The brand overhauled its flagship last year, finally ditching the four-headlight, flat-roof theme that dated to the original 1968 bombshell. The slinky new lineup includes an XJL Supercharged model that brings forth 470 horses from its 5.0-liter V-8. The only option aboard our $91,950 example: a $375 heated windshield.


Mercedes-Benz ought to be here with its S-class, long the ­preferred shipping container for dictators and divas alike. But the current model is counting down the months to retirement, and the new one isn't ready for C/D comparison testing, so the company requested that we proceed without it.
We did, releasing our three airtight caverns of  leather and wood and wool carpet from the drudgery of their reserved parking spaces. We set them loose to roam fast and free under a big sky in an empty desert wilderness and exercised them the way a proper driver would enjoy an expensive, meticulously engineered machine.
Until the cops found us.