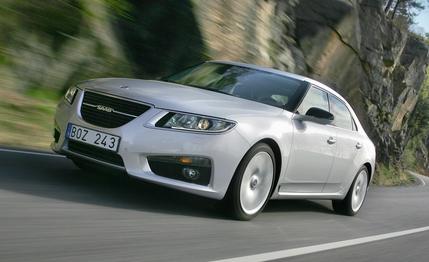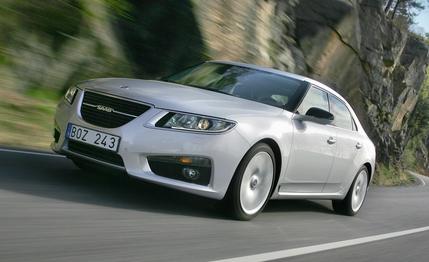 Short Take Road Test


From the August 2011 Issue of
Car and Driver
TESTED
It was just last year that GM shoved Saab off its headquarters' roof. As the Swedish brand plummeted to its demise, a bird, er, a plane—no, Spyker swooped in and saved it, thus putting Spyker into free-fall. Quite a shame, really, because the 9-5 sedan is by far Saab's best product in recent memory.
At the bottom of the 9-5 range is this front-drive model powered by a 2.0-liter four with direct injection and a twin-scroll turbocharger. It's not nearly as quick as the uplevel all-wheel-drive V-6 turbo model—6.3 seconds to 60 mph [C/D, December 2010]—and it loses an ounce of exterior flair without the top-trim Aero's optional 19-inch wheels, but its competent dynamics and roughly 10-grand-cheaper point of entry make it the deal of the lineup.
The little four delivers its 220 horsepower and 258 pound-feet of torque through a six-speed automatic, resulting in a ho-hum 0-to-60 time of 7.9 seconds. Once moving, though, the 2.0T has no trouble hustling its 3886-pound load through passing maneuvers. The quarter-mile arrives in 16 seconds flat at 90 mph, but those looking to eke out a bit more performance have the option of filling up with E85. Saab claims no change in output with the higher-octane corn juice, but we saw an improvement of 0.2 second to 60 mph and a 0.1-second-quicker quarter-mile. Efficiency is the penalty here; we observed 17 mpg with E85 and 22 overall with gas. The EPA ratings are 18 mpg city and 28 highway (with gasoline).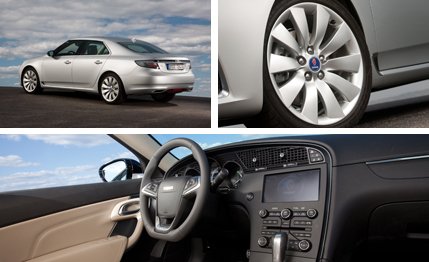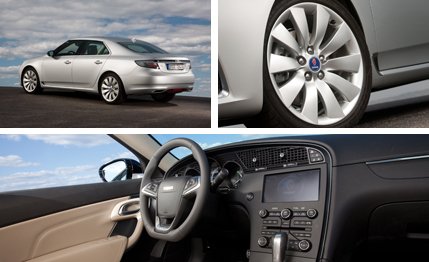 From the helm, the steering is playful, but the level of  feedback doesn't quite match the surprising athleticism provided by the strut layout up front and the multilink setup in back. The flat cornering, though, comes at the cost of a stiff ride. While the brake pedal on our test car was spongy, the car stopped from 70 mph in a commendable 166 feet.
The 9-5's tailored sheetmetal, approachable price, and roomy cabin provide an attractive way to enter the premium segment. But with the company's small dealer network and financial issues, Saab needs a superhero to swoop in once again.