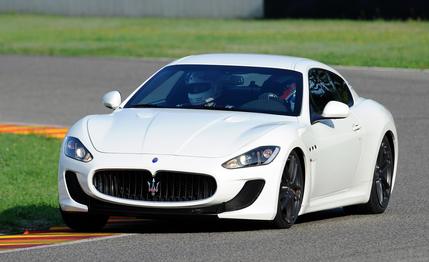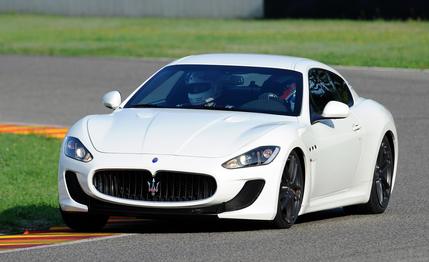 First Drive Review
Customer studies from the early days of the current Maserati GranTurismo coupe bear out one of our persistent complaints with the car: It's too quiet and a little too anodyne for a vehicle wearing the chrome trident. The fix is to open 'er up, at least for those buyers who want a little extra Italian wattage. A new, higher-heart-rate model, the GranTurismo MC, starts at $143,850 and promises to crank up the aural vibrato as well as the throttle response and curve-eating ability of the big coupe. On our drive, we found out that it does move the excitement needle for Maserati—a bit. (The company is introducing the Sport version of the GranTurismo convertible at the same time; click here for our first drive.)
Aural Fixation
What is it about an Italian machine that gets people to open their wallets wide for one? For sure, it's not a tradition of peerless reliability. The dead-sexy styling that seems only to bubble up from an Italian brain is one thing. Exclusivity? Naturally. History? Definitely. But there is one thing more, and to many, the most important quality: the uncanny sound.
For Italian cars, we magazine writers have deployed all the acoustic metaphors, purple and otherwise, in our arsenal: wail, rip, shriek, snarl, buzz saw, warble, the "blood-chilling howl of a feral she-beast," and so on. We've tried onomatopoeia: whooo-bwaaaaaaaaaahh! etc. With the magic of the internet, we can even post their siren songs here so you can hear the who-bwaaaaah!-ing for yourself.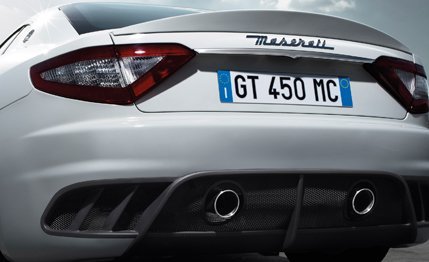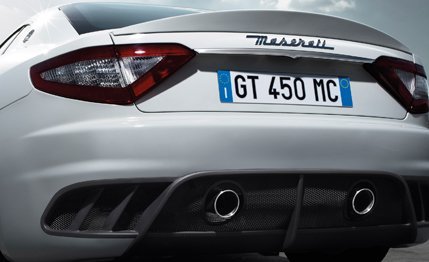 However, generating "the Sound" is one place where Maserati has lately lagged its fellow Latin automakers. Unless you're standing on it in sport mode, the GranTurismo speaks softly in a hissy and unconvincing dialect of the language of Lexus. Ferrari makes this engine, so count this as a crime against aesthetics.
Included in the MC's touchups is a sport exhaust system that, besides being 12 pounds lighter than the base tubing, transmits more of the 4.7-liter V-8's warbling, wailing, feral howl to the cabin. A little more, anyway. Activate sport mode, and the exhaust bypasses lock open for even more auditory pleasure.
It's nowhere near as shriekalicious as a Ferrari 458, say, but luxury-oriented Maserati, with its smoother and more docile four-plane-crank, wet-sump version of the shared V-8, doesn't care to be Ferrari. Still, we'd like to hear even more. It's like being forced to listen to Pavarotti with the volume too low.
More Power, Quicker Shifts, New Vents!
Opt for the MC, and you get 444 hp and 376 lb-ft of torque, 11 hp and 15 lb-ft more than the regular 4.7 GranTurismo. Friction reduction accounts for the increase, says Maserati, thanks to the strategic use of "diamond-like coating," an antifriction technology derived from Formula 1, on wear parts such as the cams and followers.