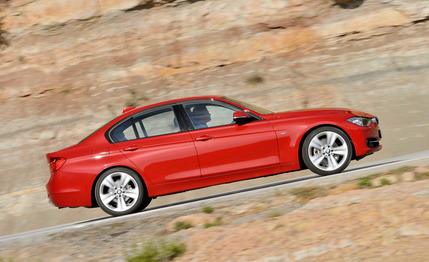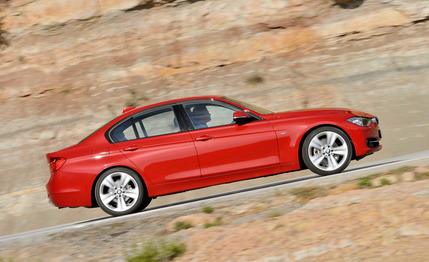 First Drive Review
Are you ready for a BMW 3-series capable of automatic hands-off parallel parking? A Bimmer smart enough to teach you hypermiling, one equipped with enough onboard cameras to scout locations for Warner Bros.? Welcome to the 2012 328i, BMW's stab at charming the More Generation.
Test-driving the new 3-series this week in Spain revealed a shuffle of BMW's priority deck. The current E90 3-series earned its respect and compact-sports-sedan supremacy with a double dose of driving fun backed by laudable performance credentials. With the sixth-generation 3-series, BMW is reaching beyond mere dynamic attributes to stir comfort, convenience, and far higher efficiency into the mix. To appeal to those demanding everything from their daily driver—that "we deserve more" crowd—the new F30 is slightly larger inside and out and loaded with features hard-core drivers—the "we love our BMWs" set—never imagined.
The fifth-gen 3-series greeted its driver with a secret handshake: high-effort steering that bends the car smartly into every corner with total authority over body motion. The 2012 edition that arrives in February says, "Have a nice day," with normal steering effort and a ride that glosses over pavement flaws the way cream cheese fills bagel crevices. Impact harshness is significantly reduced. But with more rubber between you and the road, the cornering response isn't quite as crisp, and hints of roll, heave, and pitch occasionally fluster the equilibrium. Adjusted to its most aggressive setting, the F30's optional adaptive suspension provides less body control than the outgoing E90 model's suspension did.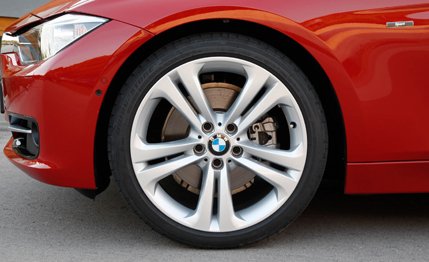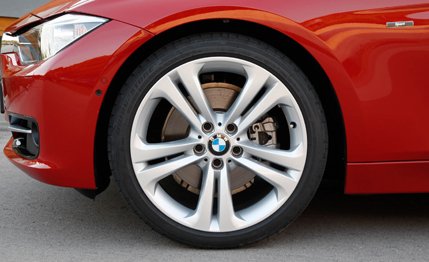 Six Becomes Four (but There's Still a Six, Too)
For almost 20 years, the 3-series faithful have enjoyed the spellbinding whir of inline-six engines that were seemingly sent from on high. Although the 335i carries on with a single-turbo 3.0-liter six pumping out a handy 300 hp and 300 lb-ft of torque, there's a new kid on the engine block with a point to prove. BMW's new N20 2.0-liter four-cylinder powering the 328i sounds like a throwback to simpler times, but that impression vanishes the first time its twin-scroll turbo pumps up 18.9 psi of boost and output swells to 240 hp at 5000 rpm. What this engine lacks in cylinder-count prestige, it more than makes up for with what might be a world record for vigor per gallon.
Teamed with a ZF eight-speed automatic (the only powertrain combo available for driving around Barcelona), the N20 purrs while cruising and then snaps to attention when the throttle is pressed. By 2000 rpm, it's already high on torque; by 4000, it's growling like a baby grizzly roused from hibernation; and by 6000 rpm, it's threatening to rip a hole through the 7000-rpm (redline) ceiling. Thanks to balance shafts and a dual-mass flywheel, this engine never gets the shakes or stammers, and it's as genteel as a six when soft-pedaled. A two-mode muffler corks the din during cruising and then releases a rousing howl to accompany the stampede. EPA ratings aren't final, but we're expecting that the 328i's highway mileage will reach the high 30s with the eight-speed automatic and that the combined rating might also crack the 30-mpg barrier. Those who pick the six-speed manual transmission will have to bear the loss of a couple of miles per gallon.
BMW claims the new four-cylinder is nearly as quick on its feet as the outgoing naturally aspirated six. That means a 0-to-60-mph run of about 5.6 seconds with the stick shift and 5.8 with the automatic. BMW rates the 335i's 0-to-60 capability at 5.4 seconds with either gearbox, but it should be about a half-second quicker in our testing.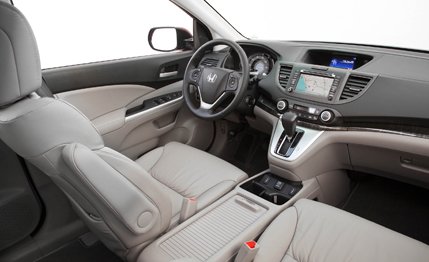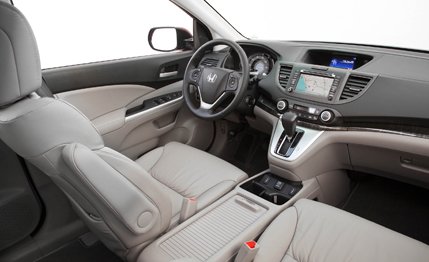 Stiffer Structure, Duller Responses
This alacrity is partly due to the fact that BMW engineers avoided piling on weight in spite of the 2.0-inch wheelbase stretch and the 3.7-inch gain in overall length. To counteract the negative influence of more suspension rubber, the fully steel unibody's torsional stiffness is a commendable 30 percent higher. Although the suspension systems are carry-over in design—struts in front, multilink in back—every component has been fiddled with in some way to suit the new mission.
In addition to the slightly duller turn-in agility, we detected a brake pedal that's a touch softer underfoot. Quicker stops require a mix of pedal pressure and travel in contrast to the mainly pressure-sensitive response provided by the E90's setup. The 335i upgrades the 328i's floating front brake calipers to more-rigid fixed four-piston calipers, which might erase this gripe.
Two power-assisted rack-and-pinion steering systems are offered. Base equipment is the speed-sensitive Servotronic arrangement that has been available in the 3-series for ages. Replacing the evil "active steering" option, which had the bad habit of changing its ratio at precisely the wrong moment, there's a new variable sports steering option. Using rack teeth cut at different helix angles, this gear provides a ratio of 14.5:1 on-center for poised straight-line stability and control, with a quicker 11.1:1 ratio at the extremes of steering lock to expedite parking maneuvers. An electric motor connected to the rack through a toothed rubber belt provides power assist proportional to vehicle speed and the tempo of the driver's steering commands. The variable sports steering trims the Servotronic's 2.7 turns lock-to-lock down to a more wieldy 2.2 turns. Steering feedback is comparable to that of the outgoing 3-series, in spite of the noticeable reduction in effort. The new steering system's quicker ratios compensate nicely for the loss of response that—at least theoretically—accompanies any wheelbase increase.