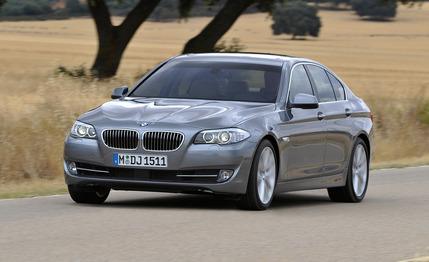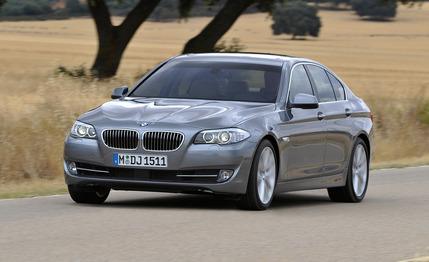 First Drive Review
We've been skeptical since the beginning of claims that direct injection and turbochargers could replace displacement while returning sky-high fuel economy. Our observed mileage with many such engines has suggested that potential fuel savings are being overstated, but in fairness, making maximum horsepower takes fuel regardless of the displacement. Our leadfoot, hit-the-redline driving style prioritizes quickness far above efficiency, and we manage to wring less-than-optimal mpg figures out of pretty much anything we drive.
But few small direct-injection engines will have to overcome as much skepticism as BMW's new turbo four, which replaces one of our favorite engines. Like IHOP with pancakes, BMW does inline-sixes right, and we're going to miss the naturally aspirated 3.0-liter that this turbo 2.0 supersedes.
The four's specs are promising. At 240, its horsepower rating matches that of last year's six, but the four out-torques the six 260 lb-ft to 230. The six was peaky, too, and the four's torque maximum occurs at a lower rpm (1250 versus 2600). We first encountered the quad-pot in the Z4 sDrive28i, where we loved it, finding it an appropriate match for a small roadster. We also came away with much love following a turn in the all-new 2012 328i sedan.
Now Comes the Real Test
This, however, is our first experience with this engine in something large. Few things reveal an engine's flaws as reliably as increasing its burden, and the 528i is about 700 pounds heavier than the four-cylinder Z4. (Speaking of weight, BMW says the four-cylinder 528 is 22 pounds heavier than the previous model with the inline-six.) Sure enough, we observed some unsavory behavior that we hadn't noticed before.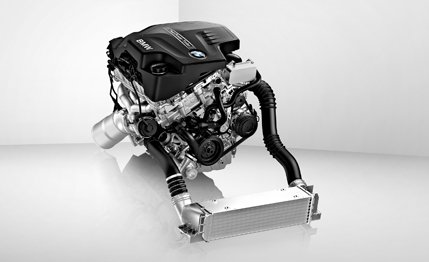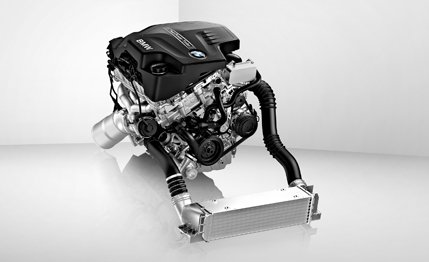 When we drove the Z4 with this engine, we noted no letup in the power delivery. But in the 5, the engine starts to nod off above 5200 or so rpm—although in fairness, it's hardly noticeable at speeds lower than 70 mph. We found the car felt much quicker above 100 mph if we manually shifted the eight-speed auto—the only transmission available in the 528i—well before redline, keeping the engine comfortably on its torque plateau. Although the old, six-cylinder 528i might have required a longer wait for the power, it at least delivered it in a smooth, consistent stream.
Given that the outputs of the engines are so similar, we expect the four-cylinder 528i will match the six's 0-to-60 sprint of 6.4 seconds, but the wane in power at the top end should cost it a couple of 10ths in higher-speed contests. Around town and in traffic, the four-cylinder never left us wanting more grunt. And with eight ratios to choose from, the car easily finds a suitable gear for moderate acceleration at any speed.
What Did You Say to Me? No, Really—I Could Barely Hear You
To our ear, most four-cylinders speak with one of two voices: wimpy or pissed off (the latter frequently in part because they're still a little wimpy). In the Z4, BMW's new 2.0-liter falls in the pissed-off camp. For the engine's installation in the 5-series, BMW apparently made no audio breakthroughs and went with the more fitting weaker soundtrack. (We can't imagine too many 5-series buyers desiring a car that sounds like a Honda Civic Si—or the rorty, rude Z4.) There's a slightly inappropriate-for-a-luxury-car drone at startup and idle. The 5er keeps engine noise muted regardless of cylinder count, though, and the four-cylinder becomes a distant hum under throttle in the same way that any other 5's engine does. We imagine buyers will hardly notice the startup noise after their first few days with the car.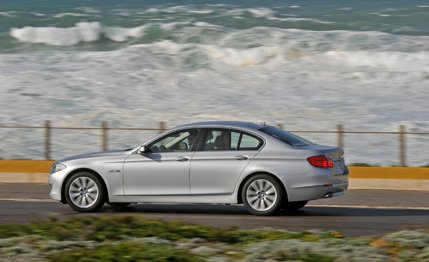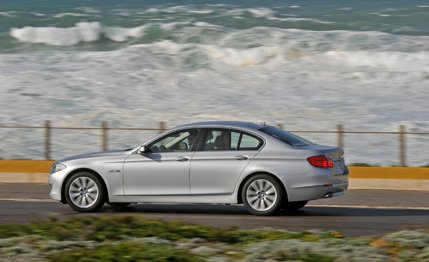 As 528i intenders are highly unlikely to be BMW's most enthusiastic customers, they'll probably love what we hate about the car: the steering. It's smooth and comfortably weighty and won't disturb serene drives with any pesky feedback. With such an elegant interior and a supple, quiet ride, the 5 is a stupendous mileage accumulator, and the turbo four does well with the other sort of mileage, too, at least according to the EPA. Fuel economy increases from 22 mpg city and 32 mpg highway with last year's naturally aspirated six to 23/34. Opt for the newly available all-wheel-drive 528i xDrive, and you drop back to 22/32. We'll bring our observations once we get an example to test.
In spite of its autobahn deficiencies, the 528i works fine as a daily-use luxury cruiser for shoppers on a budget. At a starting price of $47,575, it saves buyers about $5500 over the cheapest 535i. All-wheel drive adds $2300. We didn't get a chance to drive that version, but its additional 200 or so pounds will surely make the engine's high-rpm weakness more apparent at lower speeds. If we needed all-wheel drive at this price, we'd be looking at a 3-series or X3 with the turbo six, or a Saab 9-4X. (Just kidding, we'd never buy a 9-4X.)