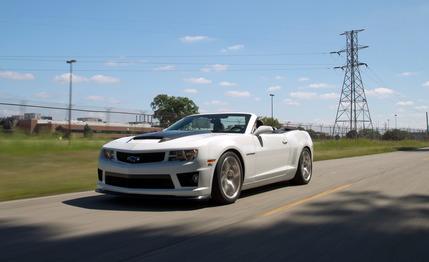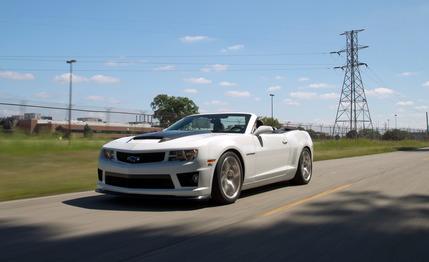 Specialty File




The last thing a Camaro needs is 324 more horses, but that didn't stop SLP (a.k.a. Street Legal Performance) from making a Camaro ZL1. The original, hyphenated ZL-1 was a $4160 option pack in 1969, a box that just 69 customers checked. An underrated 430-hp, aluminum-block 7.0-liter V-8 was the highlight.
SLP adopts a similar approach with this Camaro. Its ZL1 package costs $80,000 on top of a $32,750 Camaro SS coupe or $38,800 convertible donor, as seen here. Just like the '69, only 69 ZL1s will be offered by SLP. It's a juiced-up, $118,800 clean-and-jerk that turns heads, raises ears, and roasts rubber.
And no, this SLP ZL1 is not related to Chevrolet's upcoming Camaro ZL1: Years ago, SLP wisely trademarked "ZL." Both SLP and Chevy fit an Eaton TVS supercharger to an aluminum-block V-8. But whereas Chevy uses a 6.2-liter LSA to churn up 580 horsepower, SLP opted for a 7.0-liter LS7 making a claimed 750 horses.
As with most megapower cars, the SLP is traction limited at launch, and we wrangled a not-earthshaking 4.2-second 0-to-60-mph dash. The quarter-mile falls in 12.3 seconds at 119 mph. That's more than half a second quicker than a stock Camaro SS coupe in either metric. The SLP shows its power at higher speeds, clearing 150 mph in 19.8 seconds, 15.6 seconds before a stocker.
With the top retracted, the ZL1's roar overwhelms any road noise, with an idle reminiscent of a carbureted, hot-cam V-8. A sleeper this is not. Onlookers will easily identify the beast making the noise: A giant hood scoop, a splitter hanging beneath an SLP-designed front fascia, and a few ZL1 badges give this car away.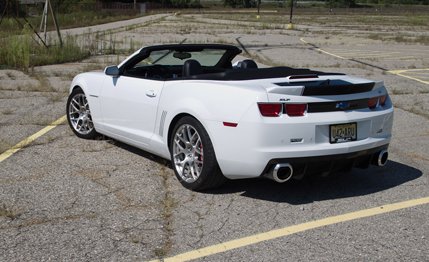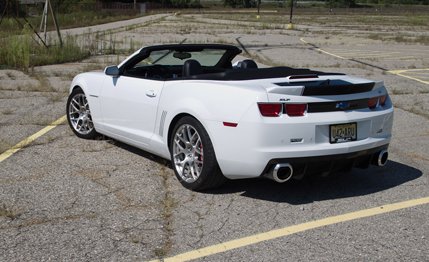 And every examiner noticed the throw-back houndstooth seats as well as the abundance of faux carbon fiber on the trunk, front splitter, and rear diffuser. Only the hood is authentic carbon fiber.
Even with the stiff-riding SLP adjustable suspension, the ZL1 has plenty of power to overwhelm the rubber on any road windier than Woodward Avenue—something it has in common with the original. It'll hold the road up to 0.90 g; Baby-stepping beyond that brings the back end around. The same may happen if the supercharger's 10.0 psi of max boost arrives midcorner. Drive cautiously.


Forged, 20-inch wheels wrapped in wider-than-stock Michelin Pilot Sport PS2s shroud supersized Brembo brake hardware: 15.9-inch rotors with six-piston calipers up front, 15.0-inch rotors with four-piston calipersat the rear. The big brakes didn't slash stopping distances though, instead lassoing the ZL1 from 70 mph in 159 feet, one foot ­longer than in the stock SS coupe.
Don't worry if you are too late to grab one of the 69 ZL1s. SLP will build you a similar one, sans the ZL1 badges. Would Chevy be that accommodating?
_____________________________________________________
SLP Performance Parts, 1501 Industrial Way North, Toms River, New Jersey, 08755; 732-349-2109; www.slponline.com