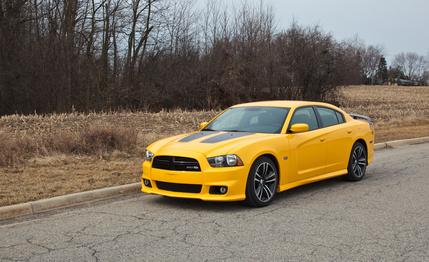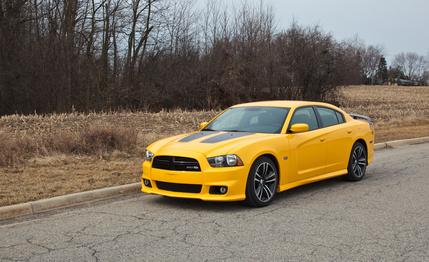 Instrumented Test


For anyone who lived through and reveled in the muscle-car era, the present provokes some serious reflection. Like, what the hell was that all about?
Sure, the heyday of big-inch V-8s saw some awesome rides rumbling out of Detroit. Moreover, we revere those cars today beyond all reason. Try bolting yourself into a pristine Hemi 'Cuda convertible for less than a million bucks.
However, you can bolt yourself into something that'll run rings around that old 'Cuda, without going to an auction, and for a fraction of the cost. That's what this muscle car is all about. And in the best muscle-car tradition, the Dodge Charger SRT8 Super Bee costs substantially less than its fancier SRT stablemate—$4300 less.
Whatever muscle-car flavor you favored back in the day—Pontiac GTO, Chevy 409, Dodge Hemi Charger—it was basically good for just one thing: reducing your Goodyear Polyglas tires to smoke or, with not very many repetitions, to shreds. Stopping? Turning? Fuhgedaboudit.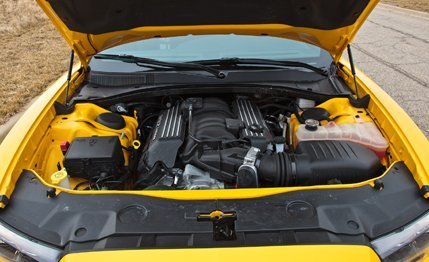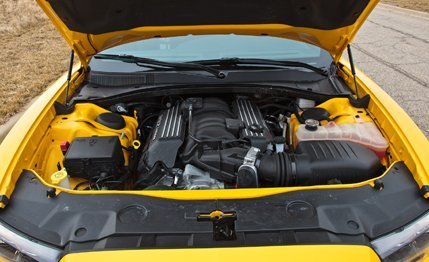 Modern Muscle
Although big horsepower and steam-engine torque are still seductive, modern enthusiasts expect a complete menu of dynamic attributes, rather than those one-dimensional rockets of yesteryear.
Which brings us to this Super Bee, a modern interpretation of those uninhibited pavement scorchers of yesteryear.
Massive power? Check. Today's Chrysler Hemi V-8 engines generate even more thrust than did their legendary ancestors, even though it's known that the published output of the old 426 Hemi—425 hp—was deliberately rated lower than the actual output, a measure calculated to bamboozle insurance companies.
No Frills
But there are other similarities to the Super Bees of yore. The basic formula back then was to jam a big engine into an otherwise spartan car. No frills. Frills added a little something to mass as well as quite a bit to cost, and all the prospective owner really wanted was enough wheelspin to slow the rotation of the earth, with a little identifying exterior trim to make guys driving lesser rides eat their hearts out.
Compared with the standard Charger SRT8, the latest Super Bee is certainly devoid of frills. Although the bucket seats are adorned with uninhibited striped cloth upholstery—and provide a measure of lateral support unknown in 1969—no one could call them fancy, and some might even call their appearance tacky.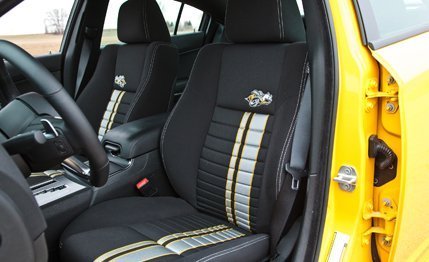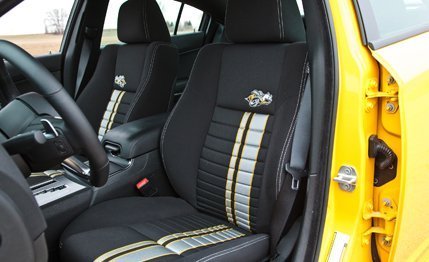 The big info screen that dominates the center dash of upscale Chargers and Chrysler 300s is absent, and the minimalist audio system is reminiscent of the AM units found in the good old days. No nav, of course. But at least the windows operate by power rather than crank. That would be taking things a bit too far.
One nonretro feature is a digital g-meter, tucked between the speedo and tach. At max lateral, it should read 0.86 g, which is what we recorded on the skidpad. However, taking your eyes off the road and gleaning info from this tiny device—about two-by-four inches—while generating serious g-loads is equivalent to texting the Gettysburg Address while driving on California Highway 1 south of Big Sur. As the late Waylon Jennings tunefully observed, "Ain't livin' long like this."
Dynamic Drama
If the contemporary Super Bee is faithful to the no-frills formula, it's also faithful to the rocket-sled tradition.
Chrysler's 6.4-liter pushrod Hemi V-8 provides propulsion, hammering 470 hp and 470 lb-ft of torque to the Getrag limited-slip rear diff via a five-speed automatic transmission. The A580 tranny is far from new—it first saw service in Chrysler products back in 2004, when the sign on the HQ building read DaimlerChrysler—but paddle shifters have been added for 2012, delivering remarkably crisp shifts.
Also, although 0.86 g isn't extraordinary on today's grip grid, it's way better than any street rubber available in the late '60s and early '70s could provide.